All eyes have been on Belinda Bencic over the past few years, and the 18 year old has impressed with her performances. The youngster from Switzerland, recently broke into the top 10 after a strong week in St. Petersburg.
Not Putting Pressure On Herself
After recently becoming the new world number seven, Bencic could put herself under a lot of pressure. However, the 18-year-old says that breaking into the top ten has has not added pressure but instead it has relaxed her.
Bencic told the press in Doha that she is pleased at being one of the top ten players in the world and it is "a dream come true." The Swiss player continued to tell the press that after all the hard work she has put in over the years, finally reaching the top 10 has relaxed her. Bencic said, "I've worked very hard for this and I finally reach it, and kind of relax me a little bit. I'm just enjoying to have this status to see myself as a No. 7."
Lots Of Time To Win A Grand Slam
Bencic won two WTA titles last year, in Eastbourne and Toronto. In the latter, she defeated the world number one Serena Williams. These victories showed how talented Bencic is, and got many people talking about her chances of winning a Grand Slam.
Even though there are a lot of people saying that Bencic will win a slam in the next few years, the youngster knows it will not be easy. Speaking to the press, Bencic said, "It's a big step to win a Grand Slam."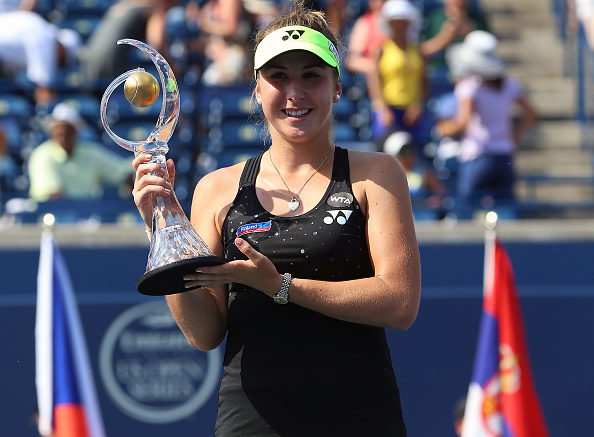 Talking about her Grand Slam hopes, Bencic said that she does not feel any pressure to win one at this moment in time, as she has plenty of time in her career. The Swiss player said, "I don't feel the pressure now to have to win a Grand Slam. I have lots of time."
When looking at previous Grand Slam champions, most have been a lot older than Bencic when they won their first Slam. Examples include the current Australian Open Champion Angelique Kerber and Victoria Azarenka. As well as this, Flavia Pennetta recently won her first Grand Slam at the age of 33, proving that Bencic really does have time on her side.
Bencic talked to the press about why she believes these players have won Grand Slams when they did. She said, "I just think it's the experience." Before continuing to say, "They've been there a lot of times." The 18 year old added that the players also need to have "the physical game, and just consistency to win seven matches in a row to win the title."