 Lleyton Hewitt, Australia's Davis Cup captain has played down concerns to singles players Nick Kyrgios and Bernard Tomic ahead of their crucial Davis Cup tie against the USA on Friday. Tomic has wrist issues and Kyrgios has back and hip issues, but Hewitt is confident that both will be passed fit to play.
Bernard Tomic and Nick Kyrgios Injury Updates
The top-30 pair were on their way to Melbourne on Monday as teammates, including Sam Groth and debutant John Peers, and captain Hewitt. They practiced on Kooyong's grass court for the first time. Kyrgios retired hurt from his recent Dubai semifinal, while Tomic needed painkillers to complete a week in Acapulco that ended with a finals loss to Dominic Thiem.

Speaking to The Age newspaper Lleyton said, "We're all good," despite suggestions that they might not be playing, although he did admit speaking to Nick, but provided no detail on the matter.
"Both Nick and Bernie are playing extremely well at the moment. So the biggest thing for them is to get their bodies as close to 100 per cent right physically because they have had the matches, they're confident and they feel good on the big points and they back themselves in. That is why it is important now just for them to more mentally prepare, more than anything. They have beaten quality players over the past couple of weeks.
They are in transit. Tomorrow they will be here. It is more about just managing those two now, because they've had such a busy workload – the Australian summer and then both going away straight after that and having good results. So it's more just about getting a little bit of feel for the grass. I am comfortable with both those guys that their games naturally suit grass, so it is not going to take a lot of time."
Hewitt said that "at this stage" both Tomic and Kyrgios would have a light hit on Tuesday. "We'll see how they pull up, obviously. It's more just getting a feel for the grass under their feet. Both boys have such a big game and serve and return is so crucial to both of their games, week in and week out. They are a couple of their biggest strengths out there and that is why they need to do well out there on the grass court, so I'm pretty confident."
USA Practice Ahead of Davis Cup
The Americans practiced on Monday afternoon, with Lleyton speaking about Jim Courier and his lack of selection with Mike and Bob Bryan chose alongside John Isner and Jack Sock.
Mike Bryan posted a picture of the USA team in Australia via Twitter.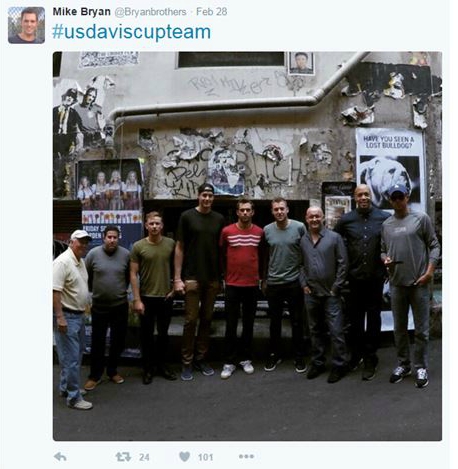 "They are pretty stuck with how their team is going to line up. They have two singles players and two doubles players, so we know exactly what we are getting into," Hewitt said.
"Personally I've played against both John and Jack in the past in singles, so I know their games really well and both Nick and Bernie have played them as well. Our boys are pretty confident with what they are going to expect out there but it is still a matter of going out there and executing."
John Peers to Make Debut
John Peers, 27, a Victorian is currently ranked 8th after a season that included two Grand Slam finals with former partner Jamie Murray. He did manage to partner Sam Groth in Sydney in January, but the two are well prepared and are confident they can pull off the win against Bryans should they be picked.
"Being at Kooyong is a dream come true as I was born and bred here and been here for so many years," Peers said. "All I could do was keep putting my hand up, keep putting the results up and hopefully I would get the opportunity and now that I have, I am really looking forward to taking the opportunity as best as I can."