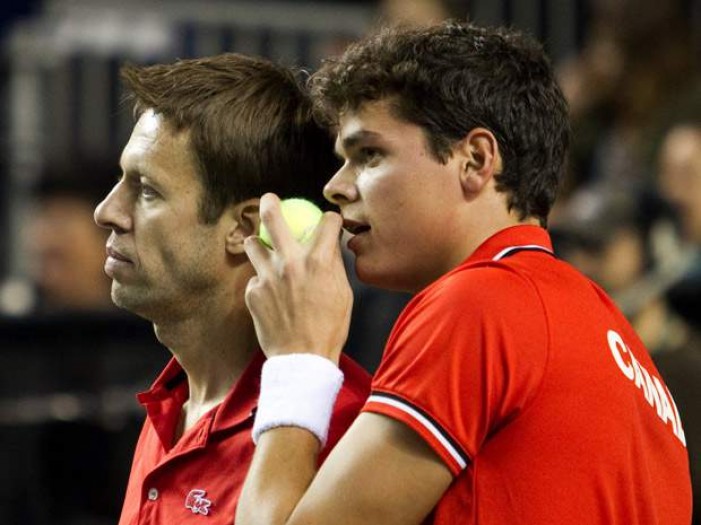 Disaster has struck for Canada. Both Milos Raonic and Daniel Nestor will miss Canada's upcoming Davis Cup tie against France. The Canadians will now travel to Guadeloupe to take on a full-strength French squad without their number one singles player and number one doubles player.
Raonic has not yet recovered from an injury, while a family matter will keep Nestor away. Canada will now need the performance of a lifetime from singles and doubles number two Vasek Pospisil if they hope to advance to the second round of the Davis Cup for the third time in four years.
Raonic's Recovery Falls Short
Milos Raonic was hoping to be healthy in time for Davis Cup, but was not able to recover from the adductor injury suffered in the Australian Open semifinals. Raonic has not played at all since the heartbreaking loss to Andy Murray.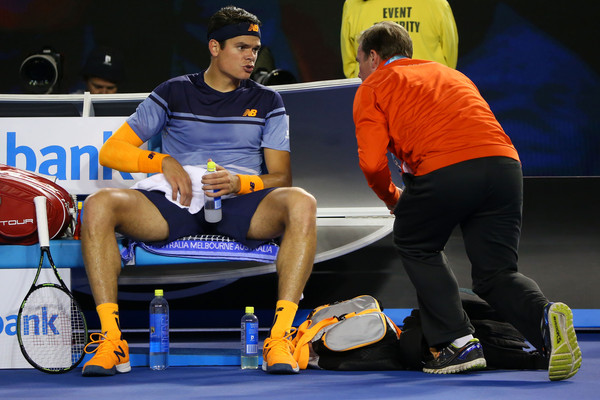 Raonic released a statement saying "I am deeply saddened to not be able to join my team for the Davis Cup tie in Guadeloupe. Davis Cup has always been and will continue to be a priority in my schedule. My body at this moment does not allow me to compete as the muscular tear I sustained in Australia has not completely healed. It is not easy for me, as I love representing Canada and competing alongside a great team of players and staff. I will continue to rehab and try to be back on tour as soon as possible. I wish the Davis Cup team a great and prosperous weekend. I will be watching and cheering them on."
As of now, Raonic is still expecting to play the BNP Paribas Masters in Indian Wells in just under two weeks' time. Doctors have apparently told Raonic, who was forced to withdraw from two events in February, that he will be out another 10-12 days.
Nestor to Miss Rare Tie
Daniel Nestor has been the backbone of the Canadian team for almost 25 years, so while he only contests one rubber per tie, his withdrawal is a big loss for the Canadians. Nestor has only missed on other tie in the last 15 years. An undisclosed family matter is forcing Nestor to skip the tie.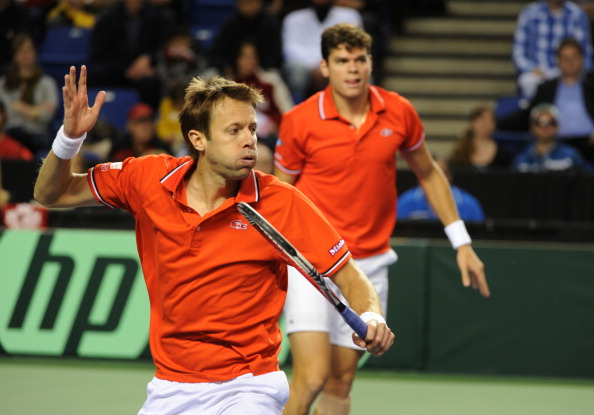 "I'm disappointed that I can't be there with the team this week. The last few years we've come a long way and we've had some good opportunities to do well at Davis Cup and it's definitely frustrating that we haven't been able to field our top team and maximize our potential due to some of the injuries and unforeseen circumstances that have arisen. I'm wishing the team the best of luck this weekend and will be looking forward to rejoining them for the next one."
Filling the Gap
Vasek Pospisil will now be forced to carry the team on his back is the Canadians want to pull the upset. Frank Dancevic is currently the only member of the originally-nominated team left. He will likely take Raonic's spot in the singles.
Canadian captain Martin Laurendeau did not sugarcoat the loss of his stars, saying "Obviously this is a huge loss for our team as Milos and Daniel are integral to our Davis Cup success. But I also know it's not easy for both of them. Milos was playing maybe the best tennis of his career in Australia and is eager to get back on court. He was hoping that would be here in Guadeloupe but he's just not going to be ready on time. And Daniel has answered the call for this team a record number of times over the past 20 years. For him to not be here, we know it's with very good reason. The rest of the team will have to refocus now and prepare thoroughly as we all know the tough challenge that awaits us against this French squad."
Philip Bester and Adil Shamasdin are currently in Guadeloupe training with the Canadian team and are the likely candidates to step in.