 Davis Cup World Group play in round one begins on Friday. The most intriguing clash features Australia hosting the United States. The tie got even more interesting when it was announced that Lleyton Hewitt would be substituting into the squad in place of an ill Nick Kyrgios.
Australia's Doubles Options
Hewitt's inclusion in the squad gives the home-standing Aussies several options on how they will play out their tie against the USA. It has been announced that Sam Groth will open the tie against John Isner in the first singles rubber. That match is underway this evening in Kooyong with Isner in firm control in the third set. The second rubber will feature Bernard Tomic against Jack Sock. The intrigue will start on Saturday, where the doubles rubber is scheduled to take place. The Americans will tote out Bob and Mike Bryan. The big question mark now is how the Aussies will choose to play the doubles rubber.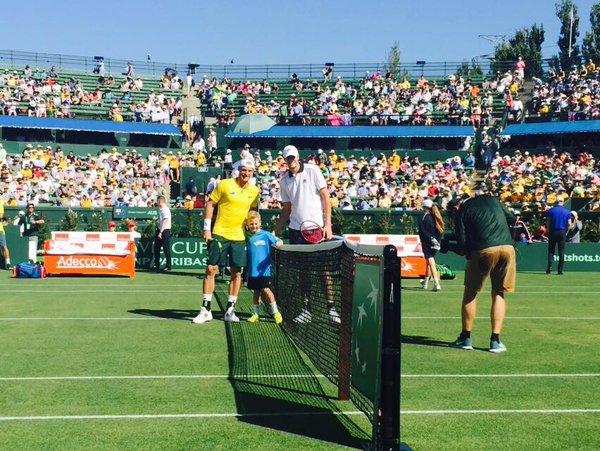 Option number one would see Groth remain paired with John Peers as originally planned. Prior to the announcement of Hewitt being available to play in this tie, the Australian Davis Cup captain had expressed faith in both Groth and Peers to get a win. Hewitt was especially excited about Peers' inclusion, despite his lack of any Davis Cup experience, saying, "He (Peers) believes he can take it to them. He and Grothy had a good hitout in Sydney, getting to know each other and their game style, and I think they mix and match very well together. It's more about just working on their game plan over the last week but I'm confident and comfortable with how they're hitting the ball."
Option two would see Hewitt insert himself into the doubles rubber, most likely to rest Groth for the return singles rubbers on Sunday. Hewitt said in comments to the Sydney Morning Herald yesterday that with Kyrgios' illness, he knew there was a chance he would need to be prepared to step in, "Obviously with Nick, when we knew he had some issues, I tried to prepare as well as possible, just to be another option that we have ... You've just got to have back-ups and plan B's, plan C's, plan D's, you've got to have everything in place."
With Groth slated to play in the final return singles rubber on Sunday if necessary, Hewitt gets plenty of time to weigh his options. This columnist thinks that if Hewitt is to return and play a rubber over the weekend, it would probably be in singles, unless the Aussies are down 0-2 heading into Saturday. Expect Hewitt to stick with the original plan of Groth and Peers in doubles, unless Groth expends a ton of energy against Isner or gets hurt. With two big serves, Groth will likely have plenty of chances to conserve his energy to be available for doubles.
Semifinals Set in Kuala Lumpur
The semifinals are booked at the BMW Malaysian Open after Thursday saw the final two quarterfinals played. Both took place in the bottom of the draw where the seeded teams had already been eliminated. Varatchaya Wongteanchai and Zhaoxuan Yang took the first spot by beating Eri Hozumi and Miyu Kato 6-2, 6-1. Zarina Diyas and Yi-Fan Xu took the final semifinal spot by smashing Nao Hibino and Ling Zhang 6-1, 6-2. The two winners from Thursday will square off in one semifinal, while top seeds Chen Liang and Yafan Wang battle Katarzyna Piter and Maryna Zanevska in the other.
Busy Thursday in Monterrey
All four quarterfinals in the doubles draw were scheduled to be played on Thursday at the Abierto Monterrey. Top seeds Anabel Medina Garrigues and Aranxta Parra Santonja were pushed, but came out on top of Chia-Jung Chuang and Misaki Doi in straight sets. The Spaniards edged Chuang-Doi 7-6 (5), 6-4. Third seeds Kiki Bertens and Johanna Larrson were upset victims. Veronica Cepede Royg and Danka Kovinic sprung the surprise 3-6, 6-4, 10-7. Later this evening, fourth seeds Maria Irigoyen and Paula Kania are slated to play Nicole Gibbs and Tatjana Maria. The final match of the night will see Maria Sanchez and Petra Martic go against Elena Bogdan and Viktorija Golubic.