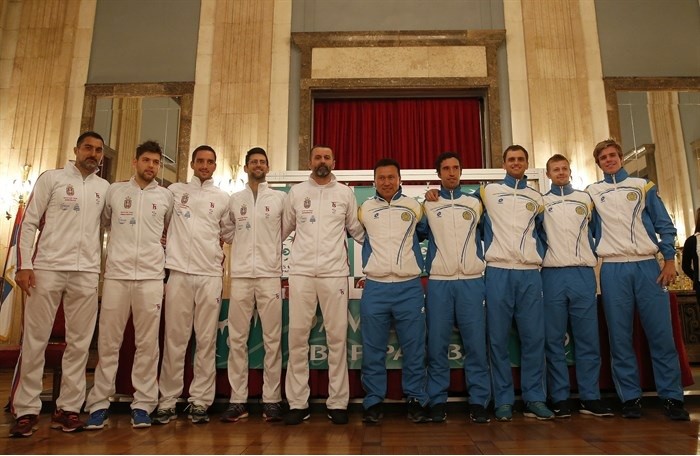 All eyes will be on the eyes of Novak Djokovic this weekend in Belgrade, Serbia. The Serbs will host Kazakhstan indoors at Pionir Hall in Davis Cup World Group first round action.
Eye Issues Cloud Serbian Picture Slightly
Novak Djokovic will be playing this weekend for the first time since he was forced to retire at the Dubai Duty Free Tennis Championships due to an eye infection. Djokovic has admitted that he is having to get used to playing with glasses to to help protect his eyes from any irritants. The world number one now says he feels a bit more comfortable about playing this weekend, "I am optimistic and I hope that I am going to play. I was a little sceptical but now all is going well."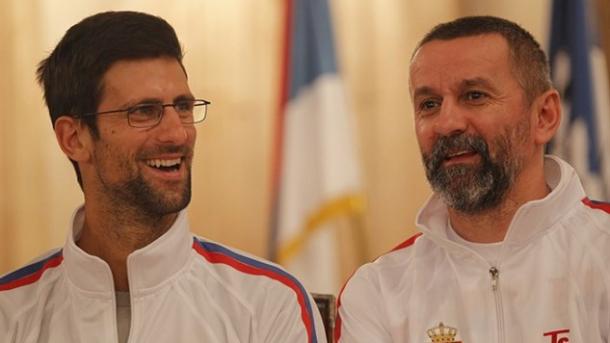 The Serbs will need Djokovic to be in good form this weekend against a tricky Kazakhstan side that will feature Aleksandr Nedovyesov and Mikhail Kukushkin in singles play. The Kazakhs are no push overs, having made the quarterfinals in last year's Davis Cup. They scored an upset win over Italy at this stage and had Australia on the ropes in the semifinals. Kukushkin and Nedovyesov had led their country to a 2-0 lead against the Australia before the Aussies took three straight to secure a spot in the semifinals.
Djokovic Scheduled to Open Friday's Tie
Friday's proceedings will open in Serbia on an indoor hard surface at Pionir Hall. It is rated as medium speed, which should play well to Djokovic's defensive abilities. The 11-time Grand Slam champion is slated to start the day agaist Nedovyesov. It will be their first career meeting. The second singles rubber pits Viktor Troicki against Kukushkin. Troicki owns two career wins over Kukushkin in three meetings on the ATP World Tour.
Serbs Remain Djokovic-Dependent
Serbia's chances to make another deep run in Davis Cup play certainly will hinge on Novak Djokovic. The 2016 Australian Open champion is listed not only as a singles player this weekend, he is scheduled as of now to team with Nenad Zimonjic for Saturday's doubles rubber. Djokovic-Zimonjic would play Nedovyesov and Andrey Golubev. Should the Serbs be in a 2-0 lead, they could of course choose to rest Djokovic with Troicki or Filip Krajinovic available to substitute in his place.
Relying on Djokovic of course is normally a winning proposition for the Serbs. He is 30-9 all-time in Davis Cup play and hasn't lost a singles rubber since 2011. That is a span of nine straight wins. Djokovic is just 3-2 in doubles play, having rarely been needed for that rubber. He has played just one doubles rubber at the Davis Cup since 2011. That was a win in last year's first round over Croatia. It is no coincidence that two of Serbia's last three Davis Cup losses since 2013 have come without Djokovic participating.
Kazakh Dangermen
Both Nedovyesov and Kukushkin do pose a threat on this surface for the Serbs. Nedovyesov is just 2-2 in singles rubbers in his career in Davis Cup play, but he scored huge wins over Nick Kyrgios and Fabio Fognini last year in both of Kazakhstan's Davis Cup ties. Kukushkin has the experience with 26 singles rubbers under his belt, with a 16-10 mark. Nineteen of those have come indoors, where he often punches above his weight class. Kukushkin took a set off of Djokovic in their only career meeting at the 2014 Shanghai Masters. Nedovyesov has seen Troicki once on grass last year at Wimbledon, where the Serb was victorious in four sets.
2015 Troicki Meltdown
The biggest question outside of Djokovic's eyes could be Troicki's brain. The Serbs looked well on their way to splitting the opening singles rubbers against Argentina in last year's Davis Cup quarterfinals without Djokovic. Troicki led Federico Delbonis two sets to love, before an epic five set meltdown that wound up handing Argentina a 2-0 lead. The loss seemed to haunt Troicki back on the ATP World Tour, as he would go four straight tournaments without winning a match following the Delbonis implosion. His confidence seems better so far in 2016, but the memory of that match will be something that could crop up if he runs into trouble this weekend.
What to Expect
The bottom line in this one is that a close to 100 percent Djokovic should yield two singles wins for Serbia. That leaves them needing one Troicki win or a doubles win to secure the tie. The question of course is how Djokovic will respond from the eye infection. All signs point to him being okay with Friday's first singles rubbers just hours away. The Kazakhs will be hoping to get an opening day split of the two singles rubbers to give themselves a chance to craft the big upset. The Triocki-Kukushkin rubber will obviously be the one that many will focus on as a key determining factor to any chance Kazakhstan could have this weekend.
Prediction: Serbia def. Kazakhstan 3-1