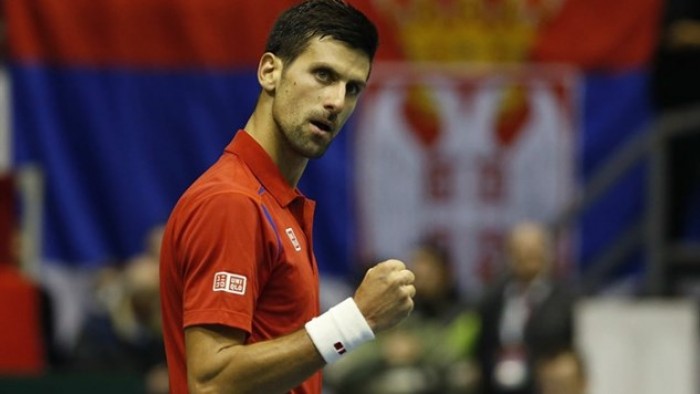 Serbia's Novak Djokovic showed no ill effects from an eye infection that caused him to retire from his last ATP World Tour match. Djokovic looked sharp in dismantling Aleksandr Nedovyesov 6-1, 6-2, 6-3 to open Serbia's tie with Kazakhstan in the Davis Cup World Group's first round.
Djokovic Rushes To Early Lead
There we very, if any signs on Friday that Novak Djokovic had struggled with an eye infection in recent days. The Serb was dazzling in the opening set as he broke his Kazakh rival two times. Nedovyesov made a slew of errors with Djokovic forcing six and the Kazakh donating another seven in the first set. Djokovic secured the opening break in game two and added the second in game six as he won 25 points in the set to just 13 for Nedovyesov.
Nedovyesov Fights Hard Early, Fades Late in Set Two
The Kazakh opened the second set with a tough hold as Djokovic pushed him to deuce, before Nedovyesov would hold. The Serb would throw down his second love service hold of the match to even the set at 1-1. The longest game of the match showed some heart for the Kazakh as Nedovyesov struggled through a 19 point game to hold for a 2-1 lead. The 19 point game featured seven deuces and a pair of break points saved by the Kazakh. A quick hold evened the set and then Djokovic pounced as he saw his third break point of the set in game five. He would convert this time for a 3-2 lead. Djokovic would need little else as he scored a bonus break late and closed the set with another love service hold.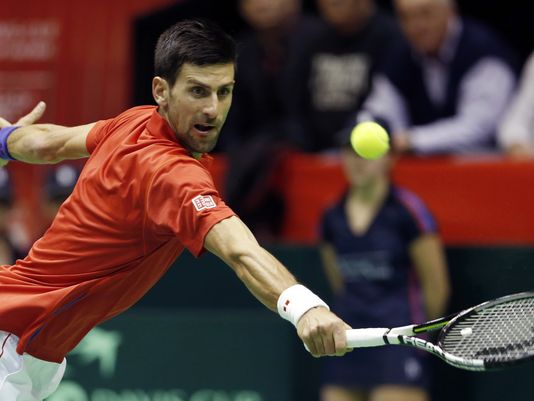 Djokovic Faces Lone Break Point
The third set saw Nedovyesov earn his lone chance to break Djokovic. That came in game two, but the Serb would fend it off and hold to 1-1. Like clock work, Djokovic went to work on the Kazakh's serve in the next game. A 13 point game would see Djokovic craft three break chances and finally cash in on the last one for a 2-1 lead. The world number one would not look back as he broke Nedovyesov one final time in the last game to tally the 6-1, 6-2, 6-3 win.
Djokovic said in his post-match press briefing that he felt he did a good job of taking the fight to Nedovyesov early to rattle his opponent, "We had never played before but I was aware that Nedovyesov plays with a lot of heart and can be a very awkward opponent when given time to hit the ball, hence I knew I had to change the rhythm and mix it all the time to unsettle him."
Final Stats
The stat line reflected the dominance of Djokovic in this opening rubber. The Serb won 85 percent of his first serve points and 50 of 65 overall in the match. Nedovyesov won just more than half of his service points, taking 47 of 86. The Kazakh was under pressure in most of his service games as Djokovic crafted 15 break opportunities, converting on six of them. Djokovic did have a few unforced errors with 31, compared to just 24 winners. Nedovyesov had just 16 winners and 37 unforced errors to go along with 23 forced errors.
Djokovic is scheduled to play in the fourth rubber, a reverse singles rubber against Mikhail Kukushkin on Sunday.