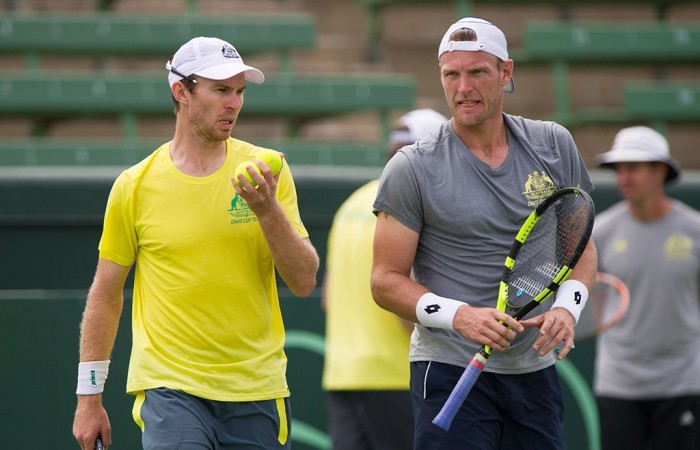 It could be a big momentum swinging day for many countries as they take to the court for their doubles rubber in Davis Cup World Group play on Saturday. Five of the eight World Group ties are knotted at 1-1. Here is a look at those ties and how their doubles rubber could impact the outcome of the tie.
Australia vs. USA
This has been the key talking point since Lleyton Hewitt announced that he would take Nick Kyrgios' spot in the Aussie lineup. With Kyrgios out due to illness, Hewitt needed to fill the void to give Australia as many options as possible in their battle against the USA. Friday's results saw John Isner sweep aside Sam Groth in straight sets, with Bernard Tomic evening the tie at 1-1 with a four set win over Jack Sock. That leaves this tie delicately balanced where Saturday's doubles rubber could be the swing rubber of the tie.
The Americans have zero question as to who they roll out. it is Bob and Mike Bryan. The Bryans are 23-4 together all-time in Davis Cup rubbers and despite their dip in form over the past year, they will be the favorites in Saturday's clash. For Hewitt, the choice on Saturday likely won't be too difficult. The most difficult decision could come if there is a fifth rubber needed to decide the tie. That is when Hewitt might need to figure out if he gives the Aussies a better chance than Groth in singles action. Saturday, most are expecting Hewitt to stick with the original doubles pairing of Groth and John Peers. This columnist thinks that would be a wise move.
Groth made his intentions known after losing to Isner, that he feels capable of helping Australia win the doubles rubber, "My body feels good, and I feel like I've played good doubles in Davis Cup in the past, and John and I have been playing well in practice," he said. "It's going to be up to Lleyton to see how things roll after today. But I'm ready to get out there, and I'll be doing everything I can to be putting my hand up to play tomorrow."
Bob Bryan says the American twins will be prepared for any pairing Australia puts on court on Saturday, but they feel comfortable if it is Peers and Groth, "He (Peers) showed that he can play on grass by making the finals of Wimbledon, and then Grothy we played a bunch as well. He brings the big serve and can be tough to break, so if that's the team they put out there, it's gonna be a tough match."
Expect Groth and Peers to stay in and don't be shocked if the Aussies make life difficult for the Bryans. This should be a fun match and it would not be shocking to see it go four or five tense sets.
Prediction: Bryan Brothers win in five sets
Serbia - Kazakhstan
Viktor Troicki's straight sets loss to Mikhail Kukushkin on the opening day should make it a lock that Novak Djokovic will team with Nenad Zimonjic in doubles for Serbia on Saturday. There was a strong likelihood that Djokovic would have been involved in that rubber anyhow, but it seems a certainty now. Djokovic did his part in singles by crushing Aleksandr Nedovyesov in the first rubber in straight sets. Troicki looked horrid in his shocking straight sets loss to Mikhail Kukushkin. That makes Saturday's doubles rubber a monster one for both countries.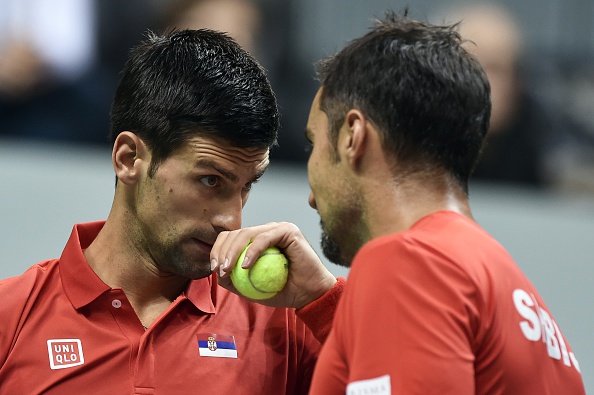 Kazakhstan will know that a loss in doubles is a loss of the tie. With Djokovic scheduled for the first return singles rubber on Sunday, Serbia will be expecting him to beat Kukushkin. Barring substitutions, Saturday's doubles rubber will pit Djokovic-Zimonjic against Nedovyesov and Andrey Golubev. The Kazakhs really don't have a suitable sub as Kukushkin only has one Davis Cup doubles rubber to his credit. Nedovyesov and Golubev have teamed up three times in Davis Cup play. They scored a stunning four set win over Roger Federer and Stan Wawrinka in the 2014 quarterfinals, but lost the tie in five.
That result will highlight the danger lurking on the other side of the net for Djokovic and Zimonjic. Djokovic rarely plays doubles either with just five doubles rubbers in his Davis Cup history. He is 3-2 in those matches. Zimonjic is 28-16 in doubles rubbers. He has lost five of his last six doubles rubbers in Davis Cup play. The lone exception was the last time he teamed with Djokovic in the 2015 first round against Croatia. Don't assume this one as a victory for the Serbs, in fact I think this very well could serve as the stunner on Saturday that might put Serbia's fate on the shoulders of Troicki in a fifth rubber.
Prediction: Nedovyesov-Golubev win in four sets
Belgium - Croatia
With this tie knotted at 1-1 after Friday, a big decision will loom for Saturday's doubles rubber. Belgium nominated Ruben Bemelmans and Arthur De Greef to their doubles spots. That seems in line for a change on Saturday if the Belgians are to give themselves an opportunity to take this tie. De Greef has noting in his pedigree that suggests he would be a good fit here. He's mostly a Challenger and Futures player, and even there, he has not played a ton of doubles.
David Goffin or Kimmer Coppejans seem likely to get substituted in for De Greef. The question for Belgian captain Johan Van Herck could come down to how much he trusts Goffin to potentially finish the task in the fourth rubber against Marin Cilic. Even though Borna Coric is inexperienced in Davis Cup, he would fancy his chances in a fifth rubber against Coppejans. That makes the third and fourth rubbers monumentally important.
Coppejans was passed over in last year's Davis Cup final in favor of a David Goffin and Steve Darcis doubles partnership that lost to Andy and Jamie Murray. Coppejans competently paired with Bemelmans in the quarterfinals to beat Daniel Nestor and Adil Shamasdin of Canada in four sets. That seems a smart pairing to go against Croatia's Ivan Dodig and Franko Skugor. Goffin is 0-2 in doubles rubbers and a day of rest might serve him better.
It will not shock me to see Goffin included in the doubles rubber, but this writer sees that as a mistake for Belgium. Bemelmans and Coppejans are capable of giving Dodig and Skugor a run for their money on clay. Regardless of the lineup, Croatia has the best doubles player on the court in Dodig and should find a way to win.
Prediction: Dodig-Skugor win in four sets
Great Britain - Japan
Saturday's doubles rubber looks to be a case of will they or won't they for both sides. The question for the hosts is whether Andy Murray will slide into a doubles slot alongside his brother Jamie as he did during their magical run to the Davis Cup title last year. Otherwise, Great Britain will rely on Jamie Murray and Dominic Inglot in Saturday's doubles rubber. Japan is scheduled to trot out Yoshihito Nishioka and Yasutaka Uchiyama.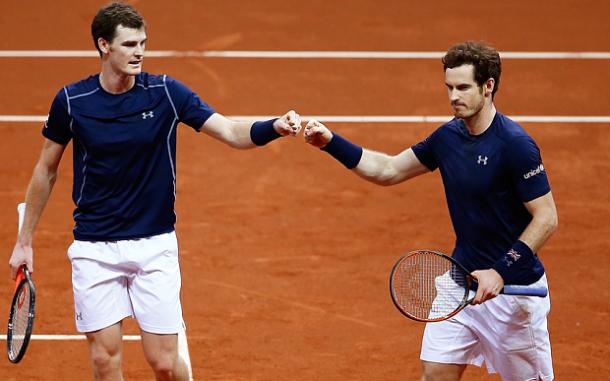 Uchiyama is likely to stay put. He's been a constant performer in doubles for Japan since 2013. The question for Japan is do they go with Kei Nishikori as his partner, rather than Nishioka? Nishioka's lone experience in Davis Cup play came last year in the World Group Play-off. He partnered with Uchiyama as they lost to Jean-Sebastian Cabal and Robert Farah of Colombia. Japan was able to win the tie though on the strength of two wins from Nishikori in singles and a closing win from Taro Daniel.
This is a big spot for Japan. The Brits have the better doubles options, so they will be confident of victory and then be relying on Andy Murray to close the deal against Nishikori in the reverse singles rubber. Conversely, the Japanese may feel their best option is also to get the doubles rubber and then rely on Nishikori to close the tie in the fourth rubber. Both nations were non-committal on whether or not changes would take place to the doubles rubber, but this columnist expects at least one.
Nishikori is a must play here. While either country can lose this doubles rubber and still push it to a fifth, I don't think either captain will feel overly comfortable having to rely on Evans or Daniel to seal the tie. The Brits didn't trust Inglot with a spot down the stretch last year, so it will be interesting to see if they do here. He's still low on experience at this stage, so it is certainly possible we will see both Andy Murray and Kei Nishikori playing tomorrow.
Prediction: Great Britain wins in four sets
Germany - Czech Republic
The doubles rubber was nearly a must-have for the Czechs, before Tomas Berdych pulled off a colossal comeback against Alexander Zverev in the second singles rubber. As it stands, Germany and the Czech Republic are tied 1-1 after Friday's action. That leaves the doubles rubber as an important one. The Germans have Dustin Brown and Philipp Petzschner slated to go against Jiri Vesely and Radek Stepanek. This too likes like a spot for both squads to make changes.
Brown does have three doubles rubbers to his credit, all wins, but none have come with this much on the line. As such, Philipp Kohlchreiber could be called upon to play with Philipp Petzschner. it is the same pairing that won in the World Group Play-offs against the Dominican Republic last year. For the Czechs, Berdych is an option despite the energy he expended in his comeback against Zverev. Berdych has pulled double duty in every Czech tie he has played in since 2009. This won't be new territory for him and he forms a solid partnership with Stepanek.
Thie tie is very much still in question with the reverse singles rubbers matching Kohlschreiber and Berdych in the fourth and possibly Zverev and Rosol in the fifth. The doubles rubber becomes vastly important for both teams to get, with what waits at the tail end of this tie. If a fifth rubber is needed, the Germans surely would be a little uncomfortable with an 18-year-old trying to lead them. The Czechs would be relying on Rosol who has lost five of his last six Davis Cup singles rubbers. Expect a slobber knocker, no matter the lineup. The Czechs experience, if Berdych and Stepanek team up, might just get them the nod in this one.
Prediction: Czech Republic wins in five sets