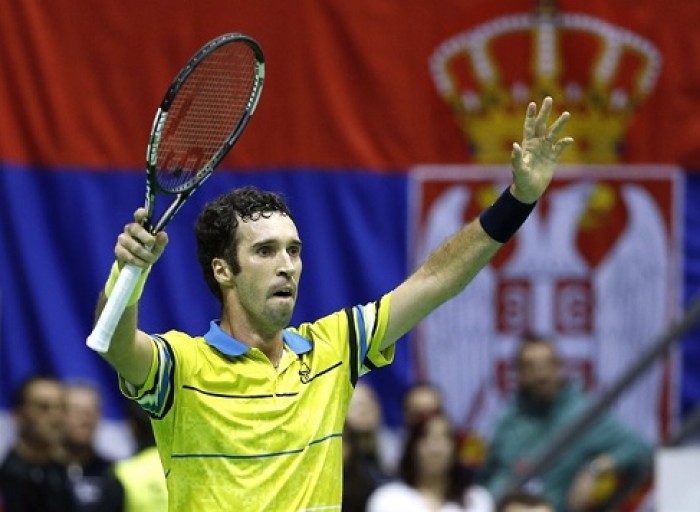 Mikhail Kukushkin helped Kazakhstan bounce back after Novak Djokovic topped Aleksandr Nedovyesov earlier in the day. Kukushkin delivered a stunning 7-5, 6-2, 6-4 win over Viktor Troicki to even the Davis Cup World Group tie with Serbia at 1-1.
Kukushkin Gets Second Break Late to Take Opener
The match started well enough for both Kukushkin and Troicki as they swapped service holds. The Serb would show some trouble in his second service game as he let the Kazakh see a break point. Troicki would hold as the score then pushed to 2-2 after a love service hold for Kukushkin. Trouble found Troicki again in the fifth game as he fell behind 15-40 on serve and was broken for the first time. Kukushkin was in the giving mood though a few games later as he struggled in game eight, where the Serb broke back to even the set at 4-4. Troicki would edge ahead after a hold to 5-4, but then lost three straight games as Kukushkin broke him again in game 11 en route to the set win.
Troicki Troubled Early Again in Second Set
After a strong love service hold, things went all wrong for Troicki in the second set. At 1-1, Troicki was back on serve and in peril as he went behind 15-40. The Serb would dig deep to fight back to an advantage point, but stumbled as he allowed Kukushkin a third break chance. The Kazakh made him pay this time to take the 2-1 lead. That quickly blew out to 4-1 when Troicki was broken a second time in the set. Service holds would finish out the set at 6-2 in favor of Kukushkin. Unforced errors again plagued Troicki as he tallied 21 for the second consecutive set.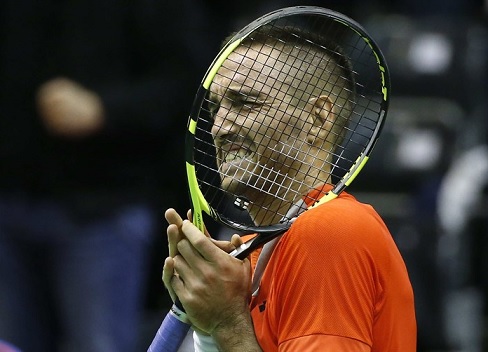 Kukushkin Gets Through Sloppy Third Set
The third set left no doubt where the match was headed. Kukushkin blew through Troicki's opening service game to convert another break chance for a 1-0 lead. He would consolidate the break and quickly be up 2-0. A brief moment of hope would come in the middle of the set as the Serb was broken to fall behind 3-0, but got the break back to 3-1. Sloppy play late saw another exchange of breaks that left Kukushkin still ahead at 5-3. Troicki would fight off two break points in the 9th game to force Kukushkin to serve for the set. The Serb would see two chances in the 10th game to even the set, but could not convert as Kukushkin ended with a cross court winner.
Kazakh captain Dias Doskarayev was pleased with the split of the singles rubbers on Friday, saying after the Kukushkin win, "Nedovyesov was a little bit nervous against Djokovic, which is understandable given the class of his opponent, but I am really delighted for Kukushkin because he beat a great player with a vintage performance."
Final Stats
Troicki's serve let him down in this match. The Serb won just 14 of 35 points on his second serve and only 66 percent on his first serve. Kukushkin broke his serve seven times on 16 chances. The Serb would only convert three of 12 break chances against the Kazakh. Troicki's error count was also tremendously woeful with 66 unforced errors to just 21 winners.