 Germany were trailing 1-2 after the doubles win the previous day had given the advantage to the Czech Republic. In a must win match, Philipp Kohlschreiber gave an inspired performance against Tomas Berdych whom he had only ever won once before in nine previous encounters.
The Czech though was struggling with a hamstring injury for most parts of the match and was forced to retire after the German had taken a two set lead. With the win, the tie was now set for a gripping finish in the fifth rubber.
Kohlschreiber Edges A Tight First Set
Both players looked comfortable in their service games as the first four games went on serves. The German made his move in the fifth getting the first break point of the match. Berdych saved one but was unable to save again as Kohlschreiber broke to the delight of the German crowd.
Berdych then left the court for a medical timeout for his thigh. It seemed to have solved his issue momentarily as the Czech found himself break back chances. Kohlschreiber was playing some terrific tennis to save not one, but five break points he faced to lead 4-2. Berdych was once again knocking on the German's door and once more Kohlschreiber hung on for a 5-3 lead.
It was now the German who upped his level ripping a scorching backhand which was too hot for Berdych to handle. That shot gave Kohlschreiber two set points. The world number seven could only hit a deep return into the net as the German clinched the first set 6-3.
Berdych Struggles And Eventually Succumbs To Injury And To The German
The second set was even tighter affair as both players were not giving any chance. The German was more comfortable in holding serves as the hamstring injury looked to be bothering Berdych. At the changeover at 5-4, Berdych had his face covered in a towel and it looked worrying for the Czech.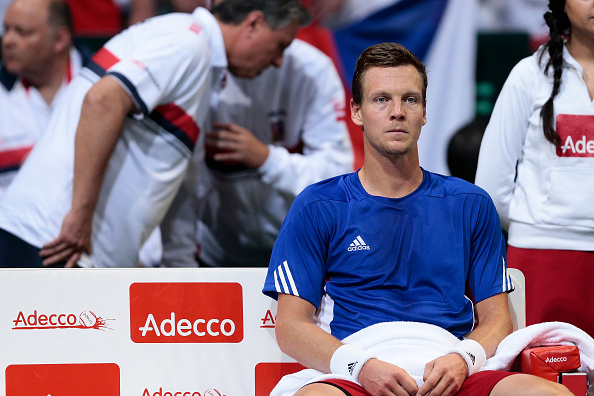 As Berdych was serving to stay in the set, Kohlschreiber earned himself set point. The brave Czech saved with his big serve to hang on at 5-5. Another quick hold ensued for the German, and the pressure was back on Berdych. The Czech was not moving as well in the game and Kohlschreiber was able to get two set points. This time Berdych was unable to save as his shot goes long to hand the set to the German 7-5. Berdych then decided he can't continue as he retires. Germany level the tie 2-2.
Match Statistics
The key difference in the match was that Kohlschreiber was able to convert three out of five break point opportunities he had created. Whereas, Berdych could not convert any of the eight he had conjured.
The on fire German also hit 24 winners to the Czech's 17. Berdych also hit slightly more errors at 41 while Kohlschreiber hit 38.