 The emotions of Davis Cup tennis and getting to represent your country always run at a high level. However with the Australians, the emotions and drama have intensified. After Bernard Tomic's defeat to John Isner, he talked about his fellow countryman Nick Kyrgios and said some not too kind words. That then prompted the Kyrgios to fire back as the war of words has begun.
Tomic: Kyrgios has Faked It, and I'll Lose Respect for Him
During his match against Isner, Australia's Channel 7 caught Tomic saying this to Australian captain Lleyton Hewitt, "Two times Nick has faked it. Twice. While I'm here, Nick's sitting down in Canberra. Bullsh*t he's sick." He then continued to take shots at Kyrgios in his press conference after his loss saying that this incident was not the first time this has happened. He said, "He didn't come to Czech and had stress fractures and somehow played Indian Wells and felt good."
Tomic then continued and talked about Kyrgios and Indian Wells, "He said he's `still sick but I'm going to be better tomorrow' - so it's just weird for me. If he plays Indian Wells, then he's definitely lost a little bit of my respect."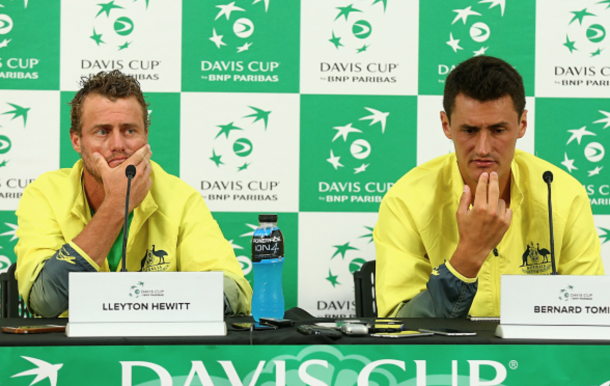 Kyrgios Fires Back
Despite Tomic saying that he talked to the 20-year-old after and that they were on good terms, Kyrgios took to Twitter and had some things to say. In a now-deleted tweet, Kyrgios took shots at Tomic, discussing his quick loss to Jarkko Nieminen in Miami last year. "Let's not forget who holds the quickest loss on the ATP Tour lol #howmanyminutesagain," Kyrgios tweeted.
Kyrgios then tweeted twice more after that, which can be seen below. Kyrgios, who described his first tweet as something that came from the "heat of the moment" is something that the 20-year-old is used to. Last year at the Rogers Cup, the Aussie took a sledge at Stan Wawrinka, also describing it as something that was from the "heat of the moment".