 Sania Mirza and Martina Hingis have gone on to win eight consecutive tournaments together and have also gone on to a 41 winning streak along the way, a run that ended at the quarterfinals of the Qatar Open.
Santina Slam
Hingis and Mirza currently hold three of the four Grand Slams: Wimbledon, US Open and Australian Open, but with the French Open approaching they have their sights set on winning that and Mirza is hopeful that the Swiss-Indo pair can lift the trophy and have the Career Grand Slam.
Despite wanting to win the French, Sania Mirza and Martina Hingis admitted that Clay is not their favorite surface and results back that up. The Indian and the Swiss, who lost at the quarterfinals stage, say that it will be a tough task to win the Grand Slam.
Sania spoke to the Telegraph India and said, "I hope that the chances are bright, considering we won the last three Grand Slams. But it is going to be our toughest Grand Slam to win. It is not our favorite surface. But we are doing whatever we can and hopefully we can get that 'Santina' Slam, so to say."
If they want to win the French they will have a lot of work to do to avoid another shock result happening. The French Open also known as Roland Garros is to take place in May, but there is still plenty of tennis to be played on their part before they can worry about winning.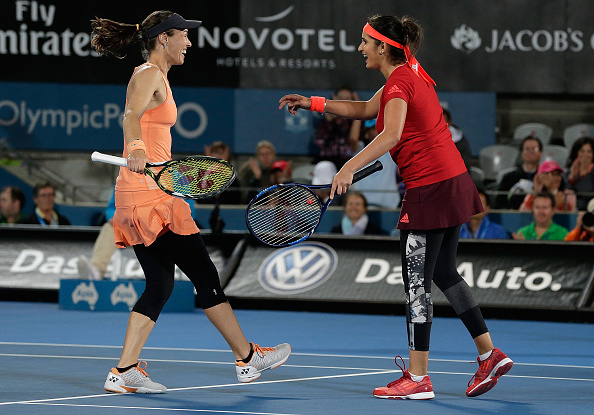 Road To Singapore
Although it is only March, the pair of Mirza and Hingis are runaway leaders in the Road to Singapore which is at the end of the year. They are currently on 3,600 points after 5 tournaments, at least 1804 points ahead of their closest rivals Chan Yung-Jan and her sister, Chan Hao-Ching in second who are having a fantastic season to date.