Two of the biggest stars in tennis were confirmed to be taking part in Istanbul Cup, with Caroline Wozniacki and Victoria Azarenka set to take part in the tournament. With both previously being ranked at world number one, their participation will undoubtedly bring fans and media interest to the tournament when it starts on the 18th of April.
Former Champion Wozniacki Returns
Wozniacki is to return to Istanbul, having previously won the title when the tournament was brought back after a three-year absence in 2014. The Dane only conceded two sets on her way to the title, storming past Roberta Vinci in the final, in a match which helped start her strong American hard court summer that season.
Last year, Wozniacki took part in Stuttgart at this stage of the season, losing to Angelique Kerber in the final, but has decided to enter Istanbul which has been moved to earlier in the year. It had previously been held the week after Wimbledon.
Wozniacki's participation in the tournament was announced in Istanbul featuring a hologram of the former winner announcing her entrance into the draw.
Azarenka To Make Debut Appearance
Wozniacki's good friend Azarenka has announced her participation for the tournament, making her debut appearance in Istanbul.
The former world number one and two-time Australian Open champion will be another big draw for the tournament, and a potential match between Azarenka and Wozniacki could create a lot of interesting during the tournament.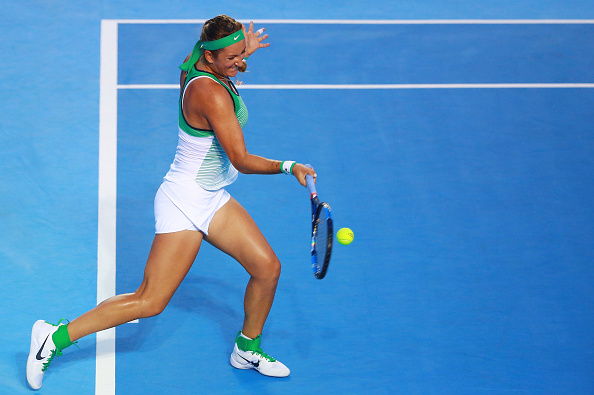 Brits Set To Take Part
Great Britain is set to have two representatives in Istanbul, with Heather Watson and Laura Robson set to take part.
Watson, the British number two, won the title in Acapulco last week after a disappointing start to the year and will see Istanbul as an opportunity to continue her progression up the ranking, as she looks to rival Johanna Konta for the British number one spot.
Robson, who has struggled with a severe wrist injury over the past few years, will be looking at the tournament as an opportunity to start getting match practice against relatively tough opponents.