Former world number one Lindsay Davenport revealed on the Tennis Channel on Monday that Maria Sharapova did correctly list her use of Meldonium at the Australian Open.
The correct documentation of Sharapova's use of Meldonium could be crucial in terms of punishment, with WADA and the ITF likely to be more lenient on the Russian.
Davenport Had Private Meeting With Sharapova's Lawyers
Three-time Grand Slam champion Davenport revealed on Monday that she had attended a private meeting with lawyers representing the Russian star, and stated that Sharapova's lawyers had the documentation which showed that the five-time Grand Slam champion did list her use of Meldonium, documented prior to the drug test that she failed. In an interview shortly after Sharapova's announcement, her legal team did reveal in an interview that they believed there was a "laundry list" of mitigating circumstances that would help Sharapova's case.
The news was broken on Twitter hours after Sharapova's press conference by Matt Fitzgerald, a former ATP Web Editor and the Director of Digital Media and Operations at Mylan World Team Tennis, on Twitter. Fitzgerald had been watching Tennis Channel and tweeted at the time, though it is only in the past few hours his tweet has been widely shared and has gained media attention.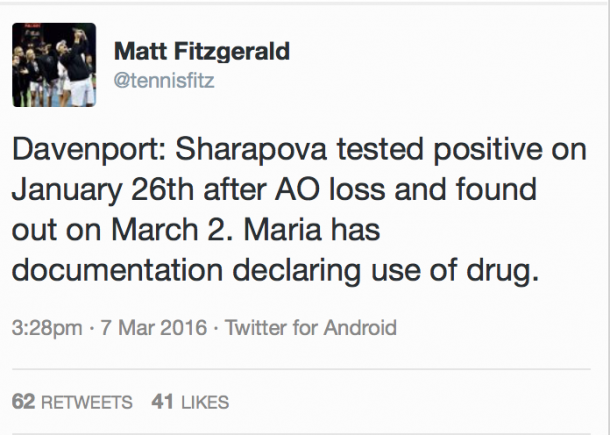 The Importance Of The Documentation
Assuming that this is true, the significance in terms of the case would be massive. If Sharapova did list the use of Meldonium before taking the drug test and there is clear evidence for this, it strongly suggests that she in no way attempted to hide the use of the drug, and this would seemingly imply that it was a mistake. This would undoubtedly help her case and would certainly limit any punishment she would get from the authorities.
Sharapova's suspension officially begins on the March 12th and the initial hearing into proceedings takes place on the March 23rd in London.