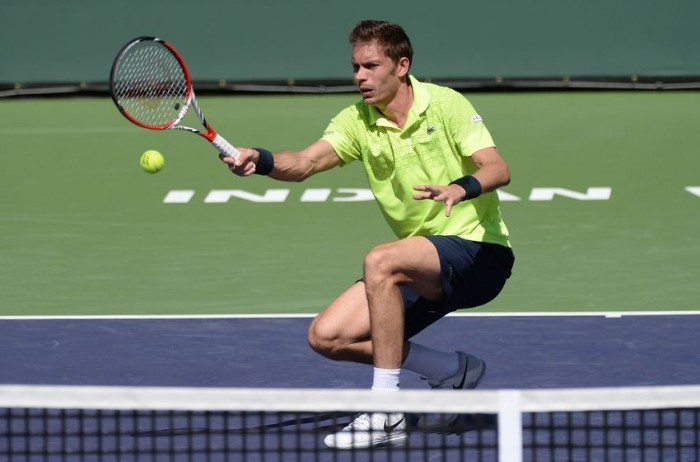 Nicolas Mahut of France started his BNP Paribas Open campaign against Renzo Olivo, who was making his first appearance here in the desert. Nico Mahut didn't have any problems as he dispatched the Argentine 6-2, 6-4.
Quick start
Mahut and Olivo were meeting for the first time here at Indian Wells and having held his first service game with ease, the Frenchman then had break point chances at 40-15. The world number 167 saved one break point, but couldn't save another as the veteran Frenchie raced into an early 2-0 lead. He then consolidated that break to give himself a comfortable lead in the opening set. The Argentine would then go on to win his first game in three to get on the scoreboard.
In the next game, Olivo clawed back a 40-love deficit to take it to deuce, but the world number 44 stopped any momentum to win the game and go 4-1 in the set. With the 32-year-old in control of the match, he soon found himself at set point on the Olivo serve at 40-15. Renzo Olivo then saved one set point as Mahut hit a forehand into the net, but on his second set point, the Frenchman made sure to take advantage as Olivo smashed a simple backhand into the net to gift the opening set 6-2.
Nicolas Mahut won 75 percent of points on his first serve, but only 62 percent on his second. The Frenchman took half of his break point opportunities and won a total of 59 percent points. Olivo struggled throughout that first set as stats show. He won only 52 percent of points on his first return and 50 percent on his second, while he didn't muster any break point chances and won only 40 percent points.
Late Break seals victory for Mahut
Both players started the second set by holding comfortably. At 1-1 on the Mahut serve, Olivo had break point chances to get back into the match, but he smashed the ball into the net to bring it to 40-40, Mahut then won the next two points to make it 2-1 In the set. Mahut continued to serve well and hold his service games, with Renzo Olivo continuing to scrape by and only just keep up with the US Open doubles champion. With both holding serve, Nicolas Mahut found himself at match point on the Olivo serve at 5-4, 40-30. Having struggled against the better player throughout the match, the veteran played a wonderful shot which then led to a forehand error off the Olivo racket. Mahut sealed the victory 6-2, 6-4 in 1 hour 15 minutes.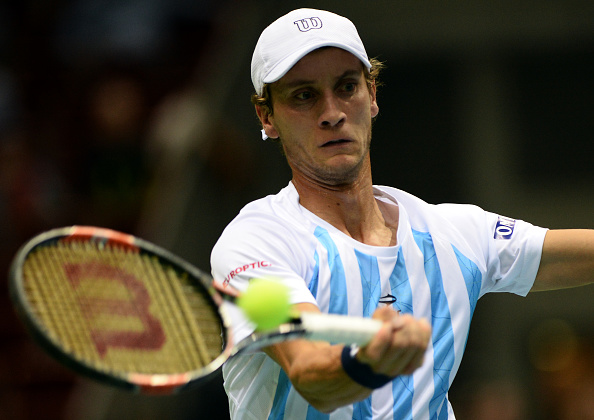 The Frenchman performed consistently as he won 80 percent points on his first serve, but only 55 percent on his second as he struggled. He took his only break points of the set and won 54 percent of points throughout the set. The 23-year-old was steady on his serve winning 63 percent on his first serves and 60 behind his second. The Argentine failed to convert his only break point chance and won only 45 percent of point during the set.
Match statistics
Nicolas Mahut was excellent on his first serve winning 78 percent points, while on his second he struggled, winning only 58 percent. He took three out of five break point opportunities during the match giving him 60 percent. Throughout the match, Nico Mahut won 63 points out of a possible 111, giving him a 56 winning percentage.
Olivo struggled on his serve winning 57 percent on his first and 58 on his second. He did manage to save 40 percent of break points, but also failed to take his only chance at breaking. The youngster won only 43 percent of points which resulted in the match.
Second Round opponent for Nico Mahut
Richard Gasquet awaits Nico Mahut in the next round. The 28-year-old is the eight seed in the competition and had a bye in the first round. Both have played each other three times, with Gasquet coming on top every time. The last time they met the more experience Frenchman came out on top 7-5, 6-4, 7-6 (7) just under six years ago at the BNP Paribas Masters Paris.