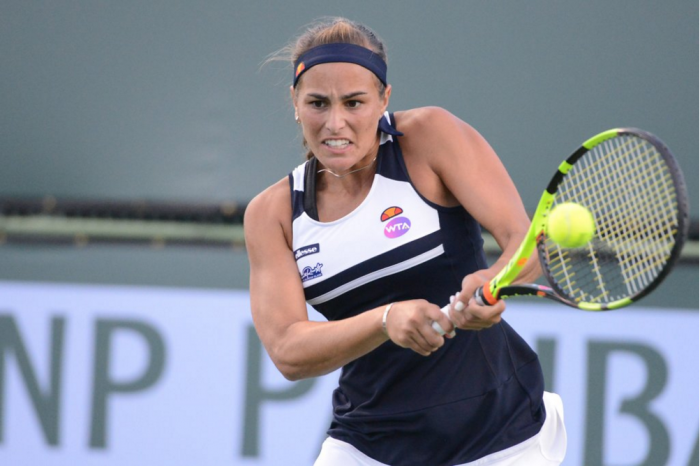 Puerto Rican number one Monica Puig kicked off her 2016 BNP Paribas Open campaign in fine style on Thursday afternoon, defeating Mirjana Lucic-Baroni 6-1, 6-2 to book her place in the second round. Puig will now play 28th seed Anna Karolina Schmiedlova, who enjoyed the benefit of being a top 32 seed and received a bye in the first round.
Puig Outsmarts Lucic-Baroni in Big Points, Takes First Set
Despite the 12-year age difference, it was Puig -- the younger of the two -- who came out all guns blazing, drawing first blood right off the bat as Lucic-Baroni struggled to find her timing early.
From there, the 22-year-old went on to consolidate the early break after saving a break point to take a 2-0 lead. Not to be outdone, the 34-year-old Croat responded with a hold of her own to get herself on the board, before earning a total of four break points in Puig's next service game.
Unfortunately for Lucic-Baroni, she was unable to come up with the goods when given those opportunities, and Puig was as solid as a rock from the back of the court. As a result, the Puerto Rican number one would go on to hold for 3-1.
With the momentum firmly back in her favour, Puig managed to earn three break points of her own, and converted her third opportunity to open a sizeable 4-1 advantage. From there, Puig seemed to get better and better as the set progressed while things quickly went from bad to worse for Lucic-Baroni. Once the Puerto Rican had consolidated the double break, it was only a matter of time until she broke for a third time to take the opening set 6-1.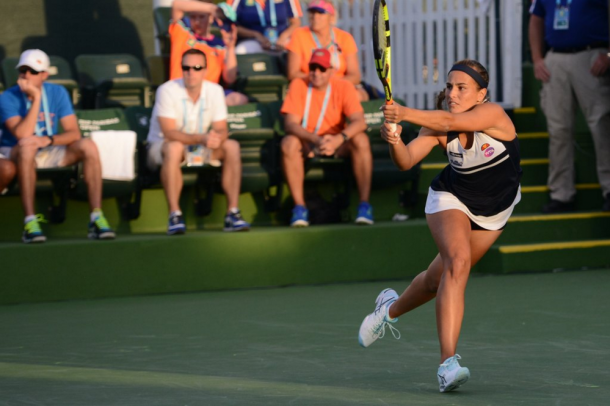 Puig Withstands Late-Match Resistance from Lucic-Baroni, Safely Through to Round Two
Continuing her blistering momentum into the early stages of the second set, Puig followed up an early hold with yet another break of serve -- her fourth of the match -- to go a set and 2-0 to the good. However, Lucic-Baroni began to come alive again in the following game, and managed to create two break point opportunities for herself but unfortunately, it was a case of déjà-vu for the Croat as her Puerto Rican counterpart saved both break points en route to consolidating the early break.
Despite not taking her chances, Lucic-Baroni continued to play her high risk, high reward brand of tennis, and managed to get herself on the board, thus keeping herself in contention for the time being.
As the set progressed, the 34-year-old began to apply more and more pressure from the receiving end in order to get that elusive break of serve. Much like in Puig's last service game, the world number 71 was able to earn herself two break points but failed to deliver the goods time after time, much to her dismay. While under pressure, Puig intelligently decided to play high percentage tennis while keeping her composure, which was eventually rewarded with a hold of serve to go up 4-1.
Knowing that she could match Lucic-Baroni shot-for-shot from the baseline with a ruthless consistency, the momentum quickly shifted back into Puig's favour. Not long thereafter, the 22-year-old continued to impose her deathgrip on this match, breaking for 5-1. Lucic-Baroni, however, began to swing more freely knowing she had nothing to lose from this point forward, and was rewarded with a break of her own -- her first of the match -- after finally converting her 10th break point of the match.
Despite the late setback, Puig remained calm and began to play more high percentage tennis, which eventually drew errors out of a struggling Lucic-Baroni. As a result, the Puerto Rican was given two chances to close out the match in the following game, and proved she only needed the one to complete a comprehensive and hard-fought 6-1, 6-2 victory.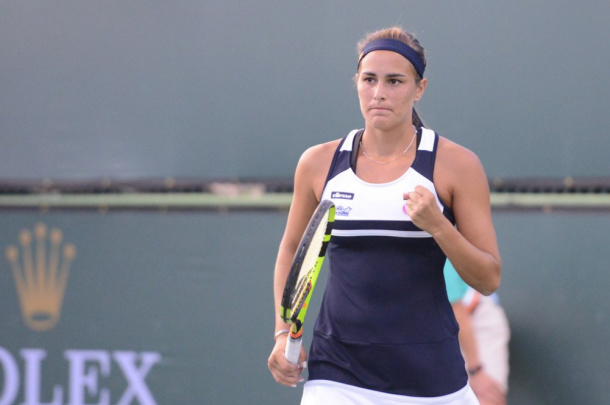 Next Up for Puig: Anna Karolina Schmiedlova
Awaiting Puig in the second round is 28th seed Anna Karolina Schmiedlova, who enjoyed the benefit of having a bye in the first round. The pair have met once before, with their only meeting coming in Sydney earlier this year, where Puig completely blew Schmiedlova out of the water, defeating the Slovakian number one 6-1, 6-0.