 The third match on Stadium 2 of the Indian Wells Tennis Garden saw an entertaining affair between Guillermo Garcia-Lopez and Ernests Gulbis. It was a highly-contested affair between the two. Gulbis has his erratic, yet interesting play style while Garcia-Lopez is sound off both sides but can get wild at times. The Spaniard dominated the opening set, but Gulbis fought from behind to take the second set into a tiebreak before the Spaniard dominated the tiebreaker to take the match in straight 6-2, 7-6(2).
One-sided first set to the Spaniard
There's not much to say about the first set as it was dominated by Garcia-Lopez who was playing great with deep hitting and making Gulbis run a lot. The Spaniard was untouchable on his first serve and on his forehand side especially, firing plenty of winners and losing just 1 point out of 11 on his first serve and losing three out of nine (one of them with a double-fault) on his second serve. He didn't face a single break point in the first set while the Latvian faced three and was able to save only one of them. Gulbis was struggling too much, hitting a lot of unforced errors and as a result, took the opening set 6-2.
Interrupted and tight second set
The second set was much more tight than the first. At the beginning of the set, Garcia-Lopez broke the Latvian's serve and saved two break points to hold for a 3-1 lead. Gulbis was missing too many shots on his return but then he found his groove and started to find his groove to get him back into the set. The Spaniard started to miss a lot, with his service game going to deuce, but he closed it with a huge serve to make it 4-all. He threatened the Latvian by raising his level and creating some difficulties on Gulbis' serve but the world number 71 held his serve.
The set was in a decisive part but when the scoreboard was 4-5, 15-0 with the Spaniard serving, it started to downpour and matches were suspended. The Spaniard probably took advantage of that because he came back on the court focused again and took the set 7-6(2). In the second set, Ernests Gulbis fired two aces while Garcia-Lopez didn't fire any but hit two double faults. Both had very low percentages of first serves in, with the Spaniard putting 55 percent of them and the Latvian putting 47 percent.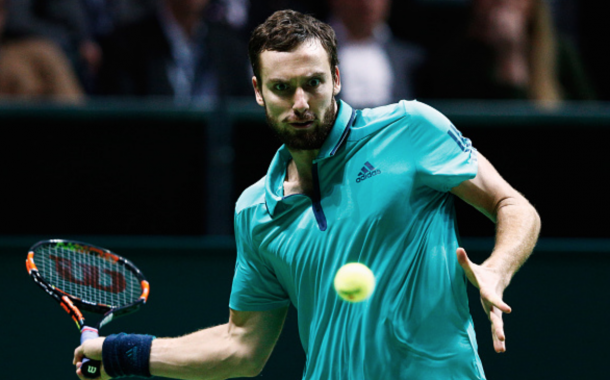 What's next?
Guillermo Garcia-Lopez will face Feliciano Lopez, the 21st seed, in the third round. This will be their eighth meeting and the second one this year. Lopez leads the head-to-head 4-3.
Gulbis will head to Miami next.