 Stan Wawrinka was untroubled in his opening match at the BNP Paribas Open on Saturday night, defeating Ilya Marchenko 6-3, 6-2 in just over an hour to reach the third round of the season's first Masters 1000 event. Wawrinka was dominant on serve, giving Marchenko no opportunities, while wearing down the Ukrainian with his trademark consistent groundstrokes.
Wawrinka Edges Opener
The third seed put Marchenko under pressure from the get-go. The Ukrainian did well to hold off Wawrinka's solid ground assault, saving four break points. However, he was eventually overwhelmed by the Swiss' consistent ground strokes, and was finally broken with Wawrinka rushing to a 5-2 lead. Marchenko started to find his game late in the set, and forced Wawrinka to serve it out.
Unfortunately for the Ukrainian, the Swiss' serve was just as strong, if not stronger, than the rest of his game. In the first set, Wawrinka only lost six points on serve, four on his first, two on his second. He did not give his opponent a single break point. So when it came time to serve out the set, Wawrinka made no mistake in taking the opening set 6-3.
Strong Serving Sends Wawrinka Through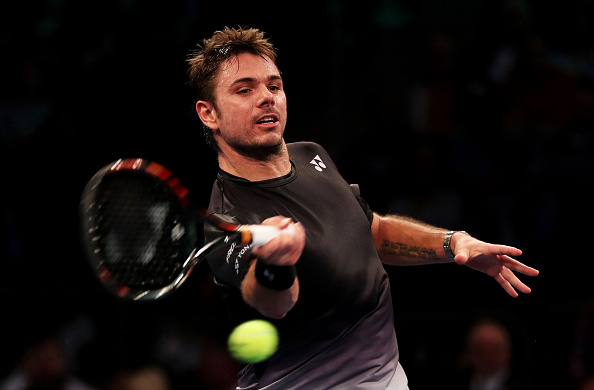 Marchenko had been playing better at the end of the first set and that form carried over to the second set, as he held with ease in the opening game. That was just about where the Ukrainian's chances would end, as Wawrinka cruised through the rest of the set, winning six of the last seven games.
The Swiss had done just enough on his return in the opening set to win it. He raised his level in the second set, attacking Marchenko's serve at every opportunity. While Marchenko faced fewer break points against his serve in the second set, he was winning very few free points on serve. Wawrinka managed to win over 50% of Marchenko's first serve points, and converted an early break point to once again lead 5-2. The Ukrainian had been in the same situation in the first set and forced Wawrinka to serve out the match. He failed to stand up to the Swiss again, as this time he was broken to end the match.
By the Numbers
Marchenko's second serve was a disaster, as the Ukrainian only managed to win nine points out of 23 points after missing his first serve. He still managed to save six of the nine break points he faced. However, Wawrinka was nearly perfect on serve, winning 77% of his first serve points, 70% of his second serves and not allowing Marchenko a single break point opportunity in the match
Wawrinka will take on Alex Kuznetsov in the third round, who took out Jeremy Chardy earlier in the day.