 Gael Monfils, who played Stan Wawrinka at Madison Square Garden for World Tennis Day hadn't even come close before unleashing the trick shots. His first move: a mid-air, no-look volley from the service line.
After he delivered more trick shots, he tagged a leaping, between the legs shot from just behind the baseline. Then came a left-handed groundstroke, followed by a slide to turn what appeared to be a surefire winner from Wawrinka into a down-the-line forehand from Monfils that swung the point in the Frenchman's favor. He then attempted a Soccer like header which didn't exactly turn out in the manner he hoped. The crowd were then buzzing when Monfils hit a no-look rocket from the baseline.
Fewer than two hours, The Garden had been properly "Monfil'd" getting a full dose of the 6-foot-4 Frenchman's athleticism, quickness, power and finesse. Monfils won the exhibition 7-6, 6-3.
Brad Gilbert on Monfils
"Last year was pretty much a microcosm of his whole career," said ESPN analyst Brad Gilbert, who called the match. "He's the human-highlight reel. But half of his career he's been injured. He can do what no one else can do [in terms of shot-making], but it's too hard to use that in a match. It hurts his body and he loses focus. I think the past injuries have come from so much of his diving and acrobatics."
Form in 2015
Last year, the Frenchman struggled majorly with injury and fitness. He failed to win a tour event for the second straight year and didn't make it past the fourth round of a slam, more noticeably struggling during the US swing in the summer. He retired during the US Open first round with back injuries. After just eight months, Gael Monfils then split with Jan de Witt and finished the year in number 24 spot.
"I think last year was maybe the worst season I played ever on the tour," Monfils told Australian Open TV in January.
Much has changed for Monfils since having to retire at the US Open. He recently hired Swedish coach Mikael Tillstrom in October and upon joining the team, Tillstrom told French-based L'Equipe that a Grand Slam was within Monfils' grasp, and that one of the keys to winning a major involved being more focused, efficient and aggressive in early-round matches.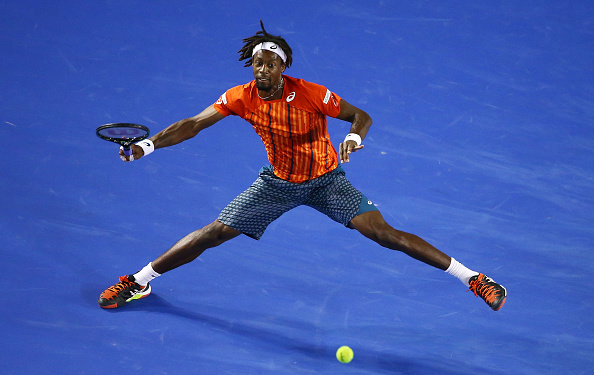 "He must spend as little energy as possible to be at 100 percent during the second week," Tillstrom said to L'Equipe. "This can be done by having extreme concentration in every game of each set. ... He must serve and volley more often ... I want him to be more aggressive and more creative. He has touch and incredible acceleration, and he must take advantage of it."
"I switched my team. I have a new coach and a new way to work," Monfils said following the exhibition. "We have a different training approach. I'm practicing good. I've worked on all my shots to get better."
"I'm playing a bit different this year. "[Tillstrom] is working with me to save some energy. My mentality changed. I'm trying to be more into it, more focused. I think I'm more calm. And I think I've done pretty good so far."
During his training, the French has tried to incorporate more serve and volley into his game, conserving energy and efficiently closing out early-round opponents have been on display so far this year. Monfils lost just one set in four rounds in this year's Australian Open where he made it all the way to the quarterfinals, losing to Milos Raonic.
And a couple of weeks later, he stormed to the finals in Rotterdam, dropping just one set in his first four matches before losing the title to Martin Klizan in three sets. He's now ranked 16th.
"At the Australian Open, there was a big difference," Gilbert said. "He was much more muted, more focused. No diving shots and no 'tweeners. I noticed him serving and volleying a bit more; with his athleticism and skill set, his volleying has improved a lot. He should take advantage of that."