The ATP Challenger Tour takes its action to the Irving Tennis Classic this week in Irving, Texas. Qualifying action began Monday and the tournament will run through March 20th. It is a bridge between Indian Wells and the Miami Open, two Masters 1000 events.
Internationally ranked players come to get important match play and ranking points in the Metroplex. The field is extremely competitive as a result of the tournament's special exemption that allows for players ranked outside the top 10, but inside the top 100, to accept wild cards into the event. That includes players eliminated in the early rounds this week at the BNP Paribas Open.
The tournament is played outdoors on hard courts and is hosted at the Four Seasons Resort and Club. It is a premiere $125,000 ATP Challenger event that players and fans look forward to each year.
The Singles Field At Irving
This year's Irving Tennis Classic has a very strong field and possibly one of the strongest fields you will see on the ATP Challenger Tour all year. The main draw starts on Tuesday.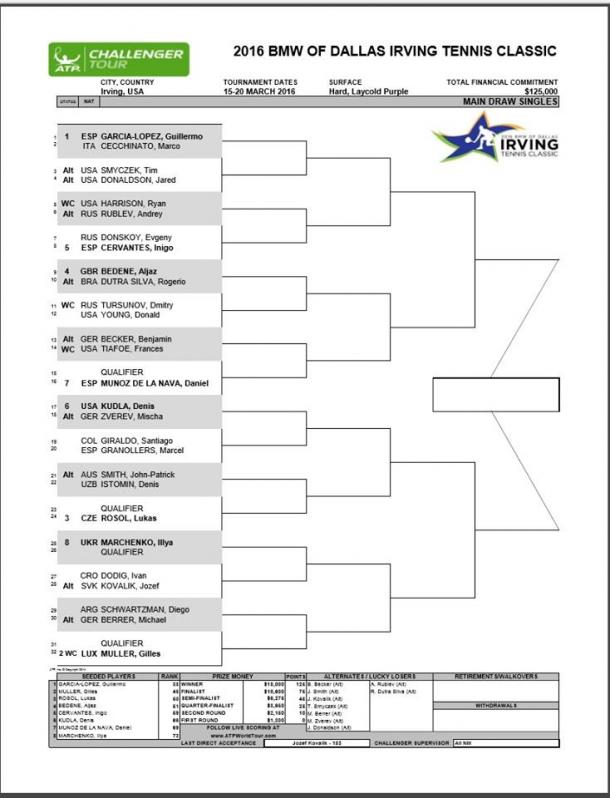 The men's singles draw features top seed and world number 38 Guillermo Garcia-Lopez. Second seed Gilles Muller received a wild card after being ousted early in Indian Wells. He is ranked 45th. The draw is home to an impressive 16 players within the top 100 of the Emirates ATP Rankings. ATP Next Generation player Frances Tiafoe has also received a wild card fresh off of his win over Taylor Fritz and a close loss to David Goffin in Indian Wells. Russian Dmitry Tursunov is continuing his come back on tour, taking another of the wild cards to play the ITC.
Last year's finalists are also back with Tim Smyczek coming in as an alternate. 2015 Champion Aljaz Bedene is the 4th seed this year. It is an incredible field that has many amazing first round encounters. The field is so strong that it resembles one of the ATP 250 level events on the main tour.
Quarters Preview
First Quarter: Guillermo Garcia-Lopez (1)
Garcia-Lopez opens against Italian Marco Cecchinato. The winner will see one of two Americans, either Smyczek or Jared Donaldson. The other seed in this quarter is Inigo Cervantes. The 5th seeded Spaniard has a difficult challenge against Evgeny Donksoy in his opener. The survivor will see either Ryan Harrison or Andrey Rublev. This is an open quarter where it would not be a surprise to see the seeds not involved in the hunt for a semifinal spot.
Second Quarter: Aljaz Bedene (4)
The defending champion opens with Rogerio Dutra Silva. A win there sets up a difficult match against either Tursunov or Donald Young. Seventh seed Daniel Munoz de La Nava leads the bottom of the quarter. He will get a qualifier to start. The winner of that match goes up against either Tiafoe or Benjamin Becker. Becker has made the quarterfinals each of the last two years and will provide a stern test for Tiafoe. The winner of that match looks like a good sleeper candidate to get through this quarter, Bedene could have a hard time repeating his success from last year.
Third Quarter: Lukas Rosol (3)
The Czech will grab a qualifier in his opening round match. Rosol played very well here in 2014, when he won the title in his only trip to Irving. If he advances, he would see either John-Patrick Smith or Denis Istomin. Opposite of him in this quarter is struggling 6th seed Denis Kudla. Kudla is just 4-6 in main draw events at the ATP Tour level this season, but could benefit from a good opening match-up. He takes on Mischa Zverev whom he has beaten in both career meetings. The survivor gets a shot at Marcel Granollers or Santiago Giraldo. Neither player has taken part in this event prior to this year. Rosol looks to be the best of the group here, but his consistency is still questionable at-times.
Fourth Quarter: Gilles Muller (2)
Muller starts with a qualifier and then would face either Michael Berrer or Diego Schwartzman. Schwartzman might have a small advantage, having played in Irving last year. The other half of the draw is led by 8th seed Illya Marchenko. The Ukrainian opens with a qualifier. The winner there sees either Ivan Dodig or Josef Kovalik. Dodig has made the final of the last two Challenger events he has played, but Kovalik looked solid in Indian Wells. Kovalik lost in the second round to Dominic Thiem in a pair of tie breaks. If he isn't burned out from playing qualifying in Indian Wells plus the main draw, he could be a surprise here. Otherwise, Dodig looks to be a darkhorse with Muller' serve potentially ready to carry him deep here.
Doubles Draw
The doubles draw is out as well in the 16 team competition. It is an interesting and strong field that features some solid first round matches and possibly great matches moving forward. Unlike singles, the doubles draw has no qualifying, so the field is completely set. Top seeds Nicolas Monroe and Aisam-Ul-Haq Qureshi have a first round bye. The top team is ranked individually at 57 and 50 in the world and have a lot of experience on the ATP main tour, with a combined 14 ATP World Tour titles. Second seeds Chris Guccione and Andre Sa also have a first round bye. The pair are individually ranked 63rd and 55th in the world. They have 14 combined ATP World tour doubles titles. Doubles legend Laender Paes is also in the draw as a fourth seed with partner Lukas Rosol. Watching Paes' net play is normally worth the price of admission.
Qualifying Singles - First Round Results
[1] G. Lapentti def. V. Schneider 6-4, 6-4
[2] J. Jung def. [WC] T. Charlos 6-0, 6-3
P. Petzschner def. [3] N. Scholtz 6-4, 6-2
J. Sude (GER) def [4] A. Rybakov 6-4. 7-5
[5] C. Norrie def. A. Sa 7-6(4), 6-4
[6] M. Venus def. [WC] N. Eazor 6-1, 6-1
[7] R. Haviland def. [WC] D. Webb 7-5, 7-6(6)
[WC] N. Lammons def. [8] E. Nava 6-2, 4-1 (Retired)
Main draw action will kick off on Tuesday with the final round of qualifying also scheduled to be completed. Championship Court looks to be home to perhaps the two best main draw matches tomorrow. Tursunov takes on Young in the second match of the day to be followed by Smyczek and Donaldson.
To keep up to date with the Irving Tennis Classic on social media, you can find them on Facebook and can follow @IrvingClassic on Twitter. VAVEL Tennis also has you covered every day with recaps of the day's action through to the final on Sunday.