 Kei Nishikori has never had the best results at the BNP Paribas Open. In his third round match against Steve Johnson, the Japanese was trying to equal his best showing in Indian Wells by making the fourth round. The five seed took the match in two tiebreaks 7-6(6), 7-6(5).
Nishikori Fights Off Four Set Points In Tiebreak To Take Opener
Both men were making some noise on their early their opponent's serve. Johnson held to open the proceedings, but Nishikori was struggling as a backhand return winner down the line and a drop shot attempt into the net gave the American break point. The five seed mis hit his forehand to give Johnson the early 2-0 lead.
In the fifth game, Nishikori had three looks at break point, going up 0-40. However, Johnson regrouped himself to reel off five straight points to hold for a 4-1 lead. Serving for the set, Johnson looked in control up 30-0. A couple of second serves later, he found himself 30-all. He got the first serve he was looking for, but with the quick, Japanese on the other side, he hit a poor drop shot into the net setting up break point. A second serve followed by a poor volley which sat up allowed the five seed to break back for 4-5.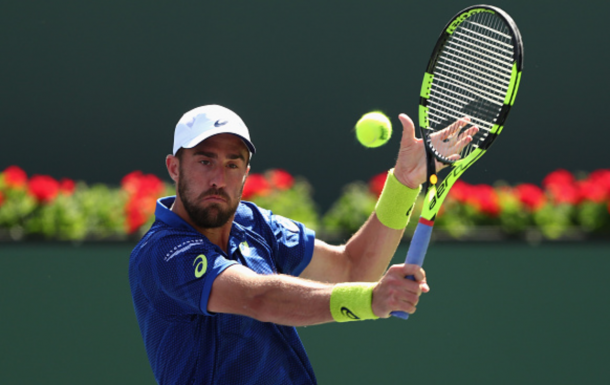 Nishikori was looking to consolidate the break and did just that for five-all. The opening set went into a tiebreak. Johnson earned the first mini-break to get up 2-0. The American extended his lead to 4-1 with a massive inside-in forehand down the line. Nishikori gifted a double-fault to extend Johnson's lead to 5-2. On his first set point, the American dumped it into the net, allowing Nishikori two more chances to stay in the tiebreak.
His second set point on his serve up 6-5, Johnson played a careless drop shot, sending it well long, squandering a 6-2 lead to 6-6. The five seed followed up that freebie with a tremendous return, forcing the 30 seed to dump his shot into the net to set up set point for Nishikori. He coolly took the breaker after another wayward slice from the American who will be ruing his missed opportunities.
Johnson was dominant on first serve points, and not so dominant on second serve points. Nishikori was a consistent 65 percent and 61 percent on first and second serve points combined. Johnson however, won 84 percent on first points, an astounding number, and won 33 percent of second serve points.
Johnson Extends Second Set Into Tiebreak But Falls In Straights
The opening of the second set was much more steady from both men. The first five games saw service holds. Johnson saved three break points in his first service game for one-all, and he nearly went from break point down to a break up, but Nishikori held off a steady effort from Johnson.
In the eighth game, a plethora of errors from Johnson set up triple break point for Nishikori. The first was saved after a long return, but a clean backhand winner gave the five seed the break for a 5-3 lead. However, Nishikori's errors and Johnson's fighting spirit found himself 15-40 up. The Japanese sent a volley wide to get the second set back on serve. Both men held the rest of the way as the mirror image from set one to set two continued with a player serving out for the set at 5-3 but went into a tiebreak.
Nishikori took the early mini-break lead and did not look back, earning two match points up 6-4. Johnson did his part, saving the first one with an ace, but his fortunes could not turn around after he dumped a backhand into the net.
The second set saw the serving numbers switch between the two. Nishikori was the one dominating on his first serve, winning 88 percent of those points, but only won 52 percent of second serve points. Johnson was 67 and 64 percent respectively on first and second serve points, but his inability to win points on Nishikori's first serve, won two, was the reason he lost.