 Eighth seed Petra Kvitova was forced to dig deep on Tuesday afternoon to avert a big upset at the BNP Paribas Open, coming back from a set down to see off American qualifier Nicole Gibbs 4-6, 6-3, 6-4 in two hours and two minutes. With this victory, Kvitova will now meet third seed Agnieszka Radwanska, in a rematch of their encounter at the 2015 BNP Paribas WTA Finals Singapore presented by SC Global, where the Pole prevailed in three sets.
Gibbs Recovers from A Break Down to Take Opening Set
After beginning the match with three consecutive holds, it was unsurprisingly Kvitova who initiated the first break, using her heavy ground strokes to move Gibbs from side-to-side en route to claiming an early 3-1 lead. Not to be outdone, the American qualifier showed exactly why she already has 17 wins to her credit this season, grinding out points from the back of the court before breaking straight back. Just minutes later, Gibbs was able to restore parity at 3-all with some intelligent serving.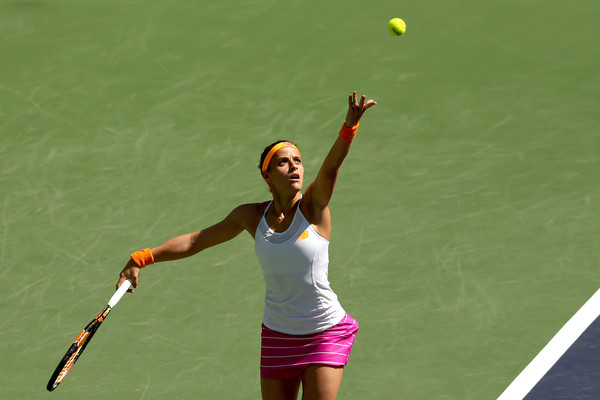 As the set progressed, one could just sense that Kvitova was starting to go off the boil while Gibbs was rock solid from the back of the court. Unable to find her timing, the eighth seed quickly found herself staring down two break points in the following game. But this time, Gibbs did not wait for Kvitova to commit the error; the American proving she is equally comfortable on the offensive as she is on the defensive, breaking at the first time of asking with a stunning backhand pass.
From there, the rest of the set went with serve. Impressively, Gibbs was able to hold her own against the two-time Wimbledon champion despite holding an unusually low first serve percentage for the majority of the set. As another unforced error flew off the racquet of Kvitova, Gibbs sealed the opening set 6-4, and was just a set away from the biggest win of her young career.
Kvitova Claims Decisive Break to Take Second Set
After a dismal end to the opening set, Kvitova picked up her game when it mattered most, painting the lines with some stunning winners en route to opening up a 3-0 lead. But much like in the opening set, Gibbs refused to give in, running down every ball to force errors out of her Czech counterpart. After an impressive start to the second set, Kvitova's lead had almost completely evaporated after Gibbs hit back, recovering the early break to reduce the deficit to 2-3.
However, all of that hard work ended in vain for the American qualifier as the eighth seed hit back, breaking once more to open a 4-2 lead. Though Gibbs was well on her way to making it three breaks in succession, Kvitova came up with the goods out of nowhere, saving three break points en route to holding for 5-2.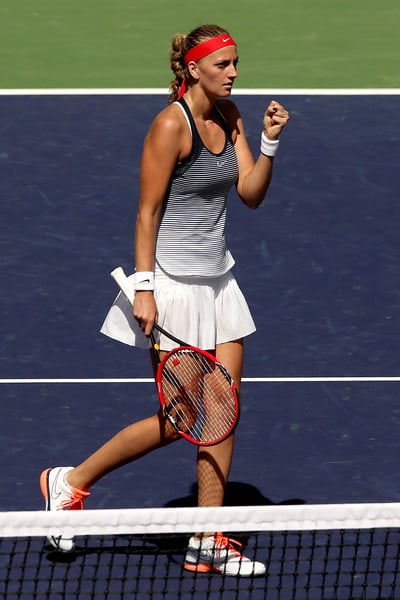 Despite not taking any of her opportunities in the last game, Gibbs was not disheartened, and continued to show the same grit and fight en route to holding and forcing Kvitova to serve for the set at 5-3. This time, however, the world number nine had no difficulties behind her powerful serve, holding to win the second set 6-3 and force a decider.
Kvitova Clinches Decisive Break, Serves Her Way to Victory
After exchanging holds to open proceedings in the decider, it was Kvitova whose persistence was rewarded as she drew first blood in the decider, consequently opening up a 2-1 lead. Not to be outdone, Gibbs benefited from a couple of untimely miscues from the Czech to break straight back, much to the delight of the enthusiastic home crowd.
After exchanging breaks, the pair exchanged holds before the eighth seed began to make her move from the receiving end once more. Using her flat and powerful ground strokes to devastating effect, Kvitova was able to force errors out of Gibbs, who was admittedly frustrated herself for not making the most of her opportunities. As a result, the two-time former Wimbledon champion broke at a crucial time to take a 4-3 lead.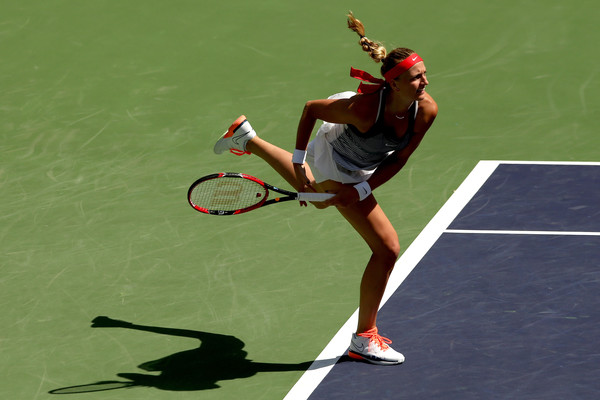 In the end, Kvitova's sheer power proved too much for Gibbs to handle as the rest of the set went with serve, ultimately resulting in a hard-fought 4-6, 6-3, 6-4 victory for the eighth seed against a very worthy opponent.
"It's always tough to come back after losing the first set and I really tried," Kvitova said in her post-match interview. "And I think the third set was a really good game from both of us and in the end, I'm the lucky one."
Kvitova's Win by the Numbers
Breaking five times out of seven opportunities, it is safe to say that Kvitova was the one dictating how the majority of this match would play out. In the end, the Czech overcame 46 unforced errors by hitting 27 winners -- two of them aces -- to secure a hard-fought victory.
Gibbs, on the other hand, was not as consistent as she would have liked, hitting just 11 winners to 26 unforced errors, but this has still been an incredible tournament for the American qualifier, one she will look to build on going forward.
Next up for Kvitova: Agnieszka Radwanska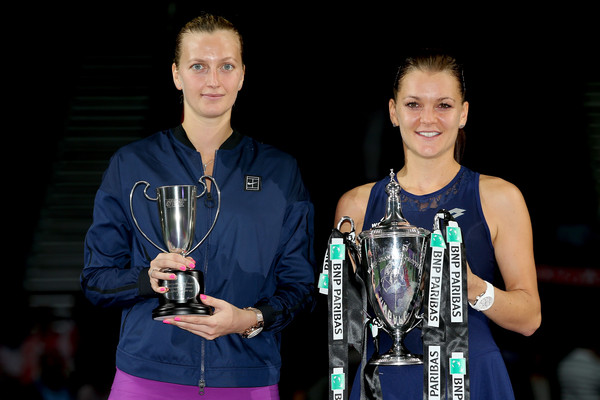 With this victory, Kvitova sets up an intriguing clash with third seed Agnieszka Radwanska, in a rematch of their 2015 WTA Finals final where the Pole triumphed in three sets. The pair have met nine times before, with the Czech holding a sizeable 6-3 head-to-head record against the Pole. With Kvitova's power matched with Radwanska's variety, this could prove to be an enthralling encounter for everyone involved.