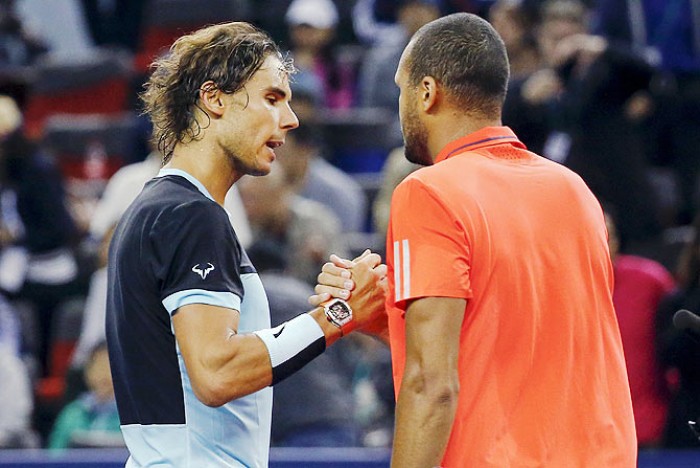 French world number nine Jo-Wilfried Tsonga discussed doping accusations made against Rafael Nadal by former French Minister of Sport Roselyne Bachelot, who claimed Nadal was serving a silent ban for doping during his seven month layoff in 2012 due to a knee injury. Nadal and his team are taking legal action against the Frenchwomen, while many have come to the Spaniard's defense already.
Tsonga Defends Nadal
French world number nine and 2008 Australian Open finalist discussed recent allegations against Rafael Nadal from French minister of sport Roselyne Bachelot, coming to the Spaniard's defense. Here's what the Frenchman had to say in one of his post-match press conferences via La Parisen.
Tsonga said: "I am not a judge, I do not defend... and I do not even accuse people. I find only that when you say something, you have to be able to prove it. Whoever says things without having real proofs lacks of respect," said the Frenchmen.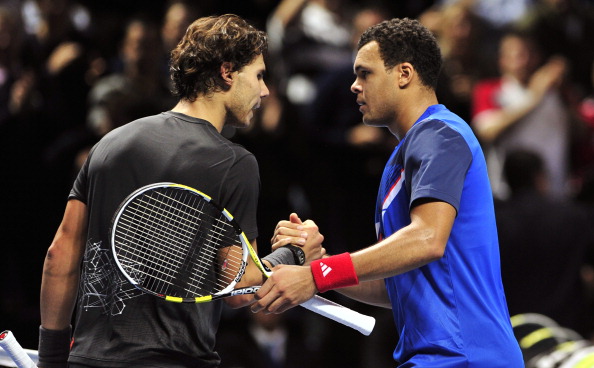 Bachelot said Nadal was serving a suspension for doping in 2012, during his seven month layoff due to a knee injury. "We know that Rafael Nadal's famous injury, that stopped him for seven months, is certainly due to a positive drug test. When you see that a player stays away for months is because he is positive. Not every time, but very often," said the former French Minister of Sport.
Nadal and his team announced Saturday they would be taking legal action against Bachelot, saying her comments were enough. "What she said is very serious, it's always surprising to see such wickedness, it's strange that a person can speak liberally knowing that what she says is not true and has no proofs," added a rightfully frustrated Nadal.
Nadal's uncle and coach, Toni Nadal, discussed Bachelot's comments as well. "We are very tranquil, we will take legal actions against Mrs. Bachelot, who is aware of what she says. Nadal has never used doping," said Toni Nadal.
"She may look for prestige, a former minister saying that it's just awful. I hope she does not go unpunished, now stop, we are tired to always listen to the same music," added the 14-time Grand Slam champion's uncle and coach.
Nadal's good friend and two-time NBA champion Pau Gasol also came to his countrymen's defense saying, "I disregard these statements that are baseless and lacking objective elements," said the six-time NBA All-Star. Nadal and Gasol have been good friends for many years and both have endured doping accusations throughout their careers.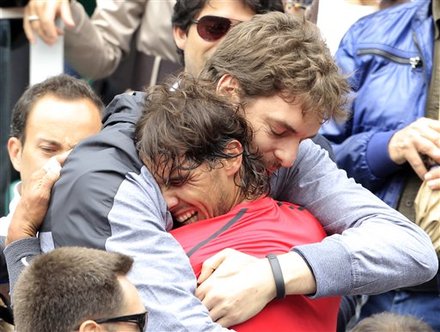 Nadal and Tsonga's Futures
Nadal and Tsonga are still alive in Indian Wells, with both men having big quarterfinal opponents tomorrow. Nadal plays 2014 US Open finalist Kei Nishikori, while Tsonga faces world number one and 11-time major champion Novak Djokovic in the last eight of the BNP Paribas Open in Indian Wells.