 World number 15 Victoria Azarenka brought in one of her most impressive performances of the season as she delivered a 6-0, 6-0 double bagel to world number 97 Magdalena Rybarikova on Thursday in the quarterfinals of the BNP Paribas Open. Although a great win, Rybarikova was ailing with discomfort to her right leg the whole night. She was clearly suffering but credit to the Belarusian for bringing in a very professional performance.
The match lasted a total of 67 minutes as Azarenka won 12 games straight to complete a very rare shutout at an event of this caliber.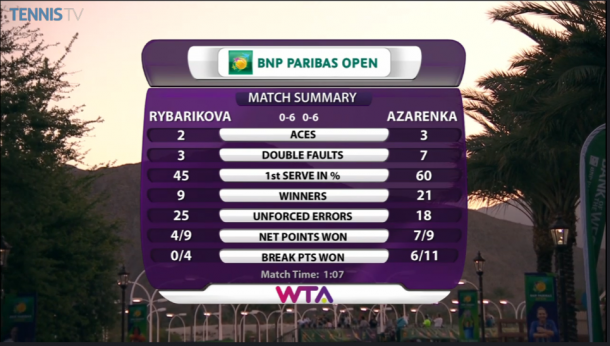 The 13th seed made sure she took of business as she won six of 11 break point opportunities. Her ground game was very helpful as she also struck 21 winners and won seven of 9 net points.
Azarenka Powers Through First Set
Azarenka breaks Rybarikova straight out the gate. 40-30 on serve the belarussian was not completely fluid on serve but still battled through. She did well on the baseline points to go up 2-0 in the first set. Rybarikova again had a tough service game with Azarenka bombarding both sides of the court. A double-fault at deuce gave her opponent a break point. She began to show signs of frustration and an intense Azarenka hit a return winner off a slow second serve to break for a 3-0 lead.
The 13th seed then started to come up with instinct shots after hitting an approach with a volley put away. A down the middle rally point opened up a down the line backhand winner for the 13th seed. She then drew an error off the return to hold for a dominant 4-0 lead. Rybarikova looked out of her comfort zone as she was unable to get the time to make her right shots. The onslaught did not stop as Azarenka continued to punish the short second serves coming at her. A rare tweener lob attempt was not too far off for the 13th seed as she lost the point followed by a smart drop shot winner from Rybarikova in the same game.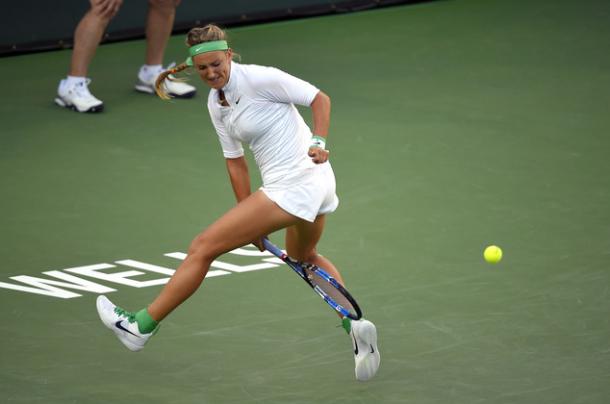 The Slovakian has nice hands and feel but continued to get punished on serve. Azarenka hit a passing shot to get it to advantage. The long game continued with more feel shown off another drop shot winner and volley winner until Azarenka finally took control and broke for a 5-0 lead. The Slovakian looked like she was not moving to her full ability. As she was stepping you could tell she was grimacing in discomfort. It did not distract Azarenka though as she kept pushing forward easily to take the first set 6-0.
Double Bagel Complete
At the set intermission the Slovakian began to complain about nagging pain in her right leg and had a trainer come out. She ended up getting her right thigh heavily taped but decided to keep playing.
The second set was much of the same for Azeranka. She continued to move her opponent around the court and was playing with complete intensity. It was clear that the Slovakian could not completely push off her leg as she tried to get into the points. The world number 15 broke straight away in the first game for a 1-0 lead. She continued to hold and saved all four break points faced during the match. With a hold she closed out the set 6-0 and the match to move on to the semifinals.
"I think they key was the start. I started really well and took control and I think in the second set, she wasn't really feeling well," Azarenka said in her on-court post-match interview with Andrew Krasny. "I'm glad I stayed focused on my game."
She also added, "I'm trying to improve with every match…I play with passion".
With the victory she goes on to face 18th seed Karolina Pliskova in the semifinals for a shot at the Indian Wells finals. The two have a 1-1 head-to-head so it is a tricky matchup.