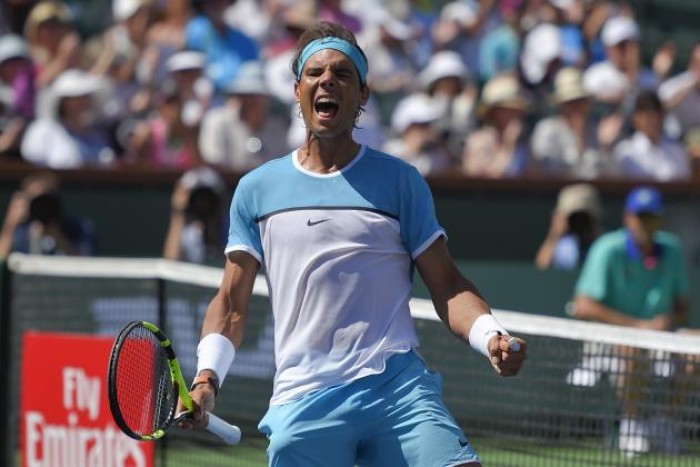 Rafael Nadal defeated Kei Nishikori 6-4, 6-3 to advance to the semifinals at the BNP Paribas Open, a tournament that Nadal has won three times, on Friday afternoon.
Both Players Enter Looking To Avoid Repeat Of Last Match
Entering the match, both players were coming off near losses in the previous round, as Nadal faced match point before storming back to defeat Alexander Zverev, while Nishikori needed tiebreaks in both the second and third sets to win his match over John Isner.
Nishikori Jumps Out To Early Lead, Nadal Comes Roaring Back
The match started with everything going good for Nishikori, as he jumped out to a 3-1 lead early in the first set. He missed his opportunity to win the set in the fifth game, as Nadal took it to trim it to a 3-2 lead for Nishikori.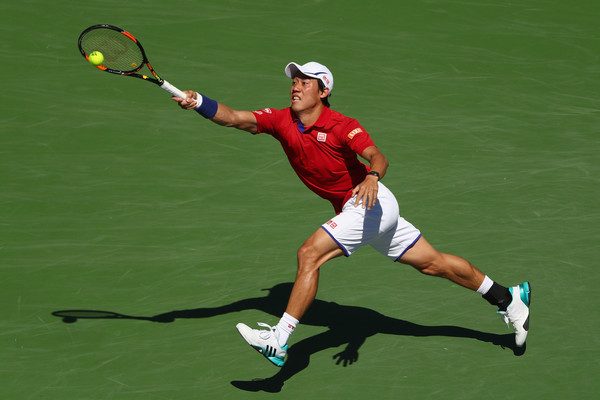 After the fifth game, everything changed for Nishikori, as Nadal started to retake control of the match, at times leaving the fifth seed frustrated. The 14-time Grand Slam champion then went on to win the set 6-4 thanks to a nice forehand on set point to put it away.
Nadal Easily Takes The Second Set To Win The Match
The second set was much like the second half of the first, as Nadal jumped out to a 3-0 lead, with Nishikori getting more frustrated, until he threw his racket on the ground in frustration after losing the third game.
Nishikori managed to stop Nadal's momentum in the fourth game, and even got to within a break, but Nadal regained his momentum, and pulled away to win the match in one hour and 33 minutes.
"I am able to fight for every ball. I am able to keep going during the whole match, believe in myself again, and that makes me play with more energy, less nerves," Nadal said after the match. "That's so important for me. It's the way I have played during all my career, and that gives me a lot. And this week is being very, very positive for me. Very important."
"Nishikori started so quickly, hitting all the balls very well and serving great," Nadal remarked to the ATP's official website. "Then he started to miss some first serves, and I returned his second serves aggresively. That was so important in the development of the match."
"I think the beginning I was stepping in a little more and was hitting using my forehand," said Nishikori. "I was hitting really good my serve, first serve, second serve, and maybe he started hitting more deep. I started backing up a little more. I think everything changed between that first set. I thought I had a couple of chances in the first set and second set, too, but some unforced errors. He played good tennis."
Nadal now moves on to face Novak Djokovic, who defeated Jo-Wilfried Tsonga 7-6(2), 7-6(2). In their recent histories, Nadal has had the upper hand, as he has won nine of their last 10 meetings, although he leads the overall series by just one match. They have combined to win seven titles at Indian Wells.