 Novak Djokovic needed two tiebreakers to get past Jo-Wilfried Tsonga of France on Stadium One. He will now face Rafael Nadal in the semifinals of the BNP Paribas Open after the Spaniard got past Kei Nishikori in straights.
Tsonga sends first set into tiebreaker, Djokovic comes out on top
Tsonga and Djokovic held their first service games for 1-1. In the following game, Tsonga double faulted to give Djokovic a break point, the Serb the broke with a wonderful lob. Djokovic consolidated for a 3-1 lead. A couple of games later at 4-2, Djokovic had chances to go further ahead in the set with break points of his own. The world number nine saved two break points, with the last point being a wonderfully struck forehand cross-court from the backhand side as he stayed a game behind the world number one.
At 5-4 in the set, Tsonga came back from 30-0 hitting a powerful forehand winner which caught the line. At 30-40, Tsonga, who was on fire, hit another sensational cross-court forehand with Djokovic at net to break and get this match back on serve.
The 28-year-old would then have his chance at breaking at advantage in the next game, but Tsonga hit an overhead smash which flew past Djokovic. Both held their next game to take this opening set to a tiebreaker. At 2-0 in the breaker, Tsonga hit a cross-court backhand wide, but Djokovic showed great sportsmanship and admitted to getting a touch on the ball and Tsonga got on the board in the breaker. In the next point, Djokovic showed off his great defense to go 3-1 up. He would then go on to win the breaker 7-2 and go a set up on the 2008 Australian Open finalist.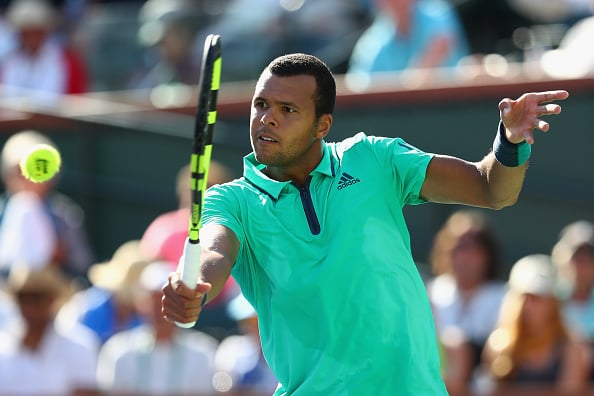 Djokovic wins the match in tiebreaker
Djokovic and Tsonga got the second set under way by holding for 1-1. Just like the second set, there was a break point chance in the third game for Tsonga a advantage, but the 11-time Grand Slam winner sent a forehand long to give Tsonga the breakthrough. The break wouldn't last long with Djokovic immediately hitting back after a double-fault from Tsonga. At 3-2 30-all, Tsonga, whose forehand seemed to be troubling Djokovic, found the line impressively and he went on to hold.
At 5-4, Tsonga was continuing to go to his forehand side which was Djokovic's worst nightmare in this match. Djokovic had the chance to close the match out at 5-4, Ad-40, hitting a running backhand cross-court impressively, but Tsonga, who didn't seem like missing on his forehand side, found the line as he hit it down the line and saved a match point. He held for 5-5. The set would go to a tiebreaker just like the first. Djokovic held comfortably with an ace for 1-0 and in the next point he got the mini-break. At 5-2 in the breaker, Tsonga hit a forehand long to set up match point for Djokovic. The Serb served it out with Tsonga unable to return a Djokovic serve that went out wide. He won 7-6(2), 7-6 (2).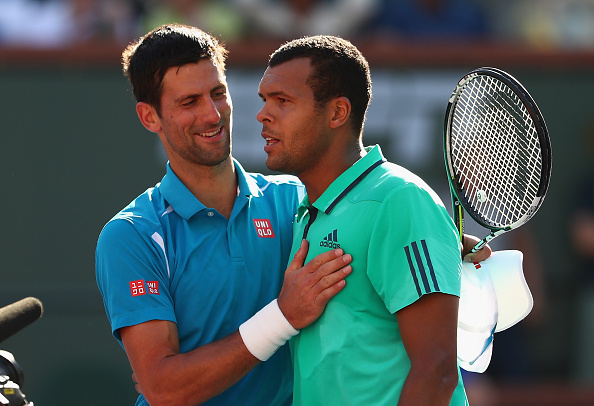 Match Statistics
Novak Djokovic hit three aces and four double faults. He won 79 percent on his first serve and 51 percent behind his second. He didn't have to save any break points, but took 25 percent of breaks (two out of eight). The Serb won 54 percent of total points.
Jo-Wilfried Tsonga served four aces and seven doubles during the match. The Frenchman also won 76 percent points on his first serve, but only 39 behind his second. He saved six out of eight break pints (75 percent) and took two out of two break point opportunities. He won 45 percent total points.