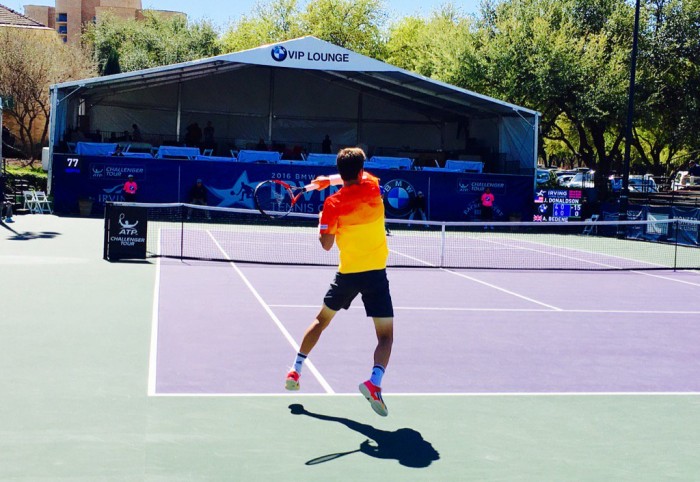 Aljaz Bedene continued his roll in Irving as the Brit advanced to the Irving Tennis Classic (ITC) final for the second consecutive year. Bedene will meet Marcel Granollers in Sunday's singles final.
Bedene Heads to Second Straight ITC Final
Fourth seed Aljaz Bedene pushed his winning streak in Irving to nine matches in Saturday's semifinals. Bedene took down Jared Donaldson in straight sets 6-4, 6-3. Bedene once again was practically unbeatable with his first serve, but had issues getting it in consistently again. The Brit landed just 50 percent of his first serves, allowing Donaldson to feast on his second serve for eight points out of 16 serves seen. Bedene would win 13 of 16 points on his first serve. He was broken once, but took advantage of Donaldson's mediocre serve in the set to break the American teen twice. Donaldson would win just 10 of 21 points on serve in the set.
Donaldson's service issues continued in the set. The American would win just 20 of 43 service points as Bedene broke him two times to finish the match in under an hour and a half. Bedene was solid on serve in the set, winning 16 of 25 service points. The defending champ saved three of four break chances to help keep himself in position to win. Bedene's straight sets win gives him a shot at a second straight title in Irving. He beat Tim Smyczek in last year's final.
Bedene says he is happy to be back in the final again, despite not playing at his best level, "I guess I'm more experienced, I could say...I'm just fighting, not playing the best tennis, but fighting...it's always great to be back where you won, so yeah, I feel great."
Granollers Demolishes Dodig
Spaniard Marcel Granollers is headed to his first tournament final since April 2014, after crushing Ivan Dodig 6-1, 6-0. The Spaniard took advantage of a dismal day from the Croatian. Dodig struggled all afternoon with his serve, as he landed just 48 percent of his first serves. That allowed Granollers 26 looks at Dodig's second serve. The Spaniard took 22 of those 26 points in helping him to complete the 58 minute rout. Granollers faced a single break point in the match and saved it. He would break Dodig six times on 12 chances in the match.
The win pushes Granollers into his first tournament final since April 2014, when he lost in Casablanca. The meeting between Bedene and Granollers will be their third all-time. They have split their previous two meetings. The last came in November 2015 when the Brit shut Granollers down in straight sets 7-5, 6-4 in Paris. Granollers won their first meeting back in 2014. That came on clay in Buenos Aires, where the Spaniard won in three sets.
Guccione-Sa Dismantle Paes-Rosol for Spot in Doubles Final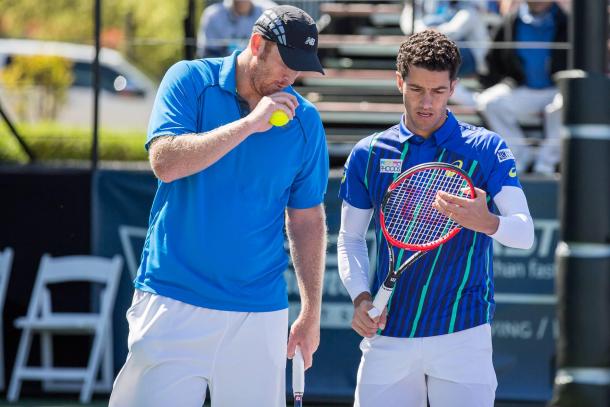 Second seeds Chris Guccione and Andre Sa are headed to the doubles final at the ITC after sweeping aside fourth seeds Leander Paes and Lukas Rosol in straight sets. Guccione and Sa were effective on serve, saving four of four break points as the key instrument in crafting their 6-3, 6-2 win. Paes and Rosol had second serve troubles in the opening set, losing five of seven points. In the second set, Paes-Rosol were broken twice and could not make inroads on the Guccione-Sa serves. The second seeds won 16 of 21 service points in the second set without facing a break point.
Guccione and Sa will battle top seeds Nicolas Monroe and Aisam-ul-Haq Qureshi for the ITC doubles crown.