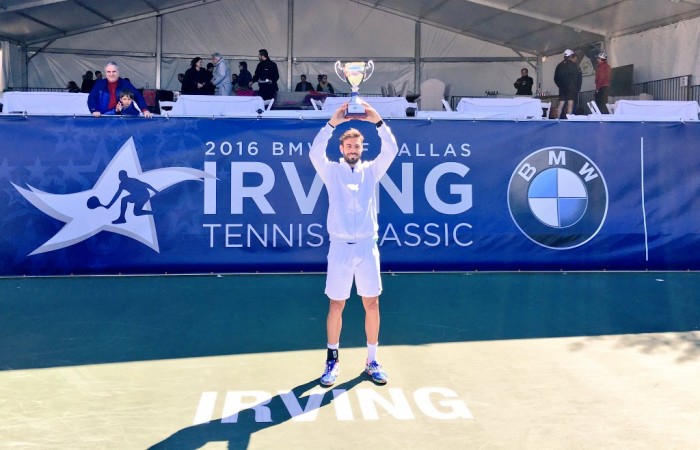 The Irving Tennis Classic (ITC) came to a conclusion on Sunday with a new champion crowned. Marcel Granollers demolished defending champion Aljaz Bedene in straight sets to claim his fourth ATP Challenger Tour title.
Granollers Dominates Bedene to Claim Championship
Marcel Granollers dispatched of 2015 ITC champion Aljaz Bedene in two short sets on Sunday. Granollers' 6-1, 6-1 win over the Brit handed the Spaniard his fourth career Challenger title. The loss broke Bedene's streak of seven consecutive victories in Challenger finals. The Spaniard carried over his great form from his dominating 6-0, 6-1 win over Ivan Dodig in the semifinals to Sunday's final. Granollers won an impressive 65 percent of the total points during the 59 minute final. The Spaniard faced no break points all match and broke five times off of 13 break opportunities.
The match started off with Granollers holding serve to take a 1-0 lead. Right away the Spaniard was firing on all cylinders, as he broke and held quickly to take a 3-0 lead. Granollers was making all his shots and putting a ton of pressure on Bedene, who was defending 125 points this week. The Spaniard broke the Brit again and raced out to a 5-0 lead, before Bedene got himself on the board at 5-1. Granollers made no mistakes to close out the set for a 6-1 finish.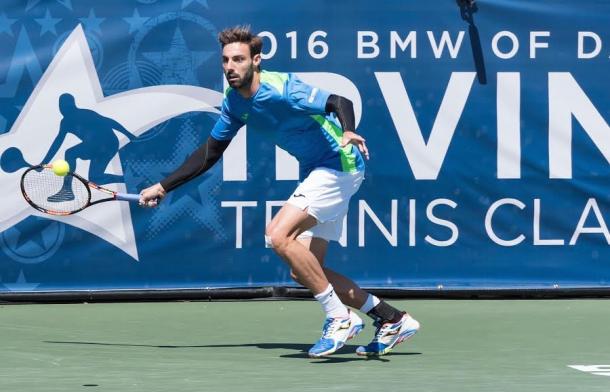 In the second set, the 92nd ranked Granollers raced out to a 4-1 lead. He broke Bedene three times off of ten break point opportunities and won all 12 of his service points in the set. Bedene had absolutely no answers, as the Spaniard crushed him to take the set 6-1 and finish off the match in under an hour.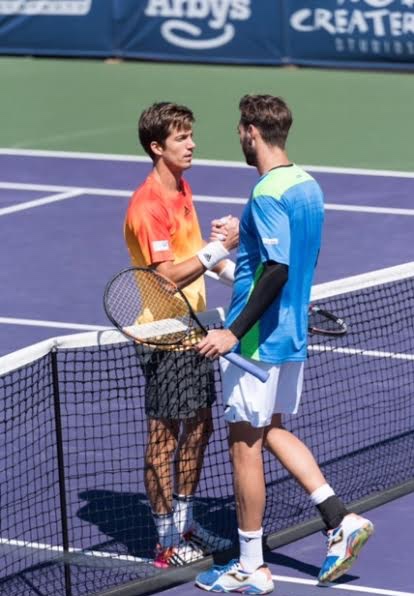 Granollers capped off the tournament with two of the best matches that he has played in a long time. The Spaniard was gracious in victory, saying, "It was my first time here, so I feel very good in Irving...I hope to see you all next year, thank you very much."
Qureshi-Monroe Win Doubles Title
Top seeds Aisam-Ul-Haq Qureshi and Nicolas Monroe outlasted second seeds Andre Sa and Chris Guccione to become the 2016 ITC doubles champions with a 6-2, 5-7, 10-4 victory. The top seeds fired three aces and broke serve four times off of seven break point opportunities. As the first set got underway, the top seeded duo were firing on all cylinders. They quickly grabbed a 4-2 lead in the first set. Qureshi-Monroe easily took the first set as they played solid on serve. The pair won 83 percent of their first serve points in the opener.
The second set was a very tight affair. Second seeds Guccione-Sa raised their play on the return side, winning 73 percent of the second return points. The top seeds failed to get their first serve in consistently, getting 59 percent in play. The second seeds made them pay as they took a 5-4 lead. With three breaks in the set, the second seeds kept their hopes alive to take the second set 7-5 and bring the match to a deciding tiebreaker.
It was all Monroe and Qureshi in the super tiebreaker as they protected their serve, winning six of seven points. This opened up opportunities for the pair to get mini breaks, which ended up paying off. The pair raced to a 10-4 finish to grab the ITC title.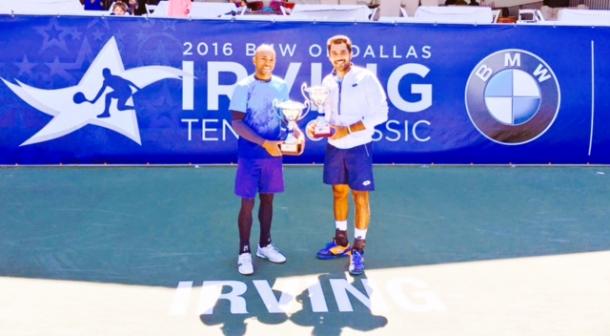 Following the match, Qureshi reflected on a great week, saying, "It's great to be back in Dallas. I played team tennis here as well, and they treat us like family. It's great to actually win a title here...the foundation and the staff, it's world class...thank you so very much everybody."
Monroe added, "Thanks everyone for coming out. Obviously this is a great tournament. It's first class, and everyone here really enjoys being in Dallas...I hope to be back next year."
The titles for Monroe and Qureshi were their first on any level in 2016.