 Novak Djokovic demolished Milos Raonic 6-2, 6-0 to win his fifth Indian Wells title and his 27th career ATP Masters 1000 title. Twelfth seed Milos Raonic was trying to become the first player born in the 1990's to win an ATP Masters 1000 on Sunday. Serbian Novak Djokovic was trying to equal Rafael Nadal for the most ATP Masters 1000 titles at 27. Only one would succeed.
Djokovic Gets Off To An Early Lead
Signs didn't look good from the Canadian early, as Djokovic broke Raonic with some impressive play. Djokovic then consolidated the break after a long, hard fought service game with a well-placed kick serve to the Canadian's backhand to make it 2-0. More errors were starting to come from the Canadian, allowing the Serb to race to a 40-0 lead on the Raonic serve. Another unforced forehand error from the Canadian gave Djokovic a double break lead. Serving at 3-0, the Serbian played some fantastic tennis. He would show stellar defense and exceptional ground strokes to highlight an easy service game. That allowed the top seed to consolidate the break and to be up 4-0.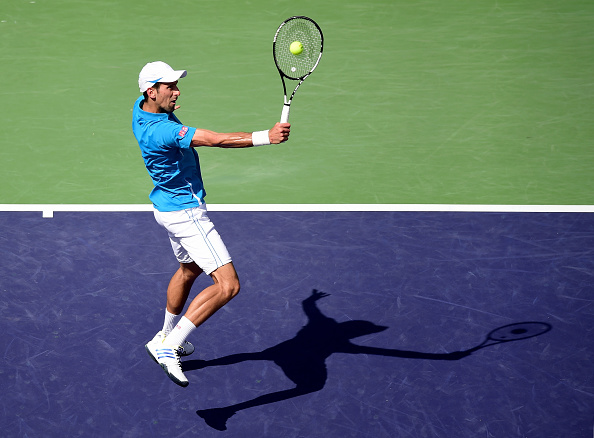 Resistance From Raonic
The Canadian started to serve and play better late in the opening set. The 12th seed would get on the board in a nine minute service game. Djokovic continued his easy service games, with more unforced errors coming from the Canadian. Raonic had his first easy hold, but was now trailing 5-2. Raonic wasn't showing any positive emotion, which is bad for him, but good for the Serbian. It was a fairly easy hold for Djokovic that granted him the first set in 44 minutes at 6-2.
Smooth Sailing For Djokovic
Raonic would go off court in between sets to get treatment. As soon as play started back again, Djokovic started where he left off in the opening set. The Canadian would gift him the break with multiple unforced errors. The Serbian then consolidated the break at-love, with Raonic struggling to even win a game. Djokovic would then break the 12th seed yet again with some intelligent play. A backhand sailed long from the Canadian to make it 3-0 in favor of the top seed.
The Serbian then consolidated the break with multiple winners, a forehand return sailing long from Raonic on game point. Raonic would have to hold his serve to even have a chance of a comeback, and he started out good with an ace out wide. More unforced errors would follow from the Canadian and a forehand shank on break point not handed Djokovic his third break of the set. An easy service game gave Djokovic two championship points, but he only needed one to complete the win. The 6-2, 6-0 win netted him his 62nd career title, his fifth at Indian Wells. The title also marked his 27th ATP Masters 1000. The match was completed in just one hour and 17 minutes time.
By The Numbers
Djokovic served two aces, while Raonic tallied four. The Serbian only had one double fault, while the Canadian had two. Djokovic would land 68 percent of his first serves in play, while Raonic was only able to put 50 percent of his in play. Djokovic won 79 percent of his first serve points with Raonic right behind him at 77 percent. The second serve point percentages won were much different, as the champion won 62 percent of the points with the 12th seeded Canadian winning just ten percent.  
The two had a similar number of winners with Djokovic racking up 15 and the Canadian one above him with 16. What really made the difference in this match were the unforced errors. Djokovic only made four unforced errors, which is quite an incredibly low amount. Raonic tallied 27 unforced errors, which is way too many to beat the world number one on most days.