 BNP Paribas Open CEO Raymond Moore has stepped down from his position after his comments on women's tennis caused major controversy yesterday. Before a high-quality final between Serena Williams and Victoria Azarenka, with the Belarusian coming out the winner, Moore spoke on women's tennis with some not too kind comments. Many have responded to Moore's comments and did not take too kindly to them either.
What Moore Said
It all began with Moore giving his opinions on the WTA, "No, I think the WTA – you know, in my next life when I come back I want to be someone in the WTA, because they ride on the coattails of the men." He then added that the women were lucky and that they should go down on their knees every night to thank Roger Federer and Rafael Nadal for carrying the sport. He finished off by saying has a "handful of attractive prospects" when asked about potential successors to the sport after Maria Sharapova and Serena Williams.
Larry Ellison Quick To Act
Larry Ellison is the owner of the BNP Paribas Open. Recognized year after year as one of the best Masters/Premier events in the world, he acted swiftly in this situation. His decision was the right one in letting go of Moore after his controversial comments. In his statement (seen below), he praises the women's players who have stepped up in helping get equality on tour.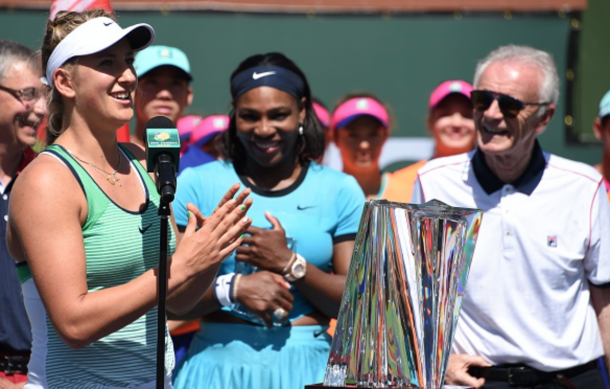 What Ellison Had To Say
Ellison released a statement on the BNP Paribas Open site regarding Moore.
"Earlier today I had the opportunity to speak with Raymond Moore," said BNP Paribas Open Owner, Larry Ellison. "Ray let me know that he has decided to step down from his roles as CEO and Tournament Director effective immediately. I fully understand his decision."
"Nearly half a century ago, Billie Jean King began her historic campaign for the equal treatment of women in tennis. What followed is an ongoing, multi-generational, progressive movement to treat women and men in sports equally. Thanks to the leadership of Billie Jean, Martina Navratilova, Venus Williams, Serena Williams and so many other great women athletes, an important measure of success has already been achieved. I'm proud to say that it is now a decade long tradition at our tournament at Indian Wells, and all the major tennis tournaments, to pay equal prize money to both the women and the men."
"I would like to personally thank all the great women athletes who fought so hard for so many years in the pursuit of equal prize money in professional tennis. And I'd like to congratulate them on their success. All of us here at the BNP Paribas Open promise to continue working with everyone to make tennis a better sport for everybody," concluded Ellison.