 Sofya Zhuk is just sixteen years old and is the reigning 2015 Wimbledon Junior Girls' champion. She got her first taste at WTA singles main draw action at the Miami Open as a wildcard, going up against Zhang Shuai in the first round. The 16-year-old gave herself a few chances but could not convert any in an almost one sided match as Zhang wrapped up a 6-1, 6-2 straight sets victory.
Zhang Breaks Zhuk Thrice In Opener
Zhuk started proceedings holding serve in her first main draw match despite pushed to deuce twice. Zhang followed it up with a love hold and immediately found herself triple break points on the Russian's serve. The Chinese broke on the second chance to lead 2-1.
What seemed to be a comfortable hold to consolidate turned out to be a tussle as Zhuk created her first break point opportunity. Zhang though kept her focus to extend her lead to 3-1. The Chinese quickly found herself with a 5-1 lead getting the double break over Zhuk. Serving at 1-5 down to stay in the set, the Russian was unable to fend off Zhang who completed the first set 6-1 in 24 minutes.
Zhuk Tries To Mount A Comeback But Zhang Holds Firm
Zhang eased to a love hold to start off the second set. The second game turned out to be a real battle with Zhang applying pressure on the young Russian's service game. Zhuk though tried to hang on fighting off two break points but eventually succumbed to trail 0-2.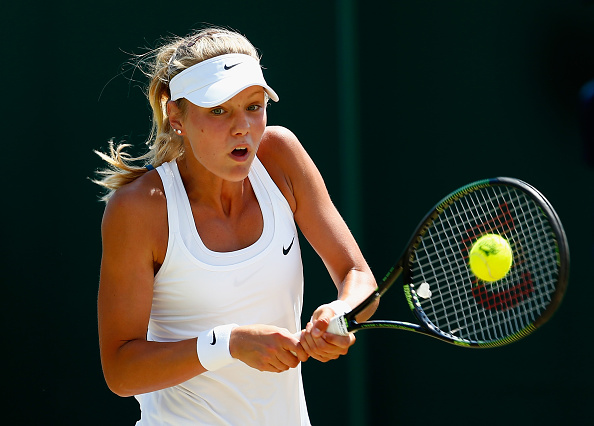 That fight she showed in the second game seemed to have sparked the Russian who came charging back with three break points of her own on Zhang's serve. Zhang somehow hung on to keep Zhuk at bay as she dug out a big hold to retain her lead for 3-0. The 16-year-old seemed to have finally settled into the match as her next two services were love holds. Zhang too kept her serve to bring the set to 5-2. Pressure though seemed to once again get to the Russian as Zhang capitalized on her first match point to finish victory in under an hour.
Up Next For Zhang
With the win, Zhang will next meet 12th seed Elina Svitolina in the second round. Svitolina recently won the BMW Malaysian Open but was stopped short at the BNP Paribas Open in the third round. The pair will clash for the first time.
Match By The Numbers
Though Zhuk had a higher percentage of first serves at 64 compared to Zhang's 60, the Russian won only 49 percent of them. On the contrary, Zhang was winning 71 percent of her first serves.
The key difference was also on the break point conversion. Playing her first main draw match may have contributed to nerves as the Russian was unable to convert on any of the four break opportunities she had. The more experienced Zhang was able to capitalize on five out of eight occasions.