 The final WTA match of the day at the Miami Open sees wildcard Nicole Gibbs take on 4th seed Garbine Muguruza in an interesting third round clash . This is the penultimate match on Stadium court and the winner faces either 13th seed Victoria Azarenka or qualifier Magda Linette in the fourth round.
So Far In Miami
Gibbs has played some strong tennis so far in 2016 and has continued that in Miami. The American eased past Yulia Putintseva 6-4, 6-2 in her opening round clash and impressed once again with a similar score line, beating 27th seed Kristina Mladenovic 6-2, 6-4. Gibbs will be very confident coming into this clash.
Muguruza had an advantage of receiving a bye in the first round but had an extremely difficult second round clash. The Spaniard faced Dominika Cibulkova in the second round, and came from 0-3 down in the final set to battle past the Slovakian 6-7, 6-3, 7-5 in a thrilling clash. Muguruza will probably be confident after such a tough victory and will be looking for a more comfortable result today.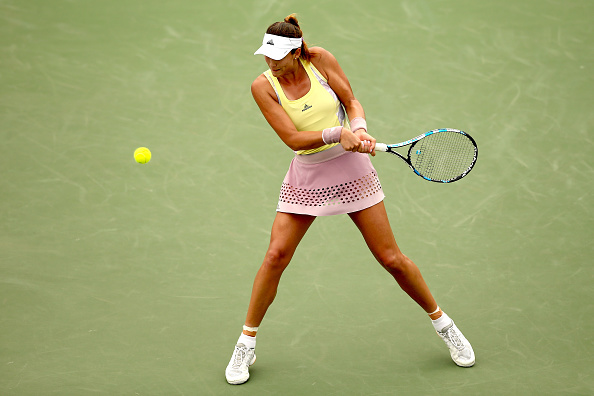 Analysis
Both women are powerful and neither are afraid to go for their shots, though it is arguably Muguruza who is the more powerful of the two. The Spaniard will look to try and dictate play with that power, though Gibbs has twelve more wins than Muguruza this season and the American, with the crowd behind her, could well be more confident than the 4th seed.
Muguruza can be a good server on her day and will certainly look to serve well here, as she will not want to give Gibbs too many opportunities to dictate rallies from returns on the Spaniard's second serves. The Spaniard will also look to return well and should look to try and vary her game style, as she is a decent mover and could frustrate Gibbs by getting her to move round the court more than she is. Muguruza should also look to try to serve and volley, as this could get her some success if she is moving well.
Gibbs must serve well against Muguruza, who is a good returner, and she must also try to attack Muguruza's serve as much as possible. The American will also need to try and defend well if the more powerful Spaniard is dictating play and may also need to move well if the 4th seed is really controlling the play. Gibbs should also go out there with little fear, and shouldn't be afraid to go for her shots and vary her play.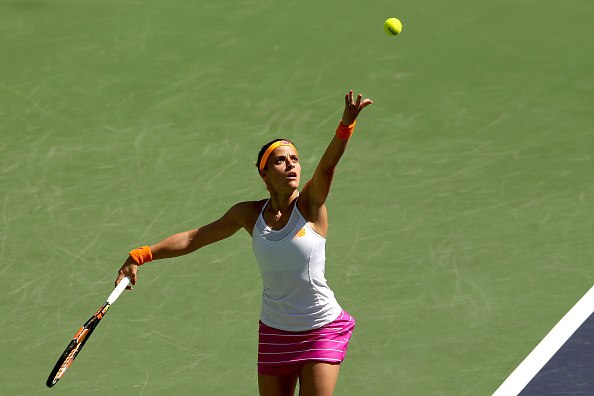 Head To Head
The two have played once before, though that was in Stanford back in 2012 and ended with Muguruza retiring when Gibbs was up 6-2,1-0. A lot has certainly changed since then and the previous clash will surely have no impact on this match.
Analysis
This looks like it will be a tight match and the crowd on Stadium could get a fantastic match to start the night session. Gibbs has been playing well this season and she could well take the match, though Muguruza seems to have found some form again and should be able to barely grab the edge.
Prediction: Garbine Muguruza in three sets