 Angelique Kerber went up against Kiki Bertens in the third round for the first time in her career. The Australian Open champion was in for a shock as she lost the first set 1-6. Bertens was in control of the match until a stomach issue started troubling her. Kerber then stepped up her own game to take the second set and forced a decider. Bertens though was unable to continue after three games in the third set and Kerber won by retirement 1-6, 6-2, 3-0 (ret.).
Bertens Gets Broken First But Wins Six Games In A Row To Take The Set
The players took a while to settle as they each got broken to start the match. Kerber chose to receive and it paid off as she got the first break of the game after a double fault from Bertens. The Dutchwoman though piled pressure on Kerber who could only save two breaks points before going down to a third for 1-1. Bertens seemed to have shook off her nerves and fought off break point with her big serve to hold her service game for the first time for 2-1. Kerber looked to follow suit but gave away a few cheap points and found herself trailing 1-3.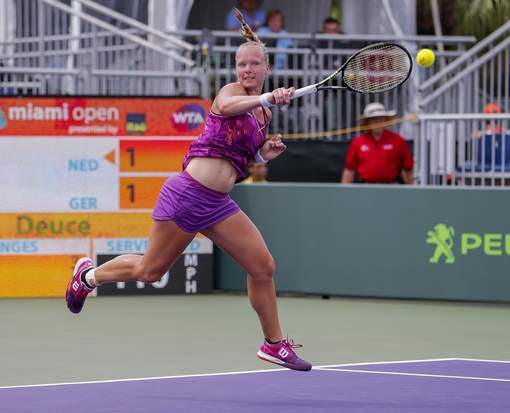 The Dutchwoman was now well settled using her big serves to great effect, winning four games in a row to extend her lead to 4-1. Kerber had trouble returning her serves and continued to struggle in her own service games as she faced yet another break point in the sixth game. Bertens got to the German's dropshot brilliantly and responded with a great shot of her own for a 5-1 lead. The Dutch was clearly in control as she took the first set 6-1 comfortably in 30 minutes.
Stomach Issue Troubles Bertens As Kerber Steps Up Her Level
Kerber finally held her own service game for the first time and was finding her groove in the match. Bertens still stood firm not allowing the Australian Open champion any chances. As Kerber kept herself in front at 3-2, the Dutchwoman had the trainer and doctor to attend to her for an apparent stomach issue. She was given medicine to settle her stomach and play resumed.
Bertens seemed to have lost her rhythm, giving the second seed triple break point. Kerber came up with a great defensive play to convert for a 4-2 lead. Though the Dutchwoman was struggling, she managed to come up with a break point on Kerber's serve. The second seed looked to be broken but she somehow got to the drop shot winning a massive point to save and close out for 5-2. Bertens looked under the weather and was helpless as Kerber took her chances to clinch the second set 6-2.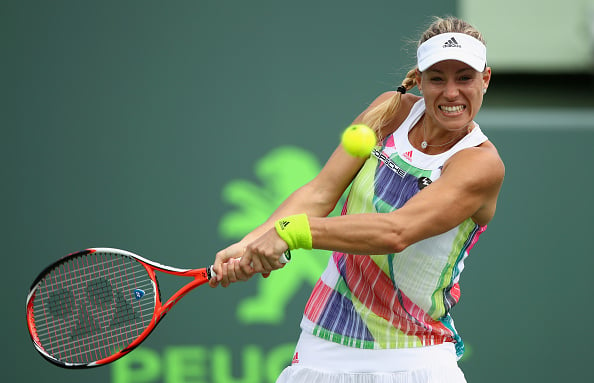 Kerber Races To A Lead Before Bertens Retires
As the third set began, the Bertens of the first set looked to be back. She was having a go at Kerber's serves winning points but the German hung on to start with a hold. That fire diminished from the Dutchwoman as she hit three double faults in a very loose game gifting the early break to the second seed. As Kerber held for a 3-0 lead, Bertens decided she can't go on and opted to retire. The second seed moves on in Miami to face Timea Babos in the fourth round.
Match Statistics
Bertens, who was known for her big serves, considerably struggled after the stomach issue as her first serve percentage dropped from 59 in the first to an average of 48 over the three sets. Kerber was generally consistent getting in 68 percent of her first serves.
The Dutch also fired more unforced errors at 26 to the German's 17.