The Peak of Juan Martin Del Potro
In 2009, Juan Martin Del Potro won the US Open, defeating Roger Federer in a five set thriller in the final. Not only did he beat Federer in the final, he thumped Rafael Nadal in straight sets in the match before, becoming the first player to beat both Nadal and Federer in the same Grand Slam tournament. He is also the only player besides Nadal and Djokovic to have ever beaten Federer in a Grand Slam final. At just 20 years old, he seemed to be on top of the world, appearing to be the foil in the Nadal-Federer dominated world of tennis.
Wrist Injury Breaks His Momentum
However, shortly after, he injured his wrist, missing almost the entire 2010 season. In 2011, he made his comeback, although never appearing to be in the same form as he did at the 2009 US Open. In 2014, his wrist injury recurred, and had to undergo two different surgeries.
He made his comeback this year at the ATP 250 Delray Open, achieving three impressive wins over Denis Kudla, John-Patrick Smith and Jeremy Chardy respectively. He fell to Tomas Berdych in second round in Indian Wells, and recently fell to Horacio Zeballos in the second round in Miami, after suffering discomfort in his wrist.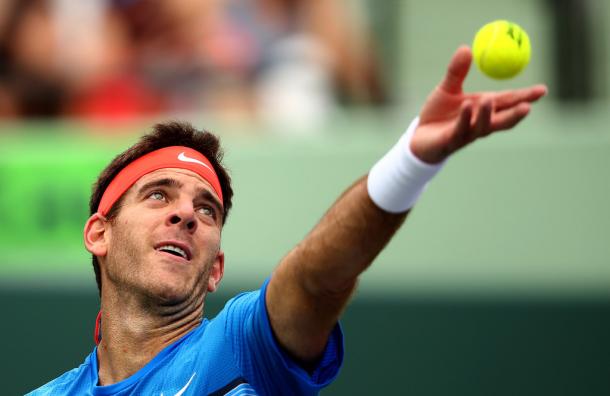 "It Is Impossible To Be Healthy In A Month"
On Facebook, Del Potro addressed his fans about his injury, "The rehab process goes on and it is really long. I surprised everybody (including myself) by showing good level during a couple of matches. Those results made the expectation grow. The wrist is improving as it has to. It would be strange not to feel any pain. Sometimes it's more, sometimes less. Sometimes easier to bear, sometimes a little more difficult and especially when it's humid. I've been dealing with this problem on my left wrist for four years, first with injections, then surgeries and only a few tournaments played over the last two years. It is impossible to be healthy in a month."
"You Will Also Have News About My Team"
The Argentinian also hinted at possibly having hired a new coach, saying " In a few days I will start my preparation for the clay season. It's four years since the last time I played on clay. That will be another challenge. You will also have news about my team."