 Lucky loser Horacio Zeballos' run came to an end as he was defeated by David Goffin on Grandstand. The Argentine fell 7-5, 6-3. The Belgian will face Gilles Simon in the quarterfinals.
Late break seals first set for Goffin
The match got off to a slow start as both players weren't allowing their opponent a chance. The very first break point of the set went the way of the 25-year old Belgian at 3-3. David Goffin challenged a shot from Zeballos that seemed to be long, but he lost out and the break point went.
The 30-year-old hit an ace and held to go 4-3 up. Goffin also held comfortably and leveled at 4-4. With the set nearing its conclusion and a tiebreak looming, the Belgian upped his game and soon found himself with break point at 30-40. The Argentine hit a slice at the net long and Goffin had the first break of the match. He closed the set out 7-5, hitting an unreturnable serve at 40-15.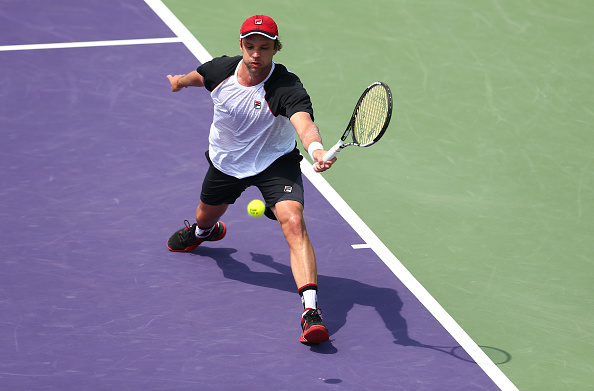 Goffin closes out match
Goffin started the second set the much stronger with a break point chance at 30-40. Zeballos saved the break, but the BNP Paribas Open semifinalist fashioned another. The world number 58 saved yet another and closed the game out to get the first hold of the set. With the set at 2-2, David Goffin raced away to a 15-40 lead and broke with a forehand cross-court to take full control of the match.
He consolidated and went 4-2 up on the lucky loser. Horacio Zeballos struggled against Goffin and with the set at 5-3, the Belgian held his first match points, but couldn't take advantage as Zeballos stopped him. At advantage, the world number 15 had his second match points and this time he took full control and sealed victory with a brilliant forehand cross-court to clinch his place in the quarterfinals.
Match Stats
David Goffin hit zero aces and zero double faults during the match. The Belgian was successful on his first serves winning 81 percent points and was even more impressive on his second winning 90 percent points. He didn't have to save any break points, but did manage to break three times out of nine (33 percent). Goffin won 57 percent total points.
Horacio Zeballos served no aces and three double faults. He won 68 percent on his first serves, but struggled on his second winning 45 percent. The Argentine saved six out of nine break points (66 percent) and didn't have a single break point to his name. He won only 42 percent total points.