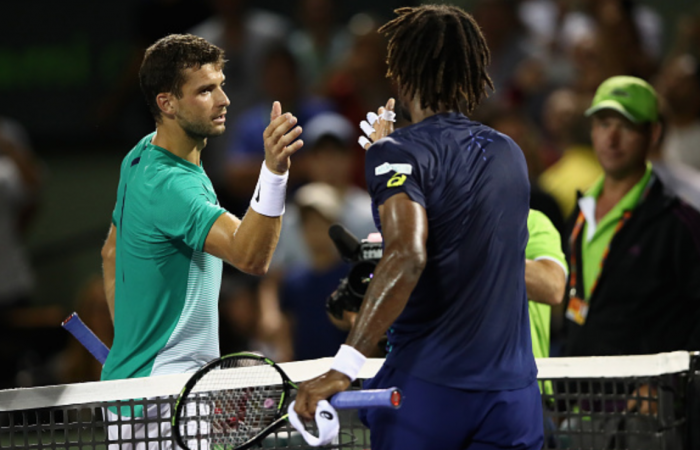 In a matchup of two of the most athletic and talented players on tour, world number 16 Gael Monfils was victorious over Bulgarian Grigor Dimitrov 6-7(5), 6-3, 6-3. The victory notches the Frenchman's career best showing at the Miami Open with a quarterfinal appearance awaiting. He now moves to 4-1 in the pairs head to head matchup as well as winning three straight.
Dimitrov had been coming off his first top 10 won since last year with a victory over world number two Andy Murray, going into the match Dimitrov had a 5-5 record following a top 10 match. Monfils had an easy path to the fourth round by beating Tatsumo Ito and Pablo Cuevas 6-3,6-4. With new coach Mikeal Tillstrom the Frenchman is more focused and is showing the ability to win tight matches when he is not playing his best tennis. He struck nine aces to reach the finish line in a very topsy-turvy match. Both players were focusing on the other side of the net rather than honing in on their own strengths. The Frenchman took his opportunities on the big points and was rewarded for his great effort.
Dimitrov Digs Out Tight First Set
Starting out the match Monfils won his service game at love as he got good shots off his inside out forehand for a 1-0 lead. Dimitrov also had good serving for 40-15, a forehand error off of a slow paced Monfils return got it to 40-30. The Bulgarian drew an error from the forehand of Monfils for 1-1. Monfils kept up his solid serving while Dimitrov was still picking up rhythm at 2-1. Dimitrov found a rising forehand to get to 15-0. The Frenchman chased down a ball to tag Dimitrov at net 15-30.
A kick serve variation from the Bulgarian set up a forehand winner. Excellent defense from Monfils was enacted with a looping forehand pass off of a volley for 30-40 break point. It was not enough as tactical points from the world number 28 got him to hold 2-2. In the next game the world number 16 gets to net with a volley winner 15-0. Monfils could not find his range as he got broken to go down 2-3. He then regrouped as he got a long rally to set up a 15-40 break point. Monfils was successful with the important break back. He then consolidated the break to hold for a 4-3 lead.
Both players had to wait on the changeover as rain began to pick up. The rain stopped and play began to resume quickly. The Bulgarian raced out to a 30-0 lead on serve but followed it up with his first double fault of the match. Despite the slight hiccup Dimitrov cruised to a easy hold of serve to keep things level. A focused Monfils stepped up to the service line rather quickly as he fired down a big serve. The Frenchmen also added in a big serve out wide on the deuce side. Some long exchanges were taken and Monfils showed a bit of sloppy play with a bad drop shot attempt. The Frenchmen gave the 26th seed a break point opportunity off of a second serve attempt. It was not the highest caliber of tennis as the two opponents were trying feel out each others games as the ninth game went back and forth on deuce. An errant backhand slice from the Bulgarian set up another game point from the Frenchman but he sprayed an unforced forehand error in the next point. After a good first serve the Frenchman cracked by netting a slow forehand to give Dimitrov the break and the 5-4 lead.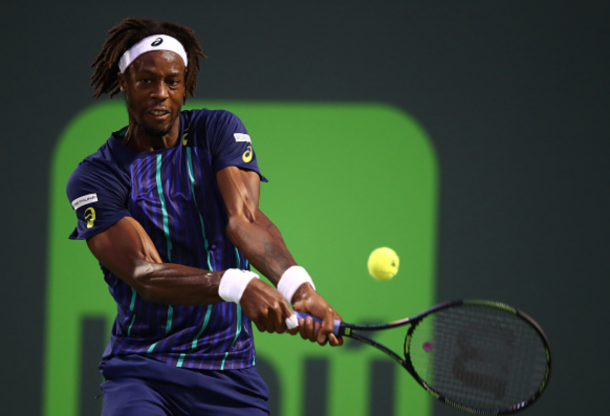 In the tenth game, Monfils stuck to a very defensive mindset while asking the question of the Bulgarian. The Frenchmen was successful as he drew throw straight errors from the Dimitrov racket to get three break point opportunities. A medium paced rally went in the favor of an athletic Monfils who broke with ease to get things level at five a piece. From then on, the world number 16 began to up the tempo as he looked to exploit his opponents sluggish play. An easy hold at love gave Monfils confidence off of an ace to end the game. Dimitrov seemed to be possible sluggish due to the two three set matches he had to play earlier in the tournament.
The Bulgarian then steadied himself as he took his chance by ending points on his terms at net. His seventh net approach including two others in that game led him to get an easy hold at 15. The set ultimately went in to an important tiebreaker with Monfils drawing first blood off of two inside out forehand angle shots to his opponents backhand corner. The Bulgarian then handed over a double-fault but one his second service point off of a 125 mph serve up the tee.
Monfils took advantage of a 68 mph serve as he found a great backhand passing shot to go up 4-2 as both players changed ends. The Bulgarian showed some fight back by Monfils steadied himself with a service winner for 5-4. A very shaky Monfils ended up getting outplayed by the Bulgarian as he took the tiebreaker 7-5 off of his first set point opportunity.
Crazy Match Continues
The second set started off in yet another unorthodox way as the Frenchmen easily broke to get a 1-0 lead. The Frenchmen then reeled off of four quick points capped off by an ace after being 0-30 down to lead 3-1. The Bulgarian started to lose rhtyhym on his backhand as he struggled to get depth. Both players were getting chances in every game. A double-fault by Dimitrov got the fifth game to deuce followed up by an error as he was caught in no mans land. The Bulgarian managed to hang on hold though as he then raced out to a 30-0 lead on the return side but was unsuccessful in his efforts.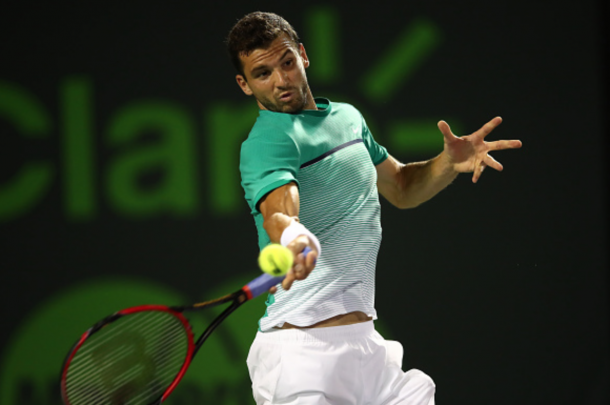 After a monstrous overhead and a solid game point, the world number 28 stayed within one break to go to 3-4 on the changeover. The eighth game was a very tight affair as Dimitrov got his pickings off of an aggressive forehand shot, but Monfils followed it up with two big points including a great serve and volley approach for 5-3. The Bulgarian played shaky as he hit two unforced errors while going down 15-30 and then Monfils set himself up with two set point opportunities. On his second set point opportunity, Monfils stayed solid to draw a backhand error to take the second set 6-3 and bring the match to a decider.
Third Set Goes To A Determined Monfils
Dimitrov started out the third set with some heavy forehands to find a 0-30 opening on the return side. It continued as the Bulgarian definitively broke at love to claim a quick 1-0 lead. The bizarre match took another turn as the world number 28 double faulted to immediately go down 0-30 on his serve and then 0-40 off of a well played pass from Monfils during a long rally point. The game eventually was dumped by Dimitrov to keep things level. Some order was finally restored as Monfils delivered easy power on serve despite a double-fault. His opponent threw his racket up in a display of frustration as the Frenchmen went up 2-1.
Play began to pick up as both players started to hit more in their strike zones. Monfils continued to keep his opponent back as he played lateral points. An easy love hold of serve kept things on serve at 3-2. In the ensuing game both players played grinding points that went back and forth on deuce. Dimitrov had a split in his finger that was bother him which made him request a trainer for the changeover. A stunning point at deuce which displayed a 46 shot rally went in Monfils favor but he was yet again unable to break.
After a staggering 13 minute long game that had seven rallies of eight shots or more, the Bulgarian dug in to hold for three-all. A quick turnaround caused Monfils to hit fatigue filled errors granting his opponent two big break point opportunities. The Frenchmen managed to use controlled aggression as he brought his opponent well off the court to get back to deuce. A 132 mph serve up the tee and a one-two combo gave him the recovery to stay on serve as he held.
Coming up on the two and half hour mark, the Bulgarian tried to get himself pumped up right away. It did not propel him though as his opponent got two break point opportunities. The Frenchmen finally struck as he broke with a big pump up to the crowd. The finish line was in sight as he began to reel off points in concession with even more aggression shown. His new attitude was in full form as he held at love for a big three set finish.