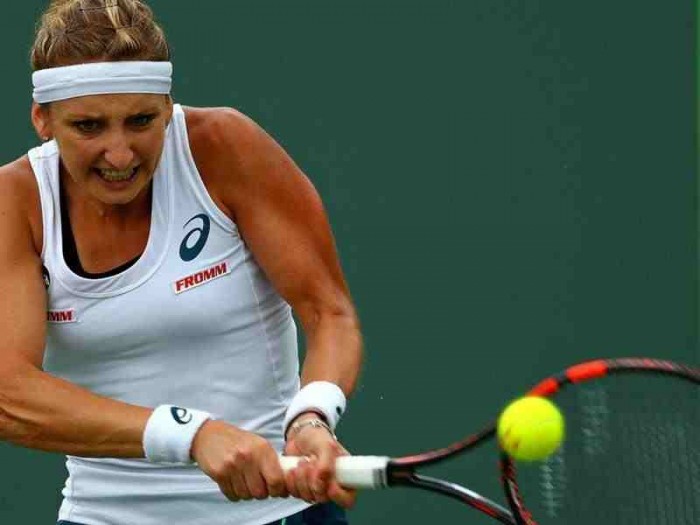 The Russian and Swiss unexpectedly square off for a spot in the championship match.
How They Got There
Kuznetsova recieved a bye in the first round. All four of her matches have gone three sets. In the second round, she defeated German Carina Witthoeft 6-3, 4-6, 6-4. In round three, she barely topped Frenchwoman Caroline Garcia 4-6, 6-2, 7-6 (8-6). In the fourth round, she again came from a set down, scoring one of the wins of the season, defeating three-time defending champion and world number one Serena Williams 6-7 (3-7), 6-1, 6-2. For the third straight match, Kuznetsova rallied from a set down, this time in the quarterfinals, defeating fellow Russian and 30th seed Ekaterina Makarova 6-7 (3-7), 6-4, 6-3.
Bacsinszky also received a bye in the first round. She has proceeded to have a magical week reminiscent of her run to the French Open semifinals last spring. In the second round, she defeated Russian Margarita Gasparyan 6-3, 6-1. In round three, she defeated 16th seed Ana Ivanovic 7-5, 6-4. She came from a set down in the fourth round to top in-form third seed Agnieszka Radwanska 2-6, 6-4, 6-2. Once again, Bacsinszky came from a set down in the quarterfinals to defeat fifth seed Simona Halep 4-6, 6-3, 6-2.
Head-to-Head
Kuznetsova has won both previous meetings, but they were a long time ago: a 7-6 (8-6), 6-4 in the second round of the 2010 Canadian Open and a third round win in the third round of the 2012 BNP Paribas Open 6-3, 2-0 with Bacsinszky retiring.
What To Expect
Both players come into this match with a lot of confidence after they have combined to beat Williams, Radwanska and Halep. They'll go about trying to gain the upper hand in different ways: Kuznetsova with her power, serve and forehand while Bacsinszky will want to play longer rallies and mainly use her backhand to try and force Kuznetsova into errors.
Both players have shown tremendous resiliency in recovering from deficits as underdogs and an unexpected opportunity to reach a big final is in front of both of them. They both have done tremendous work in getting this far and although they have experience in these situations, nerves will certainly play a factor with such a tremendous opportunity presenting itself.
Prediction
Bacinszky in 3 sets. Although Kuznetsova has the marquee win of the event, coming back from a set down to beat Williams, as noted above, all of her matches have gone the distance and in the heat, she'll likely tire easier and earlier than Bascinszky. Both players will have their moments, but Bacsinszky will have more left in the tank and continue her fairytale ride into the final.