 It was always going to be a good match whenever Angelique Kerber and Victoria Azarenka met. Their recent meetings were proof with Kerber recently beating Azarenka for the first time at the Australian Open. That would turn out to be the only loss that the Belarusian has had so far this year. Eventually in this one, it was Azarenka who edged the second set, extending her record to 20-1 this year.
Shaky Start By Both Before Azarenka Overpowers
Azarenka, who chose to receive, got off to a perfect start by getting the immediate break. Kerber though just needed the one break point as she came back to level the set at 1-1. The server's struggle with holding serve continued as the Belarusian set up break point with a forehand winner in the third game. She broke once more as Kerber's shot went wide.
Azarenka was made to work and fend off Kerber in the fourth game, before she finally held her own service game for a 3-1 lead. Azarenka's return game was on point, as she got herself another break point opportunity. Kerber saved it, but was under pressure again as the Belarusian pounced on her second serve with a massive return. Azarenka completed the break with another return winner to go up 4-1. The seventh game was entertaining as both came up with some fantastic shots, before Kerber held for the first time. She still trailed 5-2. The German looked to have found her groove, but even her powerful forehands were not enough to prevent Azarenka from closing out the first set 6-2.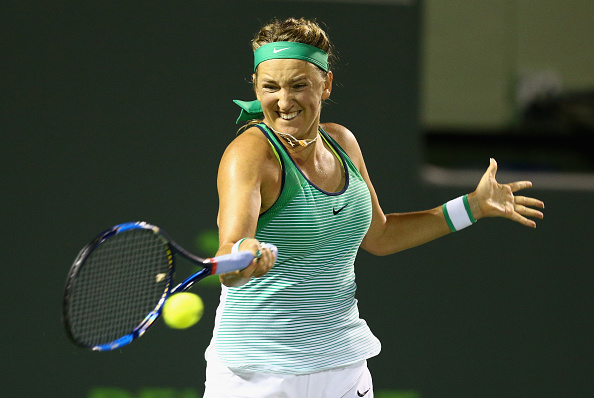 Entertaining Set Of Tennis Eventually Goes The Way Of Azarenka
It was a topsy turvy set of high quality tennis in the second set, which had everything including genius drop shots, incredible passing shots and unbelievable pick ups. Both women had considerably turned up their levels as they both held their service games to start the set. Kerber's wrapped thigh looked to trouble her as she got broken to love to trail 2-1. She then seemed to have shook off any issues she had with her thigh and found herself with double break points after some clever play. A rare error from the Belarusian handed the German the break back for 2-2.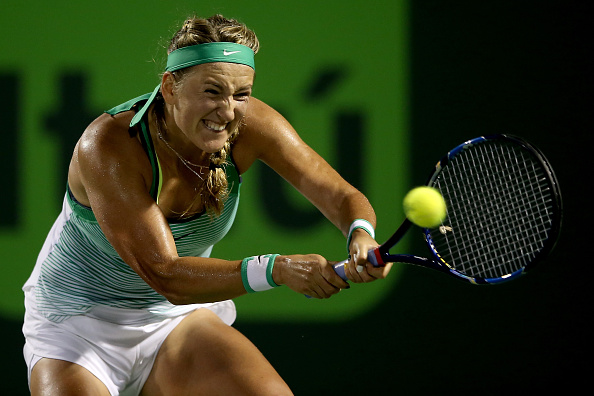 That break fired up Azarenka, who came charging back to break and once more take the lead at 3-2. The match was heating up as Kerber came up with a passing cross court winner, before a backhand winner set up a break point. Both women were covering the court so well, but Azarenka came out on top in an absorbing rally. The German set up another break point with an almost Azarenka-like return winner. As the Belarusian saved once more, she missed an easy volley to give Kerber her third break chance of the game . The German finally capitalized to knot the set at 3-3.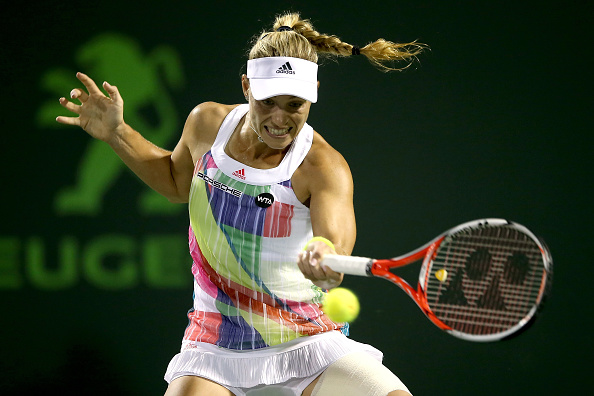 Kerber was unable to sustain her level, having given it her all in the taxing sixth game. The Belarusian took her chances, breaking the German to love to go ahead 4-3. Azarenka then consolidated the break for 5-3 as the successive breaks came to an end. As Kerber was serving to stay in the match, she showed no sign of pressure. She would calmly hold to keep herself in the match. The pressure seemed to have shifted to Azarenka, who was within a game of reaching the final. It was a nervy game from the Belarusian who threw in three double faults, allowing Kerber to capitalize to get back in the match at 5-5.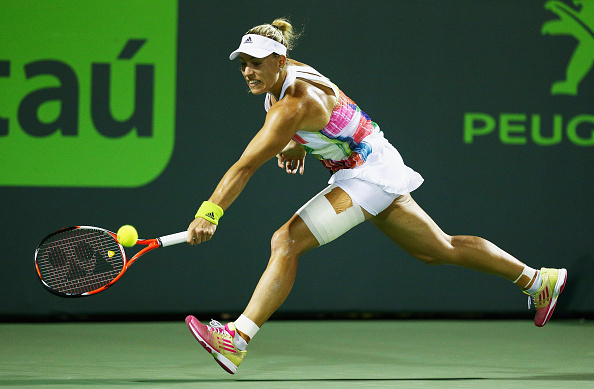 Momentum looked to be on Kerber's side as she got off to a 30-0 lead in the next game. However, a couple of errors and a great return from Azarenka forced another error, which handed break point back to the Belarusian. Azarenka came up with an exquisite drop shot to get the crucial break for 6-5. Kerber still found a ridiculous passing shot winner on the defense to win the first point, but there was nothing more she could do in the game. Azarenka responded with a glorious winner of her own to complete the victory 6-2, 7-5 in an hour and 33 minutes.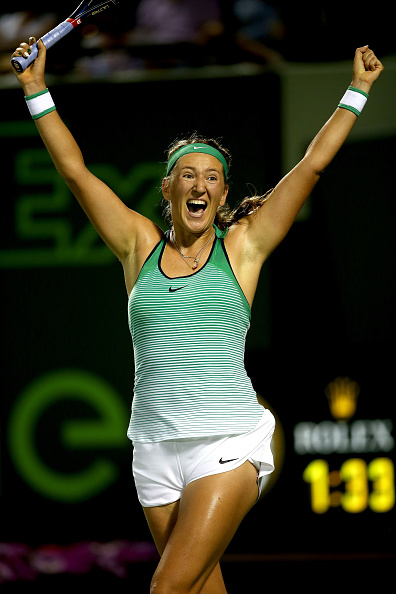 Winning Numbers For Azarenka
Both women were lethal in their winners total with Azarenka just edging at 28 winners to Kerber's 22. The Belarusian also hit fewer errors at 18, while the German hit 23. Azarenka came forward to the net more often than her opponent and it was working. She won 13 out of 17 points. Kerber on the other hand came forward eight times and won only half the points.
Azarenka will seek back-to-back tournament wins when she faces Svetlana Kuznetsova in the Miami Open Final.