 She had a very impressive career, but it seems that Conchita Martinez is also thriving in the role of being a mentor and leader for Spanish tennis players.
Martinez, who reached a career high of second and won Wimbledon in 1994, as well as making runner-up appearances at the French Open and Australian Open, has become extremely popular with Spanish stars of tennis, on both the WTA and ATP side, her influence on Spanish tennis shows no signs of dropping yet.
Gained Fed Cup Captaincy
It seemed certain that Martinez would one day become the Fed Cup captain for Spain. Martinez had won the title as a player an incredible five times, and she was the obvious replacement when good friend and contemporary Aranxta Sanchez Vicario in 2011.
Martinez's helm as captain hasn't been entirely successful, with the Spain dropping out of the world group in 2014 and nearing falling out of World Group II in 2015. However singles victories for both Carla Suarez Navarro and Garbine Muguruza helped secure an impressive 4-0 win over Serbia in February, and Martinez can lead Spain back to the World Group if they are victorious against Italy later this month.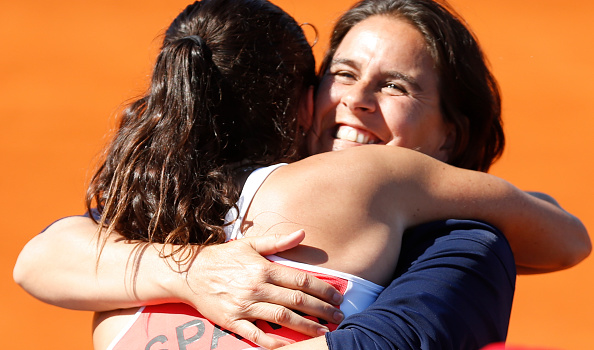 Martinez Stops Davis Cup Nightmare
Perhaps Martinez's biggest achievement since her retirement has been steadying the ship of the Spanish Davis Cup team, which had a turbulent few months before her appointment as temporary Davis Cup captain.
The appointment of Gala Leon as Davis Cup captain caused controversy, with several top players opposing the decision to pick her and Toni Nadal saying that, as a woman, she would not be able to work with the players properly. However, it emerged that the main issue was the Leon was just not good enough to captain the team and she was removed after a petition, signed by 44 Spanish tennis players.
The appointment of Martinez raised a few eyebrows, considering the previous controversy, but she has proven herself to be an able Davis Cup captain and under her tenure, the team easily beat Denmark last year. She has become popular with male Spanish players as the team are expected to beat Romania in July.
Supportive Of Spanish Players
Martinez's popularity within Spanish tennis also stems from the support she gives Spanish players outside of team competitions.
She has often been seen in the player boxes of the likes of Muguruza and Suarez Navarro, and has also been known to be court side for matches involving the likes of David Ferrer and Feliciano Lopez. She was also present for Rafael Nadal's semifinal against Novak Djokovic in Indian Wells.