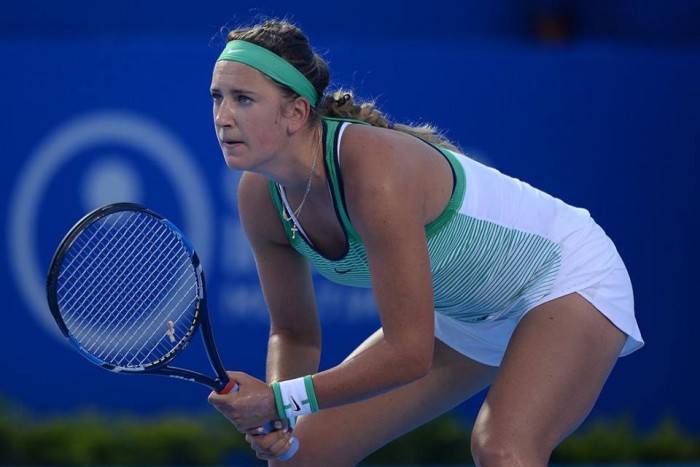 In the women's game today, it is no secret that holding serve can often be one of the most difficult things to do in an entire match, with numerous matches containing anywhere from a quartet to a dozen breaks altogether. Compared to the men's game, women's tennis undoubtedly has a greater deal of unpredictability, though this is not exactly a bad thing.
Regardless of how both players are serving, there is one defining shot that can change the momentum, and ultimately outcome, of a match in a heartbeat. What is that shot, you ask?
Meet the return of serve -- one of the most underrated shots in the game today.
Returning a serve might sound simple, but it can often be one of the most remarkably difficult shots in tennis, and can often be a huge difference maker in a match with an abundance of momentum shifts.
As the returner, you already have a disadvantage as the server is in full control to start the point. Out wide, down the T, into the body -- you name it, they'll hit it. In a matter of miliseconds, you are forced to psychologically determine where the ball is going, at what pace, with which spin, and at what angle to even have a look at a return. In the men's game, it must be said that returning a serve is no easy task, especially if you have a 130 mph serve being blasted at you consistently. But in the women's game, it's a different story.
It is no secret that in women's tennis, big servers are not as common and very few actually reach the upper eschelons of our sport, with the obvious exceptions being Serena Williams and Samantha Stosur, and the majority of the WTA are able to use this to their advantage from the receiving end.
However, one player is able to stand heads and shoulders above the rest in terms of consistency, and that player is Victoria Azarenka.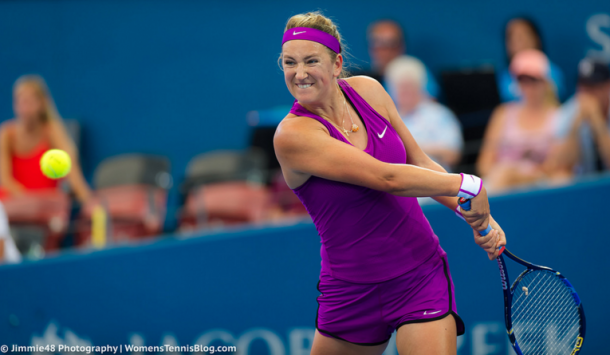 The Belarusian has enjoyed a very fruitful 2016 season, one that has seen her win three titles and return to the top 10 with an unprecedented 22-1 win-loss record. Though her serve has seen great improvements over the course of the last twelve months, it's her return of serve that is able to consistently deliver, even when under pressure.
A Technical Breakdown of Azarenka's Return of Serve
From a technical perspective, Azarenka begins her return just like any other tennis professional, but it's what she does after the serve has been hit that makes it so effective.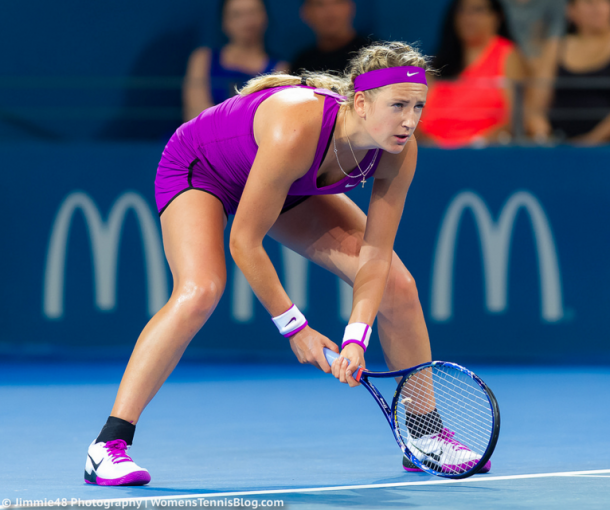 Azarenka maintains a low center of gravity throughout her return stance, and only starts moving forward when her opponent begins to toss the ball. As the opponent makes contact, the Belarusian takes a standard split step, but is incredibly explosive, which allows her to take the return extremely early. As a result of her explosiveness off the split step, Azarenka is able to cut off angles exceptionally well, which enables her to neutralize big serves remarkably.
The two-time Australian Open champion's game is based on controlled aggression, meaning she is not looking to overwhelm her opponents with her firepower -- which she has plenty thereof -- but instead, she is always looking to utilize the angles of the court to her advantage, especially when the ball sits up her in her wheelhouse. Instead of looking to finish the point right then and there, the former world number one is always looking to use her return as a starting block for constructing her points, one of the many reasons why it is so effective.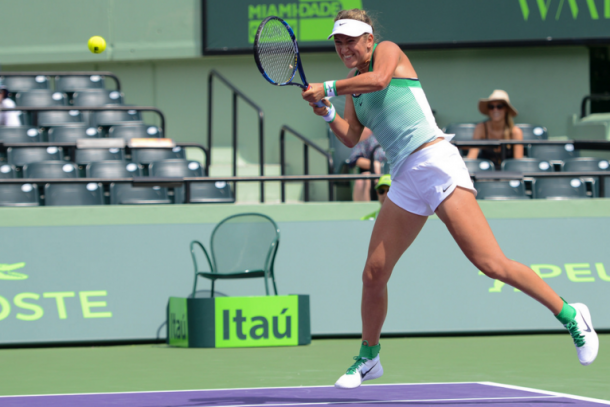 In addition, because of her natural tendency to play with controlled aggression, Azarenka has noticeably been able to get a higher percentage of returns back in play than her opponents, another key reason why she has enjoyed so much success in her resurgence this season.
What do you think are some of the reasons why Azarenka's return of serve is one of the best in the game? Sound off in the comments and let us know your thoughts by tweeting them to us at @VAVELUSATennis!