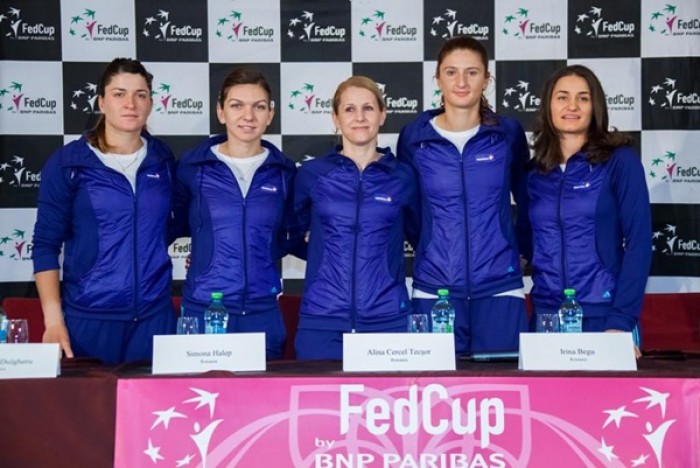 After a narrow loss to defending champion Czech Republic in the first round, which was also their first loss in two years, Romania is looking to regroup, find their best form and get a win which will keep Romania amongst the first eight teams of World Group format.
Thereby, the Romanian team will be counting on the world number six, Simona Halep, Monica Niculescu (32), Irina-Camelia Begu (34), and Alexandra Dulgheru (97), the same team formula which snatched a hard worked victory against Spain (3-2), last year in Galati. The German team is also bringing their best players, Australian Open champion, Angelique Kerber, who will lead her fellow teammates, Andrea Petkovic (28), Annika Beck (40), and Julia Georges (58) to take on their match-ups.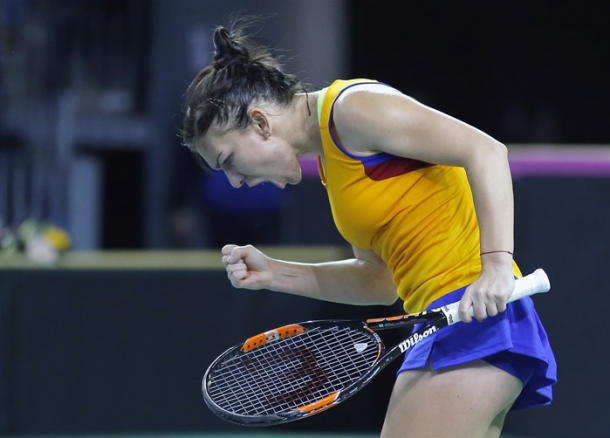 Simona Halep and Irina Begu in Singles
Simona Halep is looking to win both her matches, having never succeeded to give Romania a two points lead after her performance. Playing in Fed Cup has always been a great responsibility for the number one Romanian player, but media pressure and having to compete in front of thousands of Romanians rooting for her to win seemed to not always bring the best in her. Yet, Halep is the player Romania is counting on to get an advantage against a strong German team. At a first glance, Halep has a slight advantage leading each head-to-head match-ups against the German players.
Halep is leading Kerber 3-0, Petkovic 5-1, Georges 2-1 and Beck 3-1, and the Romanian will most probably face Kerber and Petkovic in singles. These are two tight match-ups as we have seen from their previous meetings, and Halep managing to continue her good form coming from Indian Wells and Miami, where she made back to back quarterfinals, will be crucial for the team.
Although, that being said, the other Romanian players have proven last year, in their Canada tie, held in Toronto, that Simona Halep is not the only player who can raise to the occasion and lead the team to victory. Alina Tecșor-Cercel, the Romanian team captain will most probably put Irina Begu into play for the singles. So far, Irina's year has been hampered by a left knee injury, losing in the opening rounds in the first two month of the season, but the Miami Open has been the place where she got her first consecutive wins. She reached the fourth round by snatching close victories against Krystina Pliskova and having an amazing comeback from 0-5 in the third set against Sabine Lisicki, before losing to the American, Madison Keys. In terms of head-to-head meetings, Begu is splitting two victories in their four meetings so far against Kerber (1-1, on clay), she lost the only meeting against Andrea Petkovic, she hasn't played Beck yet, and she is 1-1 against Georges.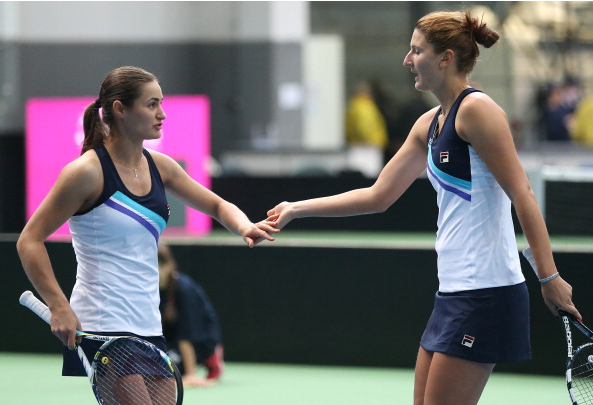 Double's Corner
When it comes to the doubles, the Romanian team has a very strong partnership in Monica Niculescu-Irina Begu. The two have played doubles matches on numerous occasion on the WTA tour, as well as for Fed Cup. They're an extremely strong team, with great potential, and because both know each other very well, if it were to come to a decisive double match, Romania would be the favorite to win. Such a theory is sustained by the fact that in the past three years, the German captain, Barbara Rittner has been using multiple doubles formulas, neither one that could be repeated against the Romanian team.
"The Romanian team is gathering the most in-form players of the moment. Simona Halep, Irina Begu, Monica Niculescu and Alexandra Dulgheru are glad and very proud to represent again the Romanian colors against a strong team. We are a homogenous, well-balanced and optimist team prepared to fight to stay in the World Group. The encounter will definitely be a very close one, Germany has a strong team, but we believe in our chance and in the devotion of our girls. We would like to thank to the fans for being there for us and we are gladly waiting them in Cluj again, where we really felt good in February", a message the Romanian captain addressed in respective of the future tie.
The World Group play-off between Romania and Germany will take place on April 16th and 17th, on an indoor clay court in Sala Polivalentã, Cluj-Napoca.