 It is time for the third Masters 1000 event of 2016. Novak Djokovic has dominated en route to titles in Indian Wells and Miami already and will look to add to his record 48 Masters titles this week in Monte Carlo. Djokovic can also become just the sixth player to win consecutive titles at this event, joining Rafael Nadal, Juan Carlos Ferrero, Thomas Muster, Bjorn Borg and Ilie Nastase.
Tournament Overview
The Monte-Carlo Rolex Masters is the first of the three clay court Masters events this season. Rafael Nadal had a stranglehold on this event from 2005 to 2012. Nadal has still been in the mix towards the end, but has failed to get past the semifinals since 2012. The last three years have seen Novak Djokovic win twice and Stan Wawrinka surprise with the title in 2014. Djokovic enters the tournament as the top seed and defending champion. He edged Tomas Berdych 7-5, 4-6, 6-3 in the 2015 Monte Carlo final.
The past five years have seen a few early upsets of seeded players, but they have been mostly tame with the top seeds rarely being taken down in their first match. Last year, just one seed lost their first match. That was a bit off of the normal mode of operation with at least three seeds losing their first matches in each of the previous three seasons in Monte Carlo.
For the most part, seeds are the name of the game when the tournament winds down. In the last five years, just one semifinal slot has been taken by an unseeded player. That came in 2013 when Fabio Fognini crashed the party. The highest seed to make a semifinal since 2011 is the number 14. That came in 2015 with Gael Monfils tallying big wins over Alexandr Dolgopolov, Roger Federer and Grigor Dimitrov on his way to the semifinals. The sixth seed has been sprinkled with magic dust recently with the number six getting to the semifinals or better in each year since 2012. With that to chew on, here is this week's seed report.
Seed Report
1. Novak Djokovic
The Serb is 28-7 in Monte Carlo with a pair of titles in the last three years. He has made the semifinals or better every year since 2008. Fernando Verdasco is the only player other than Rafael Nadal or Roger Federer that has beaten Djokovic in Monte Carlo in that span. He knocked out Djokovic in the semis in 2010.
This will be Murray's first trip to Monte Carlo since 2013. He is just 11-7 all-time here. He has made the semifinals twice in 2009 and 2011. His last trip to the event was a quick one as he lost in his second match to Stan Wawrinka 6-1, 6-2.
3. Roger Federer
The Swiss is 28-12 in Monte Carlo. This is the first time he will have played the event in three straight seasons since a stretch where he played each year from 2005 to 2009. Last year was not a great one for Federer with an early exit in round three to Gael Monfils. Up until 2009, this was a solid tournament for the Swiss. He had been to three finals at that point, but has only been to one more (2014) since then. Federer has never won the title in Monte Carlo.
4. Stan Wawrinka
Wawrinka stands at 17-7 during his career on trips to Monte Carlo. That includes a shocking title run in 2014. He was shockingly awful in losing to Grigor Dimitrov 6-1, 6-2 in last year's third round at this event. He had been steady before that with two quarterfinal appearances and the championship before last year's debacle.
5. Rafael Nadal
As with most clay court events, Nadal's career marks are outrageous here. He is 53-4 with eight title wins, but none since 2012. He's been blocked by Djokovic two of the last three years in the final in 2013 and the semifinals last year. David Ferrer beat him in the quarterfinals in 2014. He avenged that with a quarterfinal win over Ferrer last year in Monte Carlo.
6. Tomas Berdych
The Czech was a suprise finalist in 2015, where he fought well in losing to Djokovic in three sets. He's in that prime number six spot, where that seed has made the semifinals or better every year since 2012. Berdych could be hard pressed to continue that lucky streak as he runs very hot and cold in Monte Carlo, trending mostly to the cold. He has three years where he has made the semis or better, but has lost in the round of 16 or early in the other eight trips to Monte Carlo.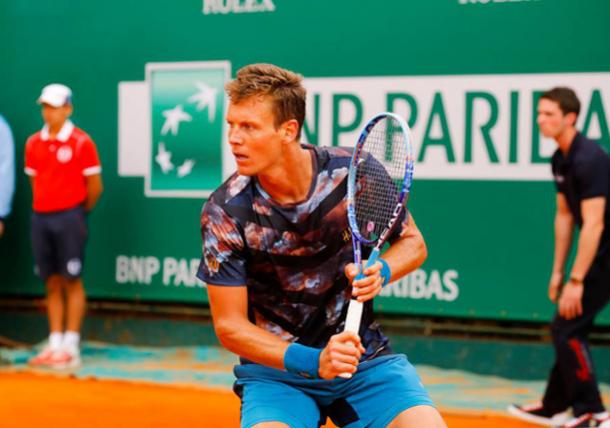 7. David Ferrer
The Spaniard has been very consistent at this event since 2010. He has made a quarterfinal, two semifinals and a final in that span. He is 28-11 during his career at this event. In all, he has been to the quarterfinals or better in eight of his 11 stops in Monte Carlo.
8. Jo-Wilfried Tsonga
Tsonga is 11-6 in Monte Carlo in six trips. His best run came back in 2013, when he made the semifinals and lost to Rafael Nadal. Top ten players seem to be his biggest issue in this tournament. Tsonga is 0-3 - the Top Ten when they face off in Monte Carlo. Last year, he was eliminated by 10th ranked Marin Cilic in straight sets in the round of 16.
Other Seeds of Note
9. Richard Gasquet
The Frenchman is 14-8 in Monte Carlo, but has not played here since 2013. He draws a rough opener against Nicolas Almagro. Almagro and Gasquet have split six career meetings with the Spaniard winning two of three on clay. The last meeting at Estoril in 2015 did go the way of Gasquet.
11. David Goffin
The Belgian has been playing well with a 16-6 mark this season, but is placed into a difficult quarter with David Ferrer in his half and Djokovic in the top half. He opens against Feliciano Lopez who comes in off a semifinal run in Houston. That could be a good spot for the Belgian to pick up just his second win all-time in Monte Carlo. He is 4-0 against lefties this season and 22-11 in his career.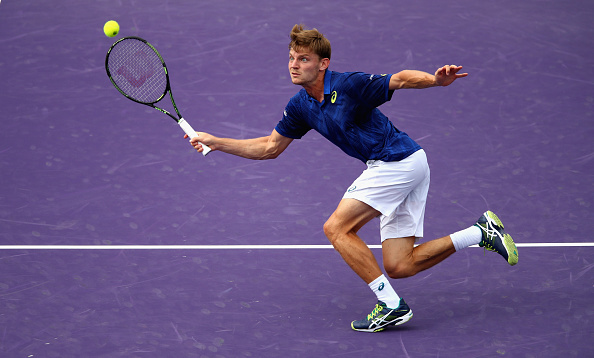 Thiem is in Nadal's half of the Wawrinka-led quarter. Thiem should pose a significant threat to Nadal if they play, having beaten him in Buenos Aires on dirt earlier this season. The Austrian has not won in two previous trips to Monte Carlo, but has looked a much improved player from this time last year.
13. Gael Monfils
Last year's semifinalist isn't likely to reproduce that run. Monfils is stuck in Djokovic's quarter. That means if seeds hold, the two would face off in the third round. Monfils semifinal appearance last year was his first time past the third round in Monte Carlo in nine trips.
Quarters Preview
First Quarter: Novak Djokovic (1)
Djokovic's path to the quarterfinals looks pretty simplistic. Monfils or Fognini looks the toughest player he would face to get to that point. Monfils and Fognini could put on a thrilling or maddening display in a potential second round match. Fognini has to slip past Paolo Lorenzi first. The bottom half of the quarter looks more intriguing with 7th seed David Ferrer and 11th seed David Goffin looking primed for possible runs this week. Ferrer could face Alexander Zverev in his opener if the German teen can get past Andrey Rublev. If Goffin beats Lopez to open, he'll face Fernando Verdasco or Federico Delbonis. Both can upset the Belgian if he's not at his best.
In the top half, don't be surprised if Fognini springs an upset to get a shot at Djokovic. Monfils has been playing well, but the 13th seed would have a tough match-up if he faces Fognini. The two have faced each other four times on clay and split those meetings. In the bottom half, a Ferrer-Goffin third rounder seems likeliest, but Ferrer has been a little shaky this season. As long as Goffin can keep hot, this quarter should revolve around another Djokovic-Goffin match. That would be a treat based on what we saw in Miami.
Second Quarter: Roger Federer (3)
It's difficult to know what sort of form Federer will find this week in Monte Carlo. The Swiss has been out of commission for nearly three months now. Monte Carlo has never been Federer's best tournament on clay, so expectations this week should be minimal. He gets either Thomaz Bellucci or Guillermo Garcia-Lopez to open. Federer has never lost to either player, but has also not played either one on clay. A win gets him to the third round, where the seeded player would be Roberto Bautista Agut. The 14th seeded Spaniard could have issues getting there with Albert Ramos Vinolas as his first opponent and then Jeremy Chardy or Andrey Kuznetsov. It would be less than stunning to see Bautista Agut bounced before round three.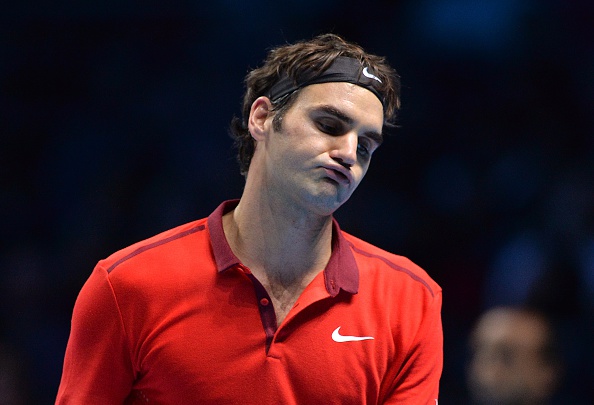 The bottom half of the quarter is laden with French players, led by 8th seed Jo-Wilfried Tsonga and 9th seed Richard Gasquet. An all-French first round match in this portion of the draw will feature Lucas Pouille and Nicolas Mahut. A dangerous floater in this portion of the draw is Pablo Carreno Busta. The Spaniard opens with a qualifier and then could battle Tsonga in round two. Pouille is the danger man in this quarter. If he can beat Mahut for the first time in three tries, he could pose a problem for Gasquet.
This quarter could be flipped upside down with Federer being the X factor here. If the Swiss is able to shake off any rust early, he could feasibly make a nice run in this spot. If not, then this one looks ripe for a French takeover or perhaps a blast from the past with Almagro. Gasquet is the safer pick in this quarter over Tsonga for one quarterfinal spot. The other could go to Federer or a surprise like Ramos Vinolas.
Third Quarter: Stan Wawrinka (4)
This quarter is split with Wawrinka in one half and Nadal in the other. Wawrinka was done no favors with his draw. The Swiss could face Borna Coric or Philipp Kohlschreiber in his opener in the second round. Coric already has some clay court play under his belt after winning a couple of matches in Marrakech. While Coric has never beaten Wawrinka, he has also never met him on clay. Wawrinka looked flat in Miami, where he lost his opener to Andrey Kuznetsov. Should Wawrinka survive, a third round encounter could come against 15th seed Gilles Simon or Grigor Dimitrov. Dimitrov has made the quarterfinals twice in the last three years in Monte Carlo and could be a darkhorse in this half.
In Nadal's half, the lefty should be good until the third round. That is where he potentially meets Thiem. Nadal will certainly be motivated by his loss to the Austrian in Buenos Aires this year, but motivation alone doesn't equal a win. Thiem has been playing steady tennis for the majority of 2016 and simply needs the confidence of an early win at this tournament perhaps to get things going in the right direction during this European swing. The winner of their possible third round clash seems the favorite to escape this quarter and gain a semifinal berth. Don't discount Dimitrov, even if he still doesn't seem to find the right amount of aggressive play to take advantage of his wealth of weaponry.
Fourth Quarter: Andy Murray (2)
Low expectations will also be laid on Murray this week, but his draw is screaming for him to make some noise. The Scot has been mediocre since scoring a pair of Davis Cup wins back in February. Playing at Monte Carlo for the first time since 2013 may not add to a turnaround in form. He faces Guido Pella or a qualifier first, so Murray will at least expect to get a win to open. His third round match is seeded to be against Benoit Paire. Paire faces Inigo Cervantes in round one and then either Ivo Karlovic or Joao Sousa. Paire continues to be impossible to predict, other than he's going to be a disappointment more often than not. Murray realistically should have a quarterfinal run in him with this draw.
The other half features 6th seed Tomas Berdych and 10th seed Milos Raonic. Berdych made the finals last year and will like his chances of making the quarterfinals here. Raonic certainly has the ability to make it through, but has failed to get past the quarters in Monte Carlo in two tries. He will also have a tougher second round match with Pablo Cuevas as a potential opponent. This quarter may come down to another Murray-Berdych battle. Despite losing three straight to Murray in 2015, Berdych has owned him on clay with a 3-0 record, but still has that hot and cold thing going with him in Monte Carlo. Raonic's solid start to the season could get a huge boost if he can translate that success to clay.
Predictions
Semifinals: Djokovic def. Gasquet, Nadal def. Raonic
Final: Djokovic def. Nadal