 Belinda Bencic played a crucial part in Switzerland's Fed Cup tie against Germany, winning both of her single matches and the doubles match alongside Martina Hingis. Unfortunately for the 19-year-old, she will not be playing any part in the semifinal clash against the defending champions Czech Republic, due to a back injury.
Big Loss For The Swiss Fed Cup Team
It was announced by the Switzerland Tennis Federation earlier today that the Swiss number one has been forced to withdraw from the Fed Cup semi final. The news will come as a blow to the Swiss team, after Bencic's impressive form in their previous tie.
Bencic was the deciding factor in the clash against Germany. The youngster played some brilliant tennis to defeat, Angelique Kerber and Andrea Petkovic in the singles. The world number ten also worked well alongside Hingis to win the doubles, which put the Swiss in a commanding position in the tie.
Despite the injury of their number one, the Swiss Fed Cup captain Heinz Gunthardt remains confident. He said that in elite sport anything is possible and the timing of Bencic's injury is "extremely unfavorable." He continued to say that the Swiss have shown in recent years that they can "absorb absences thoroughly."
It remains unclear whether Hingis or Viktorija Golubic will be filling in for Bencic or whether the Swiss will call up another player to play the singles for them.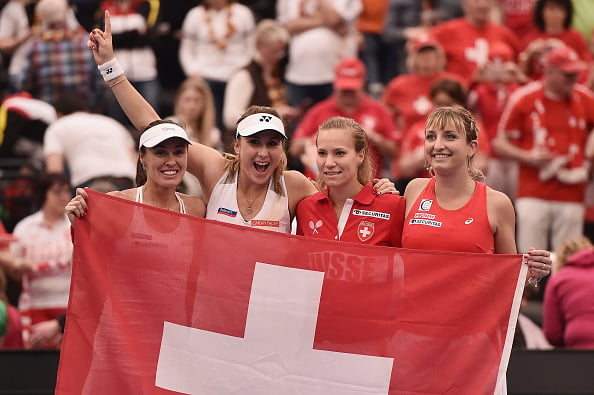 Out For A Minimum Of Four Weeks
Alongside the news that Bencic will be missing the Fed Cup tie, it was also announced that the youngster's back injury will require her to rest for at least four weeks.
Bencic picked up the injury during the tournament in Indian Wells. Since then the Swiss number one was forced to withdraw from her match against Kristyna Pliskova before struggling to move in her straight sets loss to Elena Vesnina.
Bencic's coach and father Ivan Bencic told the press today the medical examination showed the Bencic's injury is a "small scar of the periosteum at the coccyx." and that it is not to serious but it "needs some time to heal completely."
As she has to be out for four weeks Bencic will miss the majority of the clay season. The 19-year-old will be hoping to recover in time to compete at Roland Garros.