 David Ferrer has withdrawn from the Monte Carlo Masters. The Spaniard has been forced out of the tournament due to a calf injury. It has not been a good year so far for the Spaniard, suffering early losses in Doha and Acapulco, where he was the defending champion in both events. In Doha, he went out in the first round, whil in Accapulco he exited the event much earlier than he would have wanted.
January to March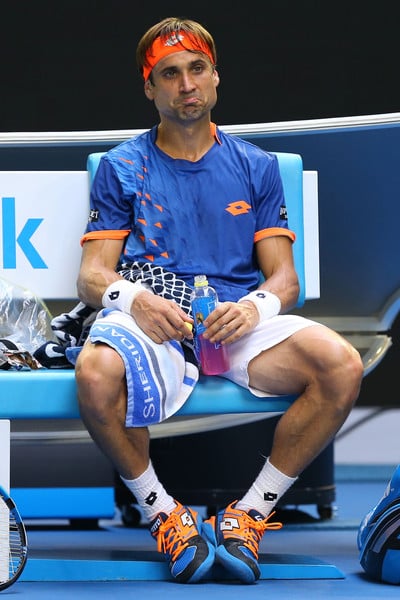 After the Australian Open, where Ferrer lost to Andy Murray in the quarterfinals, the Spaniard played a couple of smaller events and reached the semifinals. These proved to be his best results of the year so far. Ferrer reportedly took the time off after that to rest, having played a very busy schedule to that point of the season, returning for Indian Wells and Miami. The bad form continued at both these events where he suffered early losses.
Clay
Clay is usually one of the Spaniards favourite and best surfaces, so to have to withdraw from the first clay Masters 1000 event of the year will be frustrating for the world number eight. Ferrer announced the injury and withdrawl on social media, but did not provide an indication of how serious the injury was, or when he will return to the tour.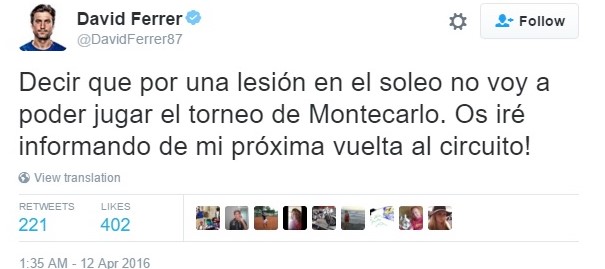 Hopefully Ferrer will recover soon and be back on the courts. There was also no indication of how or when the injury occurred, just that it had forced him to withdraw from Monte Carlo. Ferrer was due to play Alexander Zverev in the second round, instead Marcel Granollers received a lucky loser spot into the draw and will face the Russian.
This is not the first time the Spaniard has withdrawn from an event once the draw had been made, Ferrer also pulled out of Wimbledon 2015 with a different injury, which gave Brit James Ward a change of opponent to a lucky loser, and the Brit made the most of this draw by making the third round.