 France and Netherlands head into day two of the semifinal clash all square after Kiki Bertens and Kristina Mladenovic had won their respective rubbers. It all comes down to a blockbuster day two with both teams vying for a spot in the Fed Cup finals.
Third Rubber: Mladenovic - Bertens
The first match on day two sees a meeting between the winners of day one. Both players put up a fine performance on day one winning comfortably in straight sets. It is poised to be an interesting first time clash between the two 'Kikis' after their impressive display.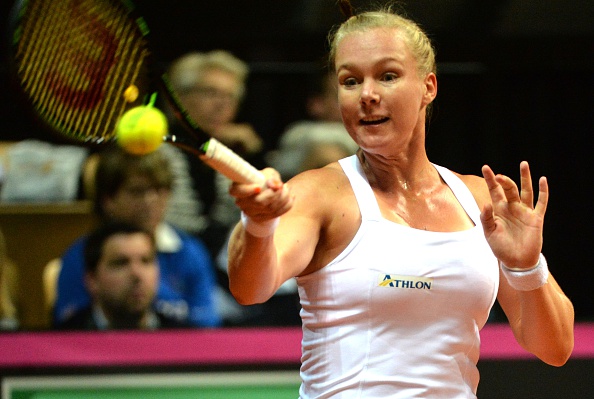 Bertens seemed in sync with the clay barely putting a foot wrong in her match against Caroline Garcia. Her serve was her biggest weapon as Garcia barely made any headway. If Bertens continues to hit some huge serves, it might be hard for Mladenovic as well. Though the Frenchwoman was not too shabby with her return games, always attacking whenever her opponent, Richel Hogenkamp was hitting a second serve. She would need to bring that aggressive return game if she is to create any chance for herself against Bertens.
Mladenovic herself had a solid game with some great touches pulling her opponent to the net with great effect. That play could unsettle Bertens. However, with the way Bertens has been playing and her impressive record in the Fed Cup, the rubber could lean towards the Dutch player.
Prediction: Bertens to win in three sets
Fourth Rubber: Garcia - Hogenkamp
Both players would be hungry to get the win for their team after losing their respective rubbers on day one. Seeing as it the second match of the day, a win here would be crucial should their team lose the earlier match. Both women had met three times previously, and Garcia won all three of them but those were all hard court matches. It would be first time they meet on clay.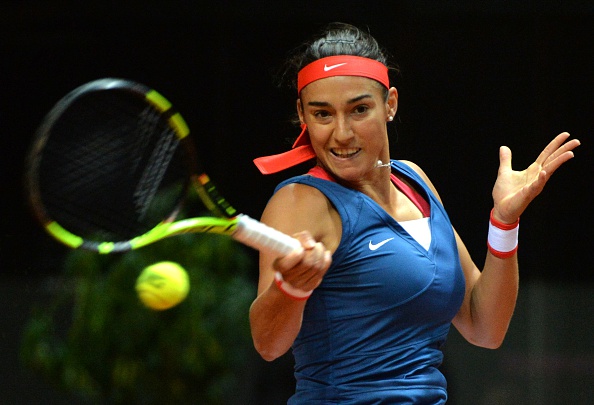 Confidence might be issue for both after they succumbed to straight sets victory. In Garcia's case, she did keep herself within reach but let slip towards the end of the match. She would need to curb her frustrations and keep her focus in this match. That record she has against Hogenkamp should give her a slight boost. Hogenkamp on the other hand does have a better record in the singles than Garcia and would be playing with same desire to get the win for her country. That may not be enough though and Garcia could just get a straightforward win against her lower ranked opponent.
Prediction: Garcia to win in straight sets
Fifth Rubber: Doubles match
The lineup for the fifth and final rubber has Alize Cornet and Pauline Parmentier pairing up for France and going up against the Dutch pair of Cindy Burger and Arantxa Rus. The nomination could however change depending on the outcome of the previous two matches. If the score is tied at 2-2, then it would be more likely for France to go with the doubles pair of Mladenovic and Garcia.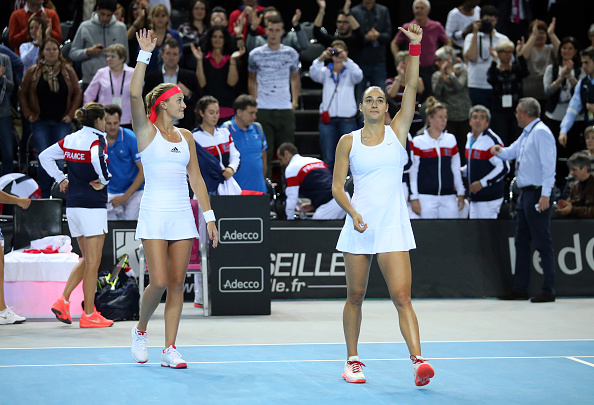 If it remains though, France should still have a slight advantage. Cornet has won four times in the doubles having played seven times, with two of it coming on clay. Parmentier on the other hand, has won the only rubber she has played. In contrast, the Dutch players have not won any of the doubles matches they have played thus far in the Fed Cup. Should France choose to go with their more experienced pairing of Mladenovic and Garica, they would be favorites to win this seeing as the pair have already combined to win a title this year.
Prediction: France to win in straight sets
Overall
The singles rubbers will be key on day two. Whichever team wins the first match would have less pressure on their shoulders to deliver in the next. With the home crowd in full voice behind their team, France would want to get the win and reach the finals. It would not be a walk in the park though against a strong Netherlands team.
Prediction: France to win 3-2