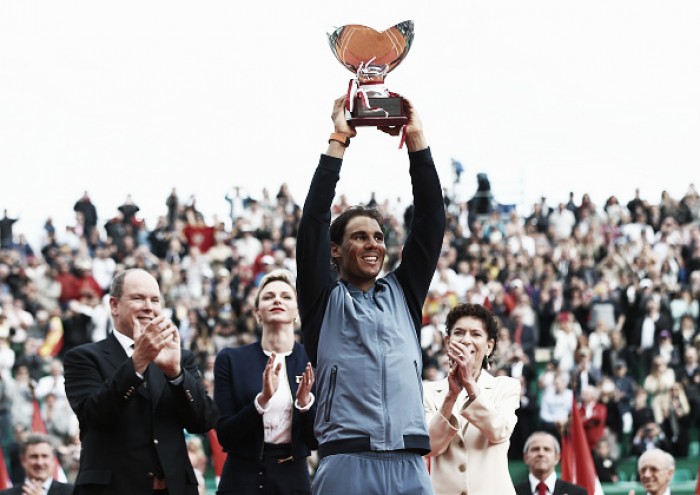 In their 14th career meeting, Rafael Nadal and Gael Monfils battled in a Monte Carlo Rolex Masters final lasting two hours and 46 minutes. Monfils came into the contest looking to end his three-match losing streak against Nadal dating back to 2014. The last time the Frenchman came out on top was 2012 in Doha. Moreover, Nadal has never lost to Monfils on clay and today was no different; after a long semifinal match with Andy Murray, the lefty was able to overcome relentless hustle from his French opponent to take a, 7-5, 5-7, 6-0, win for his ninth career Monte Carlo title.
Nadal Overcomes Monfils' Flare
The first two games were used for the two players to get a feel for each other. It was far from the exciting tennis that would be played later in the set, though neither player conceded a break. In the third game, things began to get interesting and the tone of the match was set; Monfils saw his first chance to break serve with the advantage, but a skillfully executed chip-and-charge play by Nadal negated the advantage.
The next two points were won by the Spaniard--ending a grinded out game lasting over eight minutes. Flipping the scripts, Nadal was able to get a break point of his own, leading 30-40; a backhand into the net by the Frenchman cost him the break and put him in a 1-3 hole. Two errors and a double fault by Nadal gave his right-handed opponent three chances to break serve. On his third try, the world number 16 converted to break back. Despite facing two break points at 15-40, Monfils cranked out an ace to spark a run--allowing him to hold and bring the score to an even 3-3.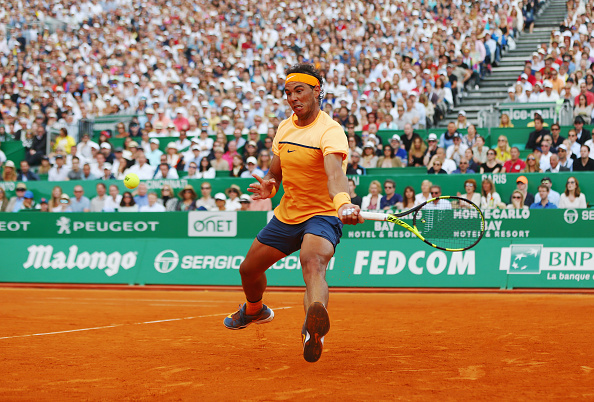 The world number five was able win the next two game while giving up just three points en route to a 5-3 lead. That gave Nadal a chance to serve out the set, but Monfils wouldn't go away--holding a 15-40 lead and two chances to get a break back. After the lefty won the next point, the two finalist split the next two points and Monfils finished the break on his third try. Once again, the set appeared to be over with the Spaniard up 15-40 with two chances to close out the set. A Nadal error--followed by an intelligent drop shot--brought the Frenchman back.
The 13th seed's next shot hit the net and the fifth seed faced his third set point. After 33 shots, Nadal finally cracked--hitting a backhand out and botching another opportunity. Catching his opponent by surprise, Monfils serve and volleyed and, after one more deuce, held serve to make the score 5-5. That game lasted over eight grueling minutes. An easy hold at 15 gave Nadal one more lead, and he wouldn't let it slip away. On his fifth set point chance, Nadal was gifted the set on a double fault that bounced erratically off the net and wide.
Nadal was able to overcome losing 71 percent of his second serve points, mostly, because he saw ten chances to break serve. The Spaniard also held a 74 percent to 54 percent advantage on first serves won.
Monfils Mounts A Comeback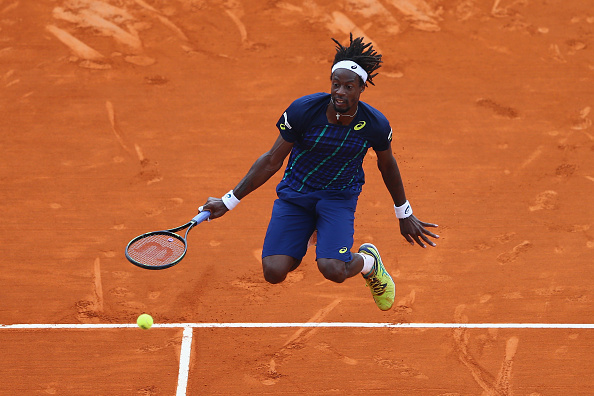 A break in the third game gave Monfils a 2-1 lead, but, more importantly, it gave him hope. The Frenchman held in his next service game to take a 3-1 lead. Going for broke, the right-hander tried to get another break, but when he was unsuccessful, he didn't have enough left in the tank to hold his own serve; Nadal broke him at love to make the score even again at 3-3. A trade of breaks at 30 made the score 4-4.
Without missing a beat, Nadal followed his five break of the match with a hold at love. A 5-4 lead meant the Spaniard was one break away from being crowned champion. He wouldn't win another game for the rest of the set. Monfils held and after seven minutes and 48 seconds, Nadal was broken for the last time; one last hold sealed the deal and the Frenchman took the second set, 7-5.
The second serves won dipped even further for Nadal as he lost five of six in the set. However, he was able to get 85 percent of his first serves in, and that improvement spelled doom for his opposition.
Nadal Thunders His Way To Victory
After two thrilling sets, the last set was all Nadal; he won all six games to hand Monfils a bagel. The Frenchman looked exhausted while the Spaniard seemed to step his game up even further. Monfils won only nine points in the rout and didn't see a single break point.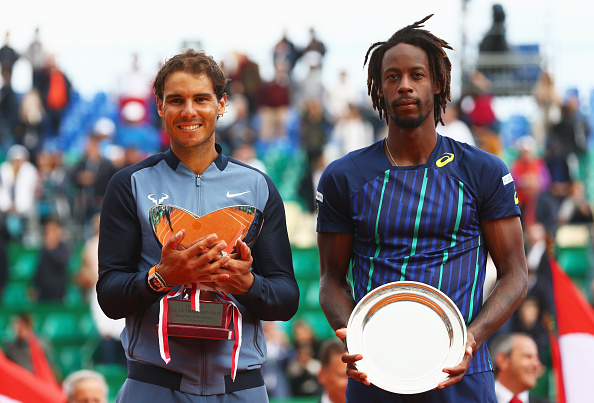 With a, 7-5, 5-7, 6-0, victory, Nadal became one clay court title shy of tying Guillermo Vilas for most in the Open Era (Vilas has 49 to Nadal's 48). This victory also gives the Spaniard the confidence he needs to make a run at the French Open, and it also silences some very rowdy doubters.
Nadal still has the ATP 500 Barcelona Open and two more Masters 1000 events before Roland Garros, which he has won an astounding nine times. While he still has a long month ahead, this is certainly how Nadal wanted to begin clay court season--becoming the 2016 Monte-Carlo Rolex Masters Champion.