 American number one John Isner will not be in action at the Rio de Janeiro Olympic Games in August after deciding to prioritize the American hard court summer.
The American is to rest during the week of the Olympics, after playing at the BB&T Atlanta Open in the previous week.
Isner to prioritize the American hard court summer
Isner announced the news to The Atlanta Journal-Constitution, stating "I did not take this decision lightly."
This contrasts his decision in 2012, where he decided to play at the tennis event during the London games. He reached the quarterfinals in the singles events, losing to eventual silver medalist Roger Federer, though he lost in the first round in the doubles, playing with Andy Roddick.
The world number 16 is to play in Atlanta the week before the Olympics. The final in Atlanta takes place on the 6th August, the day that the tennis action starts in Rio de Janeiro, and with Isner being a three-time champion in Atlanta, as well as the defending champion after beating Marcos Baghdatis in the final last year, it is more than likely that he will be in action during the latter stages of the tournament.
Isner also revealed that a major factor in his decision is to make sure he is fully fit for the Western and Southern Open, a Masters 1000 event that begins on August 15th, and the US Open which begins in late August.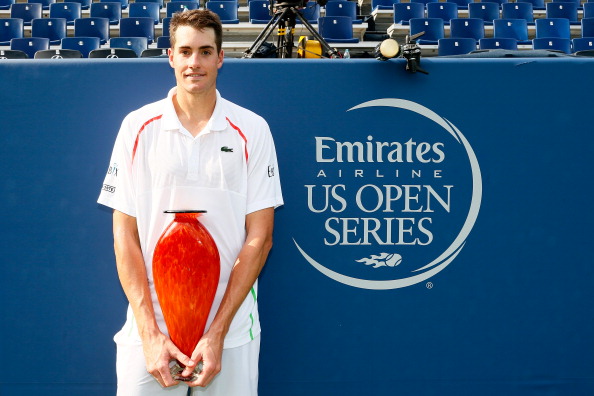 Isner's withdrawal could further weaken US men's Olympic tennis squad
Each country is allowed a maximum of four players in the singles event, though with Isner withdrawing it doesn't look as if there will be many American men in singles action at the Olympics this summer
Currently, American number two, Jack Sock, and number three, Steve Johnson, are currently not eligible as they haven't played in enough Davis Cup ties. With only 64 players in the draw and only the top 56 players in the rankings guaranteed, it seems that world number 35 Sam Querrey could be the only American man in the singles draw.
Querrey has played enough Davis Cup ties to be eligible, though must still be in the top 56 of the rankings on the 6th June, where the cut off for the Olympics takes place, just after the French Open.
Sock can still qualify if he is picked for the American's Davis Cup quarterfinal against Croatia.