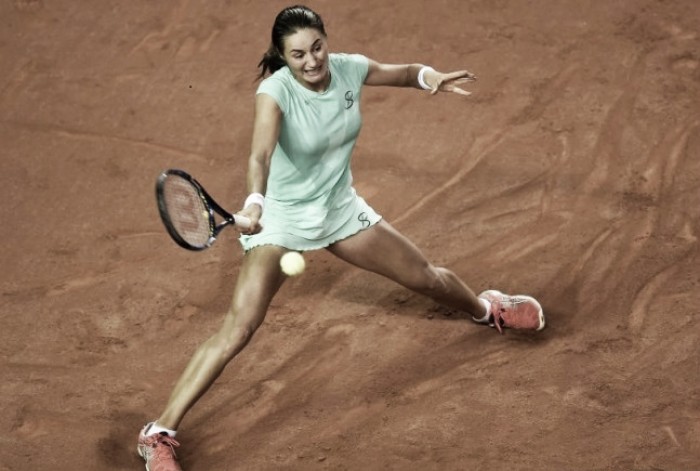 The two players have never met until this date, so the unknown factor increased especially for Caroline Garcia, who was not familiar with Niculescu's game style. Garcia came into this match after playing for France in Fed Cup where she won one match against Aranxta Rus and lost the other one against Kiki Bertens. On the other hand, Monica Niculescu lost to Andrea Petkovic after having two match points, where she replaced Irina-Camelia Begu in the singles on the second day.
Niculescu takes the first set in 36 minutes
Monica Niculescu started off on a flyer and broke first as it was expected due to the fact that, usually, a player who meets Niculescu needs a longer period of time to get used to her style of play. But, Garcia with great strikes, broke back to take it into level terms. However, Niculescu easily got herself three break points by taking advantage of the fact that Garcia didn't got her strikes on the radar. She hit the balls long, and with a great serve, the Romanian got the break with a loud "Come on!" before holding for 3-1. Immediately, Garcia responded well, she got more aggressive, put more pressure and managed to hold as well.
Niculescu didn't back down and continued to serve well as she didn't lose a point on her serve and managed to hold for 4-2. Niculescu kept that depth of shot that was giving Garcia problems, and although the French tried to be aggressive, the Romanian's defense was unbreakable. With that slice forehand, she kept on slowing down the pace of the rallies and thus, managed to get back to the ball in a right position from where she could control the exchange. Next, she was up 5-2 and serving for the first set.
Garcia, after her on court couching moment tried to fight back, so she made some changes in her game. She came more often to the net, was more aggressive on the return, and thus, managed to get herself three break points. They were both playing very good in that moment, and when Garcia tried a dropshot and Niculescu got the passing shot right, the Romanian went on to save all break points to level it at deuce. In order for Niculescu to get the set there, she had to save four break points and in the end she converted on her third set point. The Romanian played solid tennis and Garcia needed to improve if she wanted to stand a chance in this match.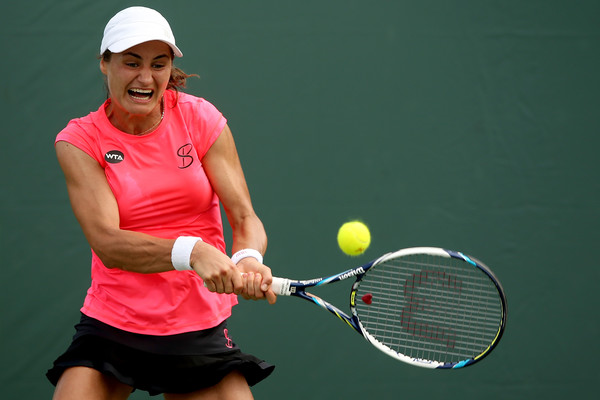 Garcia puts up little resistance; Niculescu seals victory
The beginning of the second set was no other story as Garcia became frustrated as an forehand error and gave Niculescu two chances to break. Niculescu did so with a wonderful backhand winner. In the next game, Garcia fought back, and Niculescu with a few errors gave the French three chances to break. Despite this, the Romanian saved them and Garcia threw her racquet in desperation when she missed an easy volley at the net. However, on her fourth chance, to break the Romanian double faulted.
With an excellent tactic of serve and volley from Garcia, the French got in the position to hold for the first time in six games and also got the chance to lead for the first time in the match. However, after Niculescu held at 2-2, the Romanian didn't give up and found a way to break again. With a wonderful lob, the Romanian had the upper hand in the match. Garcia although tried something, smashing balls all over the place was not the right move. She made too many mistakes out of frustration, so Niculescu went up 4-2.
The Romanian got into the groove again and with that slice forehand, made it difficult for the French to come back. With the backhand, she got the ball as high as possible and then she immediately was changing it with the forehand to get it down and flatter, and all this was too much for Garcia to handle, consequently putting Niculescu in control. Moreover, Niculescu's defense got better and better, making Garcia hit one more ball. Thus, the 22-year-old missed an easy overhead smash to give Niculescu two break points and then the chance to serve for the match at 5-2.
In the last game of the match Garcia missed too many easy shots and Niculescu was too solid, the French tactic of coming to the net often failed, Niculescu managing to pass her easily. With two match points, Niculescu converted it at the first time of asking and got the win in straight sets.
A first time meeting between the two and it goes to the Romanian who will be meeting Petra Kvitova in the second round. "Petra is so good, I mean she is so great, it's not going to be easy, so I just want to recover," Niculescu said. "Just so happy about my game today and I need to play my best tennis tomorrow, if not, it's going to be a though match. But I'm so happy to be in the second round here in Stuttgart. I love it!"