 Spanish tennis legend and Fed Cup captain Conchita Martinez has revealed her optimism for the future of Spain's Fed Cup chances, as the team returned to the World Group after a two year absence
The team secured their return to the Fed Group after a dominant home victory over Italy in the World Group playoff and Martinez, one of the most influential people in Spanish tennis due to her captaincy of both the Fed and Davis Cup teams, believes they are capable of winning the title next year.
Martinez believes in Muguruza and Suarez Navarro
Martinez was full of praise for Garbine Muguruza and Carla Suarez Navarro after the tie, and stated that she believes that both are capable of winning Grand Slam titles in the future as well as lead the Fed Cup team for glory, saying there was "something to celebrate" about the current situation of women's tennis in Spain.
The former world number two also revealed her excitement for the future, especially about young Spanish stars Paula Badosa Gibert and Sara Sorribes Tormo.
"To have Garbine and Carla in the top 10 and to have young players like Sara and Paula coming up looking at them and thinking we can get there too is great."
Martinez also looked back to the days where compatriot Arantxa Sanchez Vicario and herself helped win five titles for Spain. She stated that nations go in "cycles" at the team competition and felt that it was Spain's time to have more success in the tournament.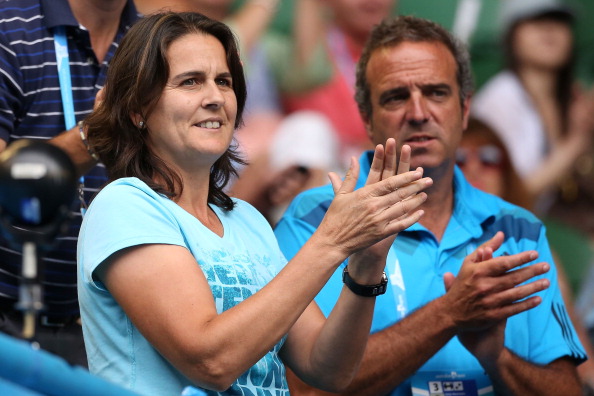 Muguruza and Suarez Navarro match Martinez's enthusiasm
It is not just Martinez who is excited about Spain's opportunity in the Fed Cup, with both Muguruza and Suarez Navarro revealing their excitement.
Muguruza, who last year matched Martinez's achievement of reaching the Wimbledon final, said that Spain had a "great team" and that the players "look forward to making a good job of it next year."
Meanwhile, Suarez Navarro spoke about the importance for the players to get back in the World Group, saying it was their goal and that the win was "very important."
Spain will next be in Fed Cup action in 2017, where they will play in the opening round of the World Group.