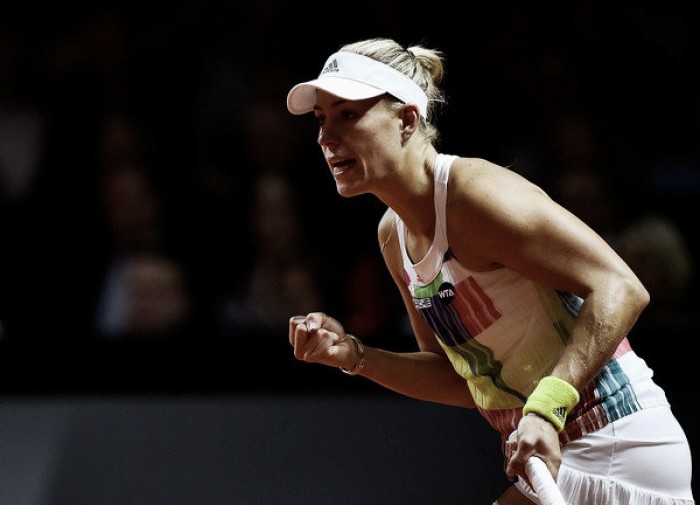 Second seed Angelique Kerber battled past the fifth seed, Petra Kvitova, to earn her place in her second straight final on the indoor red clay at the Porsche Tennis Grand Prix.
Despite having a 4-3 head-to-head in favor of the Czech, Kerber came out onto the Porsche-Arena playing fantastic defense and absorbing all of the pace Kvitova threw at her. Kvitova, though, wasn't going down without a fight, and forced a third set. But Kerber was too good, and won the match 6-4, 4-6, 6-2 in exactly two hours and three minutes, and will be playing to defend her title tomorrow in the final.
Kerber breaks early and doesn't let go
Both players started out the match well, Kvitova having an easy hold while Kerber had to save a break point to get the job done. Kerber then broke Kvitova on her first attempt, utilizing her defense to it's full potential against the big-hitter from the Czech Republic. Kvitova then found herself with three break-back points, but she couldn't convert as Kerber pounced on her own opportunities and consolidated the break for a 3-1 lead.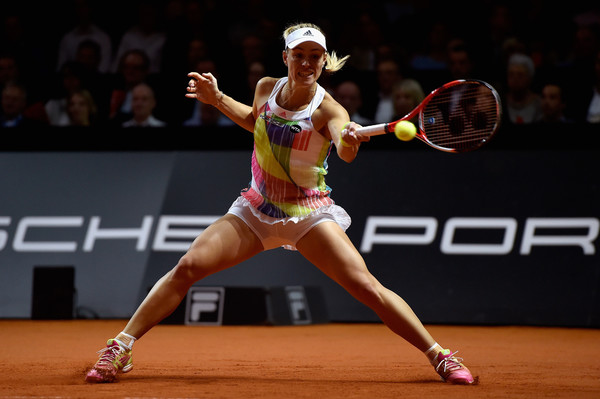 With Kvitova unable to find any rhythm on her first serve, the German was attacking every second serve and forcing Kvitova to make an error. She would eventually get her second straight break of the match and a 4-1 lead in the first semifinal of the day.
Kvitova, however, wasn't going to go away quietly. After having a talk with her coach during the break, she came out playing inspiring tennis and broke the German to love with a forehand winner to get one of the two breaks back. The Czech then held her own serve easily with yet another forehand winner.
But her run of games didn't last long, as Kerber saved multiple break points with her powerful defensive play to get one game away from taking the first set. Back to back aces from Kvitova to hold her serve would keep her hopes of winning the first set alive. At 5-4 up, the Australian Open champion would feed off of the two-time Wimbledon champion's errors as a backhand sailed long from Kvitova to hand the opening set to Kerber, 6-4.
Kvitova breaks at right time to win second set
A strong service game for the Czech would start out the second set, as multiple first serves forced Kerber to make an error. Kerber then started off where she left off in the first by winning a tough service game, Kvitova pushing her to deuce but nothing more. Kvitova showed no signs of slowing down, though, as she then held her serve as a backhand error from Kerber gave her the game.
Kerber then had a tough service game in which she had to fight off multiple break points to win the game, and tie the score up at 2-2. Kvitova, whose game relies on her powerful first serve and forehand, held with another easy service game, as both her forehand and her serve were both firing winners from all angles of the court.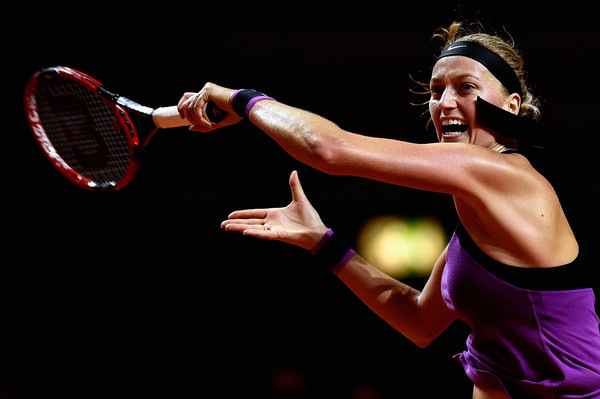 Down 2-3, Kerber played fantastic defense as she hung on in the second set against Kvitova, who was starting to find her range. Both ladies then held for 4-4 as they were playing their best tennis on their own serves. The Czech was starting to play much better than in the first set, an ace to seal the deal for a 5-4 lead. Impressive returns off of the Kerber second serve would bring up double set point, but the Czech would only need one, a backhand that sailed wide from the German would give Kvitova the second set 6-4, and send the match into a decider.
Kerber battles past Kvitova to take third set
Kvitova was the first to serve in the third and final set, but after a bathroom break from the Czech she seemed to have lost all of the momentum after winning the second set. Kerber started out third set fantastically, getting up 40-0 and having three break points in a row on Kvitova's service game. Kerber would waste the first two, but not the third, breaking for a 1-0 lead. A backhand winner from Kerber's racquet would help her consolidate the break and move into a two game lead. Kvitova then upped her game, though, holding her own serve and then breaking Kerber back to tie the score up at 2-2.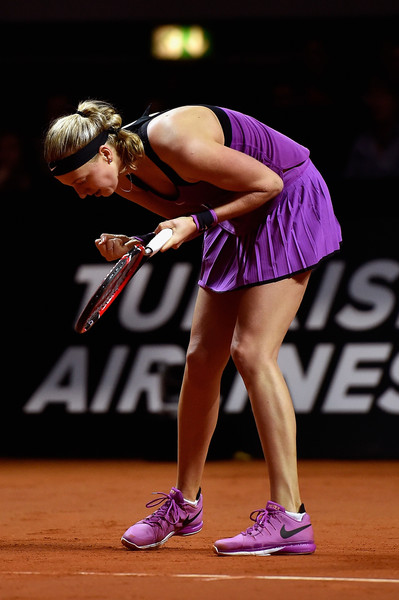 But Kerber was too good today, and went on a three game winning streak as Kvitova was clearly fatigued and missing almost every forehand Kerber gave her. Up 5-2, Kerber was trying to serve for the match, but Kvitova gave one last effort and earned herself three break points. The German, who plays her best tennis at the right moments, saved all three break points with three well-placed serves to the Kvitova forehand. Another Kvitova forehand that sailed long gave Kerber the match 6-4, 4-6, 6-2 in an hour and four minutes.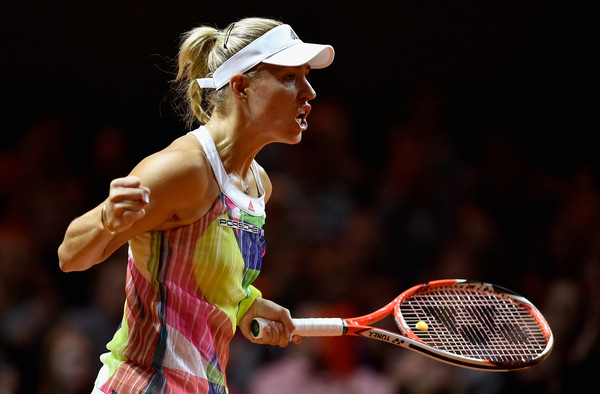 What's next?
Angelique Kerber will play the German qualifier Laura Siegemund in the finals tomorrow, who defeated the top seed Agnieszka Radwanska 6-4, 6-2 in the other semifinal of the day.