 Angelique Kerber and Laura Siegemund faced off in the final of the 2016 Porsche Tennis Grand Prix in an all-German affair. Siegemund started off strong, but impressive offensive play from Kerber saw her go on a 10-game winning streak which eventually won the match 6-4, 6-0 in just below an hour and a half.
Both of the 28 year-old Germans' careers have gone in very different directions. Kerber just recently winning the Australian Open, while Siegemund has only 11 career ITF titles. The pressure got to the inexperienced Siegemund, and Kerber took full advantage to win the championship.
Siegemund starts fast
Siegemund started off the match well, with impressive variety and winners that she has showed throughout the tournament to hold her first service game. Multiple winners off of the Kerber serve would then earn her the first break of the match. Serving at 2-0, the confidence was showing from the German qualifier as a forehand error from Kerber helped her consolidate the break for a 3-0 lead. Kerber, though, regrouped and held with a backhand winner for 1-3. A forehand winner would from a resurgent Kerber would get her the break back. Siegemund, though, held on to the lead with a drive volley winner to again get her up a break.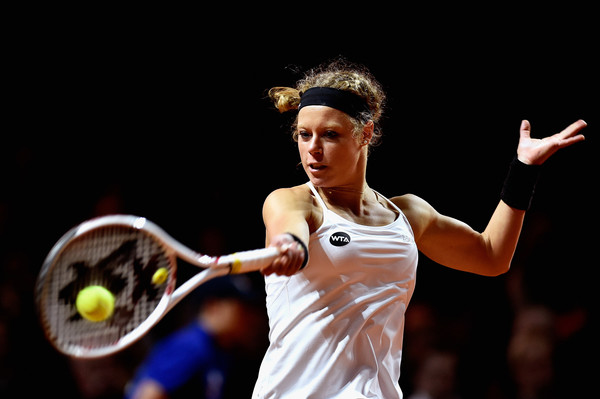 Kerber comebacks, takes first set
Serving for a 5-2 lead, Siegemund started to feel the pressure, which Kerber took full advantage of, breaking the German qualifier with a backhand passing shot. Kerber then held to love for 4-4 as Siegemund started to make uncharacteristic errors.
The reigning Australian Open champion seemed to only have to get the ball in as her fellow German was making errors from all sides of the court. Another backhand error that landed in the net would give Kerber the chance to serve out the first set. And the German tennis star did just that, a forehand winner to set up two set points. Siegemund could save one, but not the other, as a forehand slice that sailed long from Siegemund handed Kerber the opening set, 6-4, in exactly 40 minutes.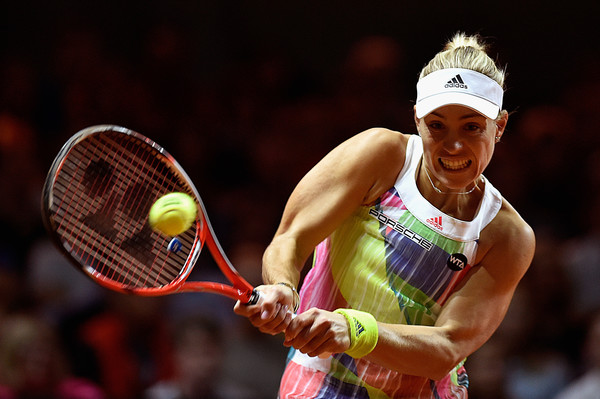 Kerber runs away with second set; wins title
Kerber started right back where she left off at the beginning stages of the second set, a marathon game in which she saved multiple game points and broke Siegemund on her fourth chance to get a break lead. She then consolidated that break with a characteristic forehand winner from the German star.
Siegemund, though, would take a lengthy time out when she was down 0-2. It didn't seem to disturb Kerber's momentum at all as she broke for a second straight time in the second and final set, a backhand just sailing wide from the German qualifier to make it 3-0 in favor of the second seed.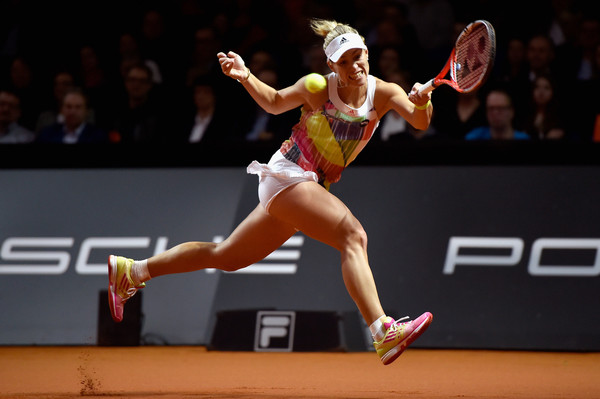 The German tennis star then had a case of déjà-vu as the world number three continued to find her rhythm on her own serve en route to consolidating the second break, a forehand return from Siegemund that couldn't find the line and sailed out, giving Kerber a 4-0 lead. The German qualifier showed little resistance as a pumped-up Kerber broke Siegemund again as back-to-back missed backhand volleys from Siegemund gave Kerber a 5-2 lead. The second seed finally found championship point, and she took it to win her ninth career title and her second straight Stuttgart title in just under an hour and a half.
"I was trying to stay focused after she really had a great start," Kerber said after the match. "After a few games at the beginning I just started to feel my rhythm and that was I think the key, that I really started to hit the balls again and tried to believe in my game and myself. I was moving very well today and I think that was also very important against her, but I was trying to stay a little bit relaxed in the first set."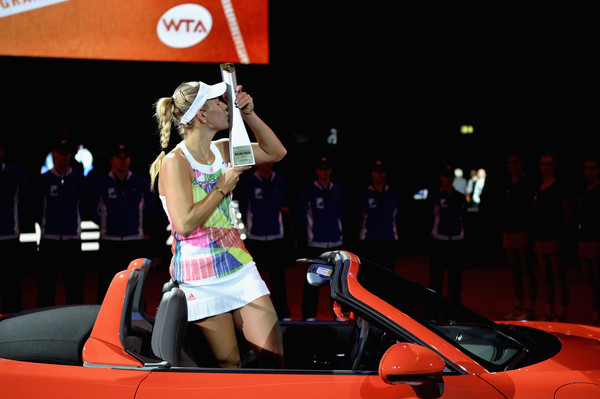 Match statistics
In this match, the runner-up Siegemund hit 22 winners, but she also hit 29 unforced errors, which lost this match for her. Kerber, the more consisent of the two and the champion, hit a total of 16 winners, but she only hit nine unforced errors, a 20 error difference between the two. The German qualifier got 71 percent of her first serves in, while Kerber was not far behind with 66 percent of hers. What also lost this match for Siegemund, though, was her first serve points won. Siegemund won under half of her first serve points, while Kerber won 65 percent of her first serve points.